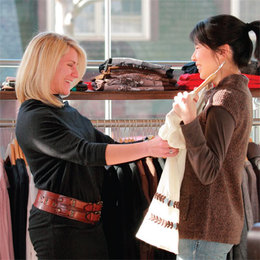 What's In Store
Shop at Metro for more than just fashion
Karin Perry, owner of Newtown's Metro boutique, has a sixth sense that we all desire desperately—fashion sense. Walk through the doors of her men and women's clothing store, and she'll have you in a trend-savvy, age appropriate, budget friendly outfit (or two or three) in no time. It's all due to her passion for clothes, eye for style and familiarity with her customers.
We think only celebrities and heiresses and participants on What Not to Wear have access to stylists, but get to know Karin, and it'll feel like you have your own personal fashion consultant.
"I establish relationships with my clients, and I love that," says Karin, a former special education teacher and graduate of Council Rock High School. "I know my clients—what they like, what fits them—so I stock my store with them in mind."
Alan Fefer of Newtown often shops at Metro just for that reason. "Shopping in larger stores can be overwhelming," he says. "Karin gives me personal attention and great value." He adds that he's particularly fond of a leather jacket he recently purchased there.
Metro's bright, window-lined space is a haven of on-trend threads for women and men of all ages. The shop boasts dozens of exclusive lines like BB Dakota, Free People, Splendid, Joie, Ben Sherman, Hugo Boss and Robert Graham, covering a range of price points. Metro is also the place to go for designer denim in Newtown; Karin stocks Joe's Jeans, AG, True Religion, 7 for All Mankind, Hudson and Diesel, among others.
She also keeps her eye on the trends in New York and makes sure she has the goods. This spring, she says, she'll have lots of "jeggings" (jean leggings) and rompers from casual to silky strapless styles to wear out on the town.
Karin herself is a walking advertisement for her fashion know-how. She wears the clothes she sells, showing off deceivingly affordable accessories like gorgeous pendants made by local Fashion Institute of Technology students.
"I try on everything," she admits. "You can't always tell how something's going to look from the hanger. Then I can pull something out for a client—something she might never have picked out herself—and know that it's her style and will look great on her."
If she doesn't have what you're looking for in the store,Karin says she's always willing to call in a special order. Better yet, she'll preview pictures of upcoming orders with her clients and call them as soon as the merchandise arrives to ensure they get the styles they want right away.
"Sometimes I'll know I have a shipment coming in that a client will love," Karin adds. "I'll have them come in then to get something really special."
Karin's husband, Chad, provides the shop's masculine point of view, and his classic but modern style is evident in the men's shirts, denim and accessories in the store.
It's surprising to learn that neither Karin nor Chad have a background in fashion, and that they fell into the retail business by following Chad's interest in limited edition sneakers.
The couple met in college at Southern Connecticut State University, and after deciding to move to Bucks County, they opened Metro in 2004 in New Hope. Metro thrived for four years in the small river town before Karin and Chad opted to move the store to Newtown. Many of their New Hope customers followed them, and they are pleased with the new customers they have attracted at their location on North Sycamore Street.
Karin says that being a mom and a hometown girl has helped her develop a connection with her customers.
"I'm selling clothes to people like me," she says. "I know that moms are looking for appropriate jeans that are stylish. I know that everyone wants to look good, but also look their age."
Chad, who also works as a producer for NBC Sports, says the primary goal was to create a store where he and his wife would want to shop themselves.
At Metro, you not only get Karin's personalized fashion advice, but she'll dole out local restaurant recommendations, place special orders for a size or style and even help to occupy your children while you hit the dressing room—talk about a personal shopping experience.
See for yourself by visiting Metro at 258 N. Sycamore St., Newtown, 215-504-8077, Mon.-Wed. 10-6, Thurs. 10-8, Fri. 10-7, and Sat. 11-5, or go online at ShopatMetro.com.
Rob Hall is a freelance photographer from Plumstead.