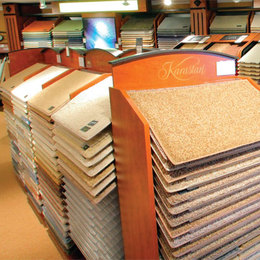 Holland Floor Covering puts style at your feet
Floor coverings come and go, but this family business has remained stable for more than three decades.
Brothers Roger and David Hansbarger spent summers in high school installing hardwood floors, cutting carpets in their father's warehouse and cleaning up. Their dad, Dave Sr., a carpet installer since 1970, started Holland Floor Covering in 1973 with his wife Judy, and the brothers learned about flooring from the ground up.

"We grew up in the business," said Roger Hansbarger. And the business remains family run today.

Roger Hansbarger earned a degree in risk management from Temple University, joined the company full time in 1993 and runs the family's retail operation. His brother David studied finance, also at Temple, and oversees new construction and commercial installations. Their sister, Pam Gifford, earned an accounting degree from Rider University and joined the family business in 1994 as the company's controller.

Changes are in the air
Fall is the busiest time of year for flooring professionals as people spruce up their homes for holiday gatherings, Hansbarger says. And despite the downturn in the economy, this year is no exception.

"Kitchen and bath renovations are very popular these days," he explains. "In our area, homes are at the age to be renovated because many of them were built in the '70s or '80s.

"We're using a lot more tile – a business we expanded five years ago," Hansbarger adds. "There are so many new types of porcelain tiles that offer really cool looks. For example, accent tile in colored glass and metal has become very popular." While it may be used on the floor, it usually works best in showers, tubs and back splashes.

The majority of their customers come from Lower Bucks County, though their business covers a large radius in Pennsylvania, New Jersey and Delaware.

"We have such a great client base. Most of our business is referrals. Our reputation is excellent. Customers tell me, 'Your staff was so nice and helpful,' and our installers are courteous and professional." Hansbarger says.

Holland's business not only encompasses retail, but a generous amount of new construction and commercial. Fewer people are coming in just to see what's out there, most are more serious shoppers. "We do our best to earn their business," he adds.

What's hot in flooring
In addition to clever combinations of materials in tiles, exotic wood continues to be popular, especially Brazilian cherry and Santos mahogany. Hansbarger also sees a lot of hickory, birches and maple from managed forests in North America. Hand-scraped flooring is a new style that "adds a neat little flair to the floor," he explains, "not quite rustic but distressed." And because the wood is finished by hand, each board is unique.

His customers also clamor for greener, or more renewable floors, such as bamboo and cork. Also growing in popularity is SmartStrand, a soft and stain-resistant carpet, which is made with 37 percent corn. Not only are the materials more sustainable than petroleum-based fibers, even producing SmartStrand requires 30 percent less energy than producing the same amount of nylon.

While more people are putting hard surfaces in their bedrooms to obtain a cleaner surface, patterned carpets are popular, in essence, going wall-to-wall with area rug patterns.

"You don't see a lot of wallpaper these days," Hansbarger says. "People are painting walls and putting their pattern into furniture and floors." The design could even be all one color, created by a cut-and- loop pattern. Most patterned carpets are installed on stairs and upper hallways.

In his own home, Hansbarger installed mostly hardwood, however, he chose to use a frieze—a modified shag, loosely made so the yarn hangs down—for the family room, for its cozy appeal.

Expanding into Newtown
Holland Floor Covering expanded its retail location and moved to Newtown in March 2004. Its 8,000-square-foot designer showroom has a sizable selection of carpet, ceramic tile, hardwood, laminate and vinyl flooring on display. A new area rug display stocks 80 rugs for immediate delivery.

"We pack a lot of product into those four walls," Hansbarger says.

"What a great location this is for us," he continues. Newtown is a wonderful town—great stores and restaurants. That helps us. The busier the town, the better our business."

Hansbarger said he is always revamping the showroom, introducing new products and changing the layout. "I learn new things every day."

Holland Floor Covering
35 Swamp Road , Newtown PA 18940
phone: 215-357-0909, hollandfloor.com

Maria Martino Evans is a PR professional and writer living in Pipersville.