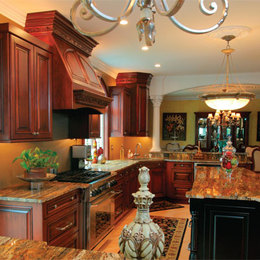 The work is a joint effort
Homeowners work hand in hand with Let's Get Stone'd to achieve picture perfect results.
Creativity and one-of-a-kind artistry are part of what makes Let's Get Stone'd unique. LGS owners Kirk Raysky and his father Eric provide customers an outlet for achieving individual home masterpieces through the use of natural granite. From
exotic to basic, dark to light, subtle to shimmering, no two stones are alike.

Janet and Jeff Marozzi of Warrington chose the granite Hurricane for their recent complete kitchen renovation. With an array of browns, tans, blacks, grays and terra-cotta, the multicolored stone is a stunning complement to their custom black glazed cherry cabinets.

"I was blown away," says Janet Marozzi, her voice ecstatic as she describes her new countertops, islands and back splashes feeding into traditional Corinthian arches and columns.

This is Marozzi's first exposure to kitchen remodeling and LGS's techniques. At first Marozzi wasn't sure about the need for the process of creating and using plywood templates. "But then you realize why they do it that way when you see the granite's focal points and movements."

The entire process gets high praise from Marozzi. From selecting and preapproving granite slabs, to fabrication and meeting Kirk Raysky at the shop, Marozzi is vocal: "I'm going to write a letter; their customer service was outstanding," she says of LGS and its staff. "They were motivated, dedicated, professional and really cared about making sure everything was going to work out."

"We do focus on the customer," says Anya Raysky, Kirk's wife and colleague. "When you come to us, you are really involved from the beginning to the end.

"We have three people constantly knowing who's who and what job is getting done," Anya continues. "We focus on the customer being happy and we get back to them right away."

In business since 2001, LGS's Warrington showroom has a steady flow of customers viewing their marble (primarily for bathrooms), flooring, tiles and granite samples. Beyond the showroom, on-site fabrication includes offering customers a variety of countertop edges: 1/4-inch and 1/2-inch bevel, demi bull-nose, flat, ogee, double ogee and full bull-nose.

Every stone is unique, every stone is beautiful
And in the rear yard, approximately 150 granite slabs are available in a wide array of colors, such as Wild Sea, Thunder Wave and Red Montana. Customers are encouraged to take a sample home or bring their existing cabinet drawer into the LGS professional designer for help in choosing style and color to complement their existing lighting, floors and appliances.

Having an on-site designer is helpful when coordinating the various components. "To really show the beauty of the granite, you
would want the grains and movements to flow evenly while still emphasizing each unique piece," says Anya.

Granite is found in countries such as Brazil, India, Italy, South Africa and Russia and formed naturally as lava cools underground. The igneous rock is mined into large cubes, then sliced like a loaf of bread, polished and shipped via boat to the United States. Recent technological advances in mining and fabricating real, textured granite has brought prices down. Part of granite's popularity comes from its ability to withstand heat, scratching and daily use. To maintain luster, the homeowner should apply a sealer twice a year.

LGS is "Best of Bucks" two years running
In addition to the Intelligencer's award, "Best of Bucks" 2008 and 2009, Let's Get Stone'd is a member of MIA, The Marble Institute of America. MIA is a worldwide authority on natural stone production and application, with members who are committed to the highest standards of ethics and workmanship.

Let's Get Stone'd
414 Easton Road (Route 611)
Warrington, PA 18976
215-491-7814
www.lgsgranite.com.

Jill Yris is a freelance writer based in Doylestown.