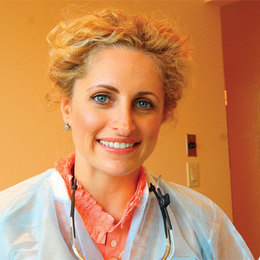 Ardent Smile
Ardent Smile's approach: Dental care as a partnership
When it comes time to go to the dentist, it makes sense to go to an office where the staff strives to ensure the patient's comfort and ease. Fear and anxiety keep some from getting the dental care they need. But Ardent Smile is changing that. The state-of-the-art facility features calming features including spacious rooms with lots of windows, cable television and soothing music. And for those who need additional relaxation tools, nitrous oxide is now available. Ardent Smile commits itself to making a patient's dental visit as comfortable as possible.

Ardent Smile uses a comprehensive approach to all aspects of adult and children's dentistry, Dr. Vinnikov believes in being proactive with her patients, working with them to achieve their best dental health, both clinically and cosmetically.

Dr. Inna Vinnikov, who recently opened Ardent Smile at 4529 West Swamp Road in Doylestown, describes the goal of the practice: "To educate patients about their dental health, and show patients how to maintain a healthy mouth for a lifetime."

A happy patient agrees
Marina Divinsky, a satisfied Ardent Smile patient, finds Dr. Vinnikov the ideal dentist for her—so much so, she encouraged her
brother and husband to move their care to the practice.

"Everything at Ardent Smile is really comfortable," says Divinsky. From the seating, to the digital x-ray equipment to the flat
screen televisions that accompany every chair, a patient feels that her needs will be met in the most professional way. "Everything is explained to you, whether you're looking for cosmetic changes or you need other treatment. Dr. Vinnikov is on top of all the latest technology," Divinsky adds.

Additionally, Divinsky says she learned a dental visit "doesn't have to torture you." When she first started going to Dr. Vinnikov, she admits she was a little timid. "I've always hated going to the dentist." Divinsky went on to explain that the staff is highly skilled and very knowledgeable. "I'm happy that I came to this office, I am getting the care I need and no longer dread going to the dentist!"

Technology enhances dentistry
Dr. Vinnikov, a graduate of Temple University's Kornberg School of Dentistry in Philadelphia, believes technological advancement has improved dental care, both diagnostically and in patient comfort.

Ardent Smile uses digital x-rays, which use 95 percent less radiation, while providing an extremely effective tool for detecting tooth decay and other problems. Additionally, Dr. Vinnikov says that digital x-rays enhance communication between the patient, the dentist and any specialists involved in the treatment. "It's immediate," Dr. Vinnikov emphasizes. "The area of concern immediately appears on the television screen, and the patient can easily visualize what I am presenting them. It confirms the diagnosis to a patient, and the patient is more eager to proceed with treatment." Furthermore, digital x-rays along with other tools provide highly efficient recordkeeping.

An intra-oral camera is also part of the 21st century practice. The tiny device allows the dentist to project an image of a tooth onto the television screen showing cracks, decay or any other problem not visible to the naked eye. This helps to diagnose and treat problems earlier—a key to better dental health.

Finally, Ardent Smile offers FDA-approved VELscope. VELscope is the most recent technology in early oral cancer screening available today. Dr. Vinnikov says that VELscope clinically detects suspicious lesions in the mouth in "a painless and quick" manner. Using a safe light directed into the mouth, the VELscope allows a dentist to differentiate between normal and abnormal tissue, and detect oral cancer at an early, more curable stage.

Customer service
As a convenience to its patients, Ardent Smile offers Saturday morning and weekly evening appointments, recognizing the importance of being flexible for busy patients with demanding schedules. The office staff helps patients manage their insurance plans, and offers financial payment plans through Chase Finance and Care Credit.

"Working in Center City Philadelphia, I have a tough schedule. The office is willing to work with me, which is really great," says Divinsky. "I would highly recommend Dr. Vinnikov to my friends and colleagues."

Freda R. Savana is a professional writer in Doylestown.