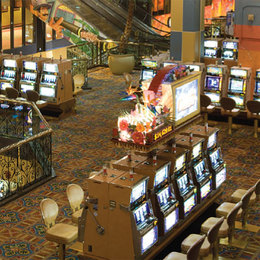 Head South
To South Jersey, that is, and rediscover all Atlantic City has to offer
Photographs by Paul Pugliese

Atlantic City. Depending on your mindset, that name can make you shiver with excitement or shrug with disdain. If it's the latter, you should reconsider. Yes, the neon-bright casinos and attendant nightlife are what draws the crowds, but AC has become a desirable destination on many fronts. This Jersey shore town offers something for almost everyone to admire.

Foodies, music lovers, shopaholics, comedy fans, spa-hounds and beachcombers all find things to love. We've done the legwork for you. Read on to find a hotel, night spot, restaurant, shop or activity that interests you—then get in the car and drive south. Odds are you'll be happy you did.

STAYING OVER

When money is no object
In AC, VIPs stay at the Water Club's Residence on 34. Modeled after a New York City-style loft, the 4,500-square-foot duplex offers floor-to-ceiling windows, 360-degree views of the bay and ocean, personal butler, grand piano, dining room and gym. Room service comes courtesy of all the celebrity chefs at the Borgata, from Bobby Flay to Wolfgang Puck.

Sweet suites
The premium rooms at Caesars offer contemporary styling, cozy comforters and two flat-screen TVs. Enjoy the walk-in shower sauna and the Jacuzzi tub, then lather up with tangerine olive-flower amenities by Gilchrist & Soames. Even if things at the tables don't go your way, you'll come away from your stay feeling like a winner.

On a clear day you can see forever
Or so it seems at Trump Marina, where guests can choose their sweeping views by suite location— on the marina side or by the bay. Waking up to views of the skyline, or watching the city lights at night is inspiring.

Penthouse, please
There are only three lucky numbers you have to remember when you visit Atlantic City: 7, 21 and 5106—the suite numbers of the premier penthouse suites at the Trump Taj Mahal. High-rolling interior designs with Venetian plaster and marble finishes, intricate gold chandeliers, commissioned artwork and wood accents are just for starters.

SHOP 'TIL YOU DROP

Look like a winner
Look the part of a high roller with a piece or two from the Shoppes at the Water Club, so exclusive, it holds just six high-end designer boutiques ready to clothe you from head to toe. Couture Italian lingerie, Roberto Cavalli's ready-to-wear line, and Prada shoes topped off with a diamond from Hearts on Fire are some of the delectable offerings.

Discounts galore
At The Walk at the foot of the AC Expressway, 89 less costly outposts of your favorite retail names and refueling restaurants are easy to navigate—Banana Republic, Harley Davidson, Coach, J Crew, Kenneth Cole, Disney, Nine West, Polo, Ralph Lauren, Tommy Hilfiger, Yankee Candle and on and on and on. Throw on comfy shopping shoes and go!

It's all here
The most comprehensive casino shopping in AC is found at Tropicana's Quarter, where more than 30 shops contain something for everyone. For starters—Swarovski crystals and Brookstone gadgets, Godiva chocolates and salt-water taffy, kitschy collectibles and leather accessories. Clothiers include White House/Black Market, Brooks Brothers, Tahari and, for the little ones, RockAway Baby. It's the only place in town where you can shop, then hit the spa (BlueMercury) without leaving the building.

Upscale options
As if shops bearing the names Armani, Bottega Veneta, Burberry, Juicy Couture, Gucci, Louis Vuitton, Salvatore Ferragamo, Stuart Weitzman, Tiffany and Tommy Bahama weren't enough to attract you to the Pier Shops at Caesars, come on Tuesdays through December 31 for an extra incentive. A sameday purchase receipt will admit you to Dusk nightclub that evening. It's also good for $20 drink and appetizer menus at Caesar's Continental and Souzai Sushi and Sake restaurants.

ENTERTAINMENT & NIGHTLIFE

Dance the night away
Visitors to AC may come for the gaming or the dining, but they stay for the nightlife. mur.mur is the Borgata's trendy underground dancing dungeon, and the best place to show off your moves, whether you're in the VIP section or on the main dance floor. Everyone finds their groove here.

Memorable music

In a short time, Caesars new club Dusk has made a distinct name for itself. The club houses some of the best resident DJs in the country, including standout Jesse Marco, and big names in the music biz, Mya, Keri Hilson and Good Charlotte, who have appeared as surprise guests in the wee hours.

Laugh your a@& off!
When superstar comics like Chris Rock and Bill Maher come to town, you can catch them on stage at the Borgata's Event Center, or at its more intimate Music Box. Here you'll find quality acts from local jokesters Joe Conklin and Big Daddy Graham to national headliners Lewis Black and Jim Norton. And there's not a bad seat in the house.

Reason to love live music
One of the coolest places in AC for live music is the House of Blues at The Showboat. Steps from the boardwalk, the large, warehouse-like room gives plenty of space to those in general admission. The balcony views and VIP banquettes are other options. The sound system is state-of-the-art and the acts vary from hip-hop to heavy metal.

Chilling by the pool
No matter the season, you can always enjoy the pool at Harrah's. By day, it's your typical hotel oasis. But by night, it's transformed into a trendy party atmosphere that feels more like Miami than AC. DJs keep the crowd moving, and you just may rub elbows with Carmen Electra and Adrian Grenier, who have been known to visit.

Arena to rock in
Located in the Taj Mahal, the Mark G. Etess Arena is a multipurpose entertainment facility for various events—from concerts and boxing matches to beerpong tournaments. With a capacity of 5,000, it plays home to some of the biggest acts passing through town.

GAMING

High-roller treatment
The High Limit Gaming Salon at the Taj Mahal is made for those willing and able to lose as much as $6,000 per hand. Premium players can stake up to $25,000 for blackjack and $100,000 for baccarat. The exclusive, ultraopulent space is tricked out in crystal, marble and glass, with a separate lounge area serving up refreshments; where tux-clad dealers and servers cater to patrons' whims and needs.

Low-limit fun
At the RIDGE, Bally's hybrid gaming/bar/entertainment space, $10 is all you need to get in on a casual game of roulette, craps, blackjack and even war. There's also a mix of live entertainment, DJ-spun tunes, drink specials and dancing. This is Bally's social hub, combining a youthful vibe with a party-like package that stands out from the resort's multiple other casino rooms.

Get rated
When you get rated, the casinos will track your spending and you'll get free stuff. The My Borgata rewards card allows all kinds of perks depending on your level. And now it's coupled with a promotion called Nightlife Rewards that lets members put their comp dollars toward a night out at MIXX, mur.mur, Gypsy Bar and B Bar.

Coolest atmosphere for slots:
Havana's Rooftop Slots at the Tropicana coins a new, immersive experience. Compared to the other slot floors around town, it's downright quiet atop the 3,000-foot raised "Rooftop" platform. Opened last summer, it evokes old Havana with Cuban coffee, salsa music and vibrant, hand-painted murals.

Poker anyone?
No matter your skill level, AC has room for everyone at a table. The Borgata's daily tournaments, held in the largest poker room in town (85 tables), have buy-ins that range from $30 to $1,000, with special events that go even higher but guarantee a prize pool of $500,000. The World Series of Poker, arrives back at its home base, Harrah's, Dec. 4-20. Try the AC Hilton for an intro to Texas Hold-Em, 7-Card Stud and Omaha.

FOOD & DRINK

Meal worth splurging on
When you're looking for a memorable meal, look no further than SeaBlue, Michael Mina's ode to the ocean, where seafood reigns supreme, especially the twopound lobster pot pie. This delectable fresh Maine lobster in truffled cream will whisk you away to a world where your only concern is how to wash it down.

Reason to love good beer
There's a secret between sommeliers: Craft beer has arrived. Whether you're looking for a food pairing or merely want to taste the beer, the search is on for seasonals and signature brews. Firewaters, in the Tropicana, satisfies such a thirst—with 50 beers on tap and another 50 in bottles.

Not your grandfather's steak house
Bobby Flay came to AC intent on ending its reputation as a meat-and-potatoes town. Instead, the Food Network darling opened his first steak house, where he's introduced Kobe New York strip and spicy Southwest rib-eye topped with roasted red and green chilies. This is truly a gem from one of the country's most respected chefs.

Escape to Italy
The Taj Mahal serves as the Jerseyshore home for the famous Big Apple restaurants Il Mulino New York and Trattoria Il Mulino. The more casual trattoria offers brickoven pizzas to authentic pasta dishes, while the main room serves up Old World favorites and the restaurant's renowned langoustines. Whichever you decide, stick around for the complimentary shot of limoncello; it's made in-house.

Reason to own a vodka locker
In the heart of The Quarter inside the Trop, vodka lovers flock to Red Square. Along with 180 bottles, there's also a tasting room, temperature-controlled at 30 degrees below zero, where you can lease a locker to store personal bottles for those times when waiting at the bar just won't cut it. Tasty, theatrical and fun!

Al fresco option
Once the warm weather returns, al fresco dining will be back in full swing. At the Trump Marina, the Harborview offers an enjoyable meal by the water along with unique views. You'll swear you're on the French Riviera as you munch on tuna carpaccio and char-grilled prime sirloin.