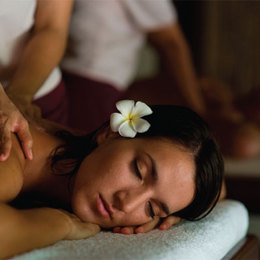 Escape holiday hassles
Local spas have getaways for one—or two.
Solitude and serenity

Need a moment alone to break free from the holiday hustle-bustle and the frantic pace of crowded shopping malls, all-night basting, baking and endless to-do lists this holiday season? Take your shoes off upon entering, and exhale away your stress as the calm, tranquil energy washes over you at Serenity Day Spa & Wellness Center in Doylestown.

Serenity offers a wide array of high quality spa services all year long, but the special Holiday Menu is designed to keep you in the spirit of the season, while providing a much-needed respite. Holiday treatments such as the Select Pedicure include a relaxing leg and foot massage infused with scrumptious holiday aromas such as winterberry, cinnamon apple cider, harvest spice, black currant & fig and sugar cookie scented creams, sugar scrubs and soaking salts.

Other specials of the season include the Cranberry Antioxidant Layered Facial and Body Scrubs or Wraps using holiday scented products. Also, guests may turn any one of the many types of relaxing massages on Serenity's extensive menu into a "festive treat" by adding one of theselect holiday aromas. Nurturing your body is vital to keeping yourself physically balanced with the extra demands at this time of year.

Calming and clearing your mind is also key to handling this stress. The owners of Serenity know this, and in addition to taking one of its new yoga classes, you can also participate in a "mental unwinding" with an hourlong meditation class held on Friday nights!

A boutique-like waiting area is filled with spa products, jewelry and accessories for effortless shopping during your visit. Gift certificates are a great idea for those people on your list who may need pampering themselves. To accommodate busy clients during the holiday season, Serenity extends its regular hours by opening for services and shopping on Sundays from 11 a.m. to 5 p.m. throughout December.

Serenity Day Spa & Wellness Center is located at 64 East Swamp Road (Route 313) in Doylestown. For the complete Holiday Menu and all services, visit them at their cyber spa www.serenitydayspa.com or call 215-230-3487. Regular hours are Monday, Wednesday and Friday from 10 a.m. to 6 p.m., Tuesday and Thursday from 10 a.m. to 8 p.m. and Saturday 9 a.m. to 5 p.m.

Two turtledoves

Tired of searching year after year for the perfect gift to give your significant other? Try escaping from all the boisterous holiday festivities with a quiet spa getaway for two at Citrus Salon & Day Spa in Montgomery County. The Spa Escape for Two provides four hours of rejuvenating services for you to reconnect and achieve a peaceful state of bliss together before heading back out into the frenzied pace of parties and shopping. The package includes a Citrus Signature Facial, Tranquility Swedish Massage and Citrus Signature Spa Manicure & Pedicure for both. All services are performed by a spa professional and are designed to meet each individual's specific skin and body needs. This package can also be a great time for girlfriend get-away or a mother/daughter retreat.

In addition to the wide array of spa amenities including their MenSpa, Citrus has an award-winning salon with talented hair designers, makeup artists and waxing services. The salon is also known for 100 percent human hair extensions for clients wanting to achieve their "dream hair."

Citrus Salon & Day Spa is located at 1201 Dekalb Pike in Blue Bell. For more information on spa and salon hours and services call 610-277-HAIR or visit them on the web at www.citrussalonspa.com.