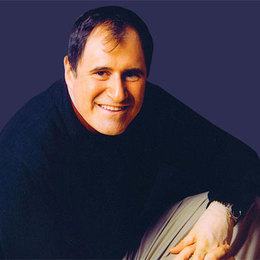 Spotlight: Richard Kind
Mad about him
When Richard Kind greets fans, it seems that each person knows him from a different show, whether it's his unforgettable comedic roles in Mad About You, Spin City, Still Standing, Curb Your Enthusiasm or any one of the many other television shows, movies or animated features he's done. Kind doesn't seem to mind how they recognize him; he seems cool with the idea that they recognize him at all. He has one of those familiar faces and an unforgettable voice that has catapulted him into Hollywood fame as one of the most endearing character actors today. Not bad for a guy who didn't even start out wanting to be an actor.

Born in Trenton, N.J., Kind was in fourth grade when his parents moved him and his younger sister, Joanne, to Yardley, Pa., where he stayed until he graduated from Pennsbury High School in 1974. He calls his hometown bucolic and fondly remembers the days when he would play outside and bike through the woods.

"I don't mean to be a Pollyanna, many times great comedians and actors are raised very poor and had a tough childhood, but I had a wonderful childhood," says Kind, who admits he had an upper middle class upbringing. "My parents loved me and I got everything I wanted without being spoiled, everything I needed. It was a really great childhood. My teachers were so good and nurturing and I keep in touch with some of them to this day. I'm a dull subject."

Hardly. In fact, Kind enjoys slipping in a little sarcastic humor to what he might call dull subjects, making his comedic roles seem like they are just a slight extension of the true Kind personality. "I was president of the student council in 10th grade," he says, "but I did nothing. I was a horrible president. Okay, maybe I created two movie nights, but otherwise I did nothing."

As a teen, Kind enjoyed traveling by train from his hometown into New York City on Saturday mornings where he would buy half-price movie tickets, spend the day in the city and see a matinee and evening show. "I was a huge movie nut, but I wasn't going to be an actor," says Kind, who had aspirations of being a lawyer. "I was convinced to try it for a year after college."

His career took off with the Second City comedy troupe and he has since been nominated for a Screen Actor Guild Award for his role in Mad About You. He has appeared in multiple television shows and movies as well as on Broadway in The Producers and Dirty Rotten Scoundrels. He recently appeared at The Kennedy Center Honors honoring the legendary comedian Mel Brooks. You could say we're just mad about him.

Lisa Iannucci is a freelance writer in Dutchess County, New York, and is the founder of www.celebrity-dogooders.blogspot.com.