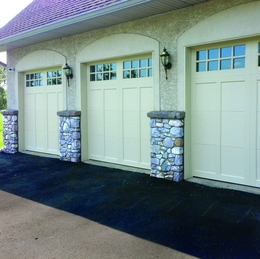 Open Season
From Bucks County to the Main Line, Des-Carr Doors crafts artfully designed and constructed carriage doors to enhance any home.
In its purest form, a garage door serves a simple purpose. Typically made of wood, metal or fiberglass, it provides access and security, as well as protection from the elements. But in Joe Muredda's world, a garage door is much more than a humble means of entry and exit.
"Garage doors have come a long way over the years," says Muredda, owner of Des-Carr Doors Inc. in Doylestown. "They used to be all one size, for the most part, but now you can customize them to just about any home. A well-made door is about functionality and providing some insulation from the cold and the heat, but more and more it's also about curb appeal. Now a garage door is the focal point of a lot of homes."
That's especially true for the types of custom carriage doors Muredda's team of professionals install and repair for every day. Impeccably designed and constructed of the highest-quality materials, these doors are built to match a home's distinctive style, whether it's a stone manor house in Doylestown or an ivy-shagged estate home in Gladwyne. It's not a stretch to say some of these doors qualify as legitimate works of art.
"Our goal is to make customers happy, from the design to the installation," Muredda says. "There are times when we bend over backward for customers; it's no problem working Saturdays and Sundays. … We want to make sure we stay at the job until people are 100 percent happy. We're proud of what we do, but we also want their recommendations. When people see good work, they remember you and they recognize you. That's what we want to do with every job."
Muredda is a lifelong craftsman who began his career in the roofing business. He eventually made inroads into garage doors, where he met Des-Carr's former owner, Tom Carroll. Muredda took to the work quickly and fondly, and wound up purchasing the business from Carroll in 1998. Since then, Muredda and his wife, the Bucks County Realtor Carol Muredda, have built Des-Carr into what it is today: a trusted, honest and reliable installer of high-quality carriage doors, from the likes of Amarr, Carriage House, Clopay, General Doors, LiftMaster and Wayne Dalton.
"We've been working out of the same building in Doylestown since 1985," says Muredda. "People appreciate working with a local business, and they appreciate quality. We may not be the cheapest number compared to what you mind find in a big-box store, but our customers find that there's a lot of value in working with local people."
Des-Carr Doors still does most of its work in Bucks County—particularly Doylestown, New Hope, Upper Makefield and Yardley—but has since branched out into the Main Line. While the "buy local" movement certainly plays into homeowners' decisions to work with a company such as Des-Carr, Muredda says they also like having the reassurance of being able to reach the installer easily, if needed.
"My employees are not subcontractors; I'm not paying some guy I don't know to come to your home and do the work," he says. "These are my employees, so I make sure they treat you with kindness and respect. When you call my shop, you talk to Carol and she schedules the appointment, and people love her. I'm the owner, and I come out to your house and do the estimate. When it comes time for the installation, it's my installers who come out and complete the job. It's as simple as that.
"If anything ever happens with your door, you call us and we respond," he continues. "If you need us for any reason, we're there for you. You know exactly where to find us."
For more information on Des-Carr Doors, call (215) 340-0344 or visit DesCarrDoors.com.
Photography courtesy of Des-Carr Doors
Published (and copyrighted) in Suburban Life Magazine, January 2019.
.
.
.