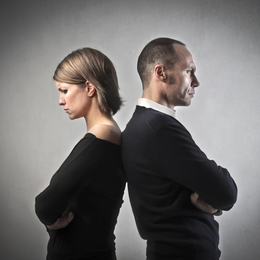 Untying the Knot
When a marriage falls short of lasting a lifetime, one must navigate a maze of financial and emotional obstacles. Here's how to get through it and thrive on the other side.
No one goes into a marriage thinking the foundation will one day crumble. Sometimes, however, no matter how much effort both spouses put into trying to preserve their union, the words "I do" become "I wish I hadn't."
Historically speaking, as many as 39 to 50 percent of marriages have ended in divorce, though some data suggest the incidence of divorce is on a steady decline. The U.S. divorce rate dropped 18 percent from 2008 to 2016, according to a sociologist from the University of Maryland, driven in part by the fact that many people are waiting longer to get married. Even so, couples who are living unhappily now seem more willing to leave a failing marriage in their wake.
"Honesty and transparency are essential to any successful relationship, whether you're partners in business or partners in life," says Jeffrey A. Liebmann, an attorney with Liebmann Family Law in Newtown. "If those things are absent, the relationship may be on shaky ground."
Experts suggest individuals can take several precautions—before taking the plunge, during the marriage, and after the union unravels—to help them emerge on terra firma, both financially and emotionally, once the proverbial dust has settled. In the courtship phase, long before two people get married, they should become familiar with each other's financial habits and financial health. By having an honest discussion about assets, debts, and investments, for example, couples can have clear and open communication for the life of the marriage but also help to paint a clearer picture if the marriage fails.
"Someone close to me was dating a woman he had known since high school," says Loretta Hutchinson, CFP, CDFA, a partner in Thrive Wealth Management, based in Audubon, and the managing partner of Financial Divorce Plan LLC, based in Yardley. "He was a disciplined spender, but she was not. They wanted to get married, but before they did he said, 'Look, we'll get married when you clean up this debt,' so they put a plan in place to get there.
"It's a difficult conversation to have, but there are going to be plenty of difficult conversations to have," she continues. "If you can't have those kinds of conversations, it's probably a foreshadowing of what's to occur in the marriage."
When spouses do not take the time to understand their respective approaches to critical issues, it can cause tension and resentment to build—and, in some cases, it can create a rift that brings a couple to the brink of divorce. This applies not only to finances but also to child rearing, long-term goals, and other essential aspects of life.
"Marriage is a partnership," says Liebmann, who has been married for seven years. "Being an active participant in what's going on in the household, insisting on knowing where the bills are going, seeing what the retirement assets are—it's just good practice to see how things are situated so you can answer the question: 'If we're in our 40s, where will we be in our 60s?'"
A Clearer Picture
Sometimes, the unraveling happens slowly, over the course of several years. One partner in a marriage may choose to visit with an attorney or a financial advisor, just to see where they stand, to see if they can maintain their lifestyle without his or her spouse.
"As you begin the process, get some information," Liebmann advises. "Have access to tax returns, credit card statements, account balances, the details of your retirement savings. The more information you have, the clearer picture you'll have of what life might look like after the fact, if it comes to that."
If sincere attempts to save the marriage prove fruitless, Liebmann suggests interviewing a few attorneys, to make sure the individual "gels with what you're looking to get out of this." He also prescribes a path of honesty and integrity when dealing with a soon-to-be-ex-spouse, starting with the initial tough conversation.
"It starts the process badly, to say the least, if under the cover of darkness or while your spouse is at work, you clean out the bank accounts, take the kids, and leave, with your spouse having no idea it was coming," he says. "Keep in mind that, especially if the marriage produced children, your spouse will in some way always be in your life. You will have to deal with each other for a long, long time, and at the very least you'll have to be in the same room together when your children grow up and get married."
Many individuals who are going through divorce—or even before they get to the point of needing a divorce—will benefit from additional perspective apart from that of an attorney. From Hutchinson's perspective, a Certified Financial Divorce Analyst or a Certified Financial Planner may be better equipped to offer future-looking insight, financially speaking.
Hutchinson, who has been married for more than 30 years, says she has seen divorce done "both good and bad" through friends and others close to her. Sometimes, she adds, divorce isn't always the best option.
"All marriages go through transitions, and not every transition should trigger a divorce," she says. "You need to have open communication, and you need to have shared goals—and you also have to realize that your spouse in 10 or 15 years is likely to be different than they were when you married them. I also think it's important to have a good friendship [with a spouse].
"In my mind," she continues, "there are deal breakers, but a lot of things a couple goes through in the life of a marriage can make the marriage stronger once you get to the other side."
Where to Begin
When divorce seems inevitable, to whom do you turn? We asked readers to share their opinions regarding the family law attorneys they consider leaders in their field—and they responded. In addition, we included a number of attorneys featured in recent issues of Suburban Life who have shown an aptitude for leading clients through the uncharted waters of divorce and landing them safely on the opposing shore. Whether to help with a divorce, an adoption, or another delicate matter pertaining to family law, our 2019 Top Family Law Attorneys can assist.
Robert E. Angst
Valerie Rosenbluth Angst
ANGST & ANGST P.C.
Doylestown, Harleysville
(215) 513-1517
Michael E. Bertin
Cara A. Boyanowski
Tara Burns
Julie R. Colton
Samantha J. Evian
Jennifer L. Iseman
W. Frank Johnson Jr.
David L. Ladov
Hillary J. Moonay
Michelle L. Ringel
Thomas A. Roberto
Lanique A. Roberts
Amy L. Rokuson
Leslie B. Spoltore
Adam Tanker
Shari B. Veisblatt
Maris J. Weiner
Robert I. Whitelaw
Stephanie H. Winegrad
OBERMAYER REBMANN MAXWELL & HIPPEL LLP
Multiple local offices
ObermayerFamilyLaw.com
Supti Bhattacharya
Barbara M. Kirk
Megha R. Thakkar
HILL WALLACK LLP
Yardley, Princeton, N.J.
(215) 579-7700
(609) 924-0808
Jessica L. Bowman
KILKENNY LAW
Norristown
(484) 679-8150
Jennifer A. Brandt
Bernard E. Zbrzeznj
COZEN O'CONNOR
Philadelphia, West Conshohocken
(215) 665-2000
(610) 941-5400
Catherine Cardozo
THE LAW OFFICES OF CATHERINE CARDOZO LLC
Abington
(610) 298-1081
Christina J. Corr
Michelle A. Winter
WINTER CORR P.C.
Colmar
(215) 822-5266
Jennifer Courtney
THE LAW OFFICES OF JENNIFER COURTNEY
Yardley
(215) 493-3360
Marie I. Crossley
William J. Gallagher
Lance J. Nelson
Ashley B. Stitzer
MACELREE HARVEY
West Chester, Kennett Square, Doylestown
(610) 436-0100
(610) 444-3180
(215) 309-4020
Amy P. De Shong
WISLER PEARLSTINE LLP
Blue Bell
(610) 825-8400
Susan Levy Eisenberg
SUSAN LEVY EISENBERG ATTORNEY AT LAW P.C.
Newtown
(215) 860-9700
Elizabeth J. Fineman
Lisa J. Gaier
Jamie M. Jamison
Jessica A. Pritchard
ANTHEIL MASLOW & MACMINN LLP
Doylestown
(215) 230-7500
Kevin L. Hand
Marisa M. Perini
Marc I. Rickles
Abigail F. Tuttle
KARDOS, RICKLES & HAND
Newtown
(215) 970-2755
Lydia F. Keephart
PELLETTIERI, RABSTEIN & ALTMAN ATTORNEYS AT LAW
Newtown and Princeton, N.J.
(800) 432-5297
Kimberly J. Krzyzaniak
KJK Law
Wayne
(610) 975-4468
Christin Kubacke
Kim Denise Morton
MORTON & KUBACKE FAMILY LAW LLC
West Chester
(610) 692-3999
Michael Kuldiner
THE LAW OFFICES OF MICHAEL KULDINER P.C.
Multiple local offices
(215) 942-2100
Gregory P. LaMonaca
LAMONACA LAW
Media
(610) 892-3877
Erin C. Lentz-McMahon
MCMAHON, MCMAHON & LENTZ
Villanova, Norristown, Jenkintown
(610) 272-9502
Jeffrey A. Liebmann
Mindy J. Snyder
David J. Sowerbutts
LIEBMANN FAMILY LAW
Newtown
(215) 860-8200
Scott A. Lisgar
KELLER, LISGAR & WILLIAMS LLP
Havertown
(610) 449-1400
Donna M. Marcus
Carolyn R. Mirabile
Lawrence J. Persick
John Zurzola
WEBER GALLAGHER SIMPSON STAPLETON FIRES & NEWBY LLP
Norristown
(610) 272-5555
Carla Marino
LAMB MCERLANE PC
West Chester
(610) 430-8000
Charles J. Meyer
HOFSTEIN WEINER & MEYER P.C.
Philadelphia
(215) 561-1100
Clare L. Milliner
BRUTSCHER, FOLEY, MILLINER & LAND
Kennett Square
(610) 444-4848
Sheryl R. Rentz
LAW OFFICES OF SHERYL R. RENTZ
Ardmore
(610) 645-0100
Robert T. Repko
Shannon Kanavy
María Judith Rodríguez-Martyak
Jill M. Vogenberg-Richter
REPKO LAW LLC
Doylestown
(215) 348-9500
Lori K. Shemtob
SHEMTOB LAW P.C.
Blue Bell
(215) 542-2105
Tiffany Thomas-Smith
THE THOMAS SMITH FIRM P.C.
Newtown
(215) 860-3747
Jill E. Trayer
TRAYER LAW
Doylestown
(215) 489-3868
Karen Ulmer Pendergast
Russell J. Manning
April M. Townsend
KAREN ANN ULMER P.C.
Langhorne
(215) 752-6200
Joseph D. Visco
LAW OFFICES OF JOSEPH D. VISCO
Doylestown
(215) 348-3755
Randi J. Vladimer
RANDI J. VLADIMER P.C.
Radnor
(610) 975-9898
Jeffrey M. Williams
Lynelle A. Gleason
Shauna L. Quigley
Robert J. Salzer
Susan J. Smith
Melanie J. Wender
WILLIAMS FAMILY LAW P.C.
Doylestown
(215) 340-2207
Douglas I. Zeiders
HAMBURG, RUBIN, MULLIN, MAXWELL & LUPIN P.C.
Lansdale
(215) 661-0400