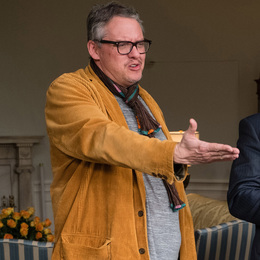 Virtue and Vice
Malvern native Adam McKay, the Oscar-winning filmmaker and writer/director of the Dick Cheney biopic Vice, talks about life behind the lens.
Every time Adam McKay comes home to the Greater Philadelphia Area, he gets vivid reminders of the experiences that helped to shape his award-winning film career.
A native of Malvern, McKay recalls watching countless movies with high school and college buddies at local arthouse theaters. He also took film classes, wrote scripts, and learned the art of storytelling, all part of his "film school" education. He loved movies so much he even worked as an usher.
The 50-year-old McKay had a great deal to celebrate during his last visit, just last month.
With a career spanning more than two decades, McKay was the head writer, producer, and director for two seasons of Saturday Night Live. After SNL, he went on to write and direct memorable movies such as Anchorman: The Legend of Ron Burgundy, Step Brothers, The Other Guys, and Talladega Nights: The Ballad of Ricky Bobby—and, perhaps most famously, the Academy Award-winning The Big Short.
Then there's Vice, McKay's latest, about Dick Cheney's personal life and extraordinary rise to power as the vice president to George W. Bush. The film has struck a chord, from Philadelphia to Hollywood, so much so that Vice has already scored six Golden Globe nominations, including best motion picture, best screenplay, and best director.
Vice stars an A-list cast including Christian Bale in the lead role; Amy Adams as Cheney's wife, Lynne; Sam Rockwell as President Bush; Tyler Perry as Secretary of State Colin Powell; and Steve Carell as Secretary of Defense Donald Rumsfeld.
On Dec. 20, McKay was back in town to receive the third annual Lumiere Award from the Philadelphia Film Society. The award was given for his lifetime achievement, his passion for making movies, and his contribution to the legacy of Philadelphia filmmaking.
"Receiving this honor is quite humbling," McKay says. "I really cut my teeth here when it came to loving film, and understanding film. So, to come back here and be acknowledged, that's quite a thrill."
We caught up with McKay to talk about the significance of the award, his Philadelphia roots, and his advice for aspiring filmmakers.
Q&A
What does it mean to be back in Philadelphia, and to return as a local hero, of sorts?
Well, Philadelphia doesn't put anyone too high on a pedestal. What I love about Philly is it just feels comfortable: the look, the vibe, the weather, the food, the people; it still feels like home after all these years. … I have aunts and cousins [in the area]. I also have many friends from high school and college, so I still have deep roots here.
How did growing up in Philadelphia and its suburbs inform your filmmaking?
Well, I really got lucky being able to go to Temple University, because of my experience of living in a major city, and seeing all kinds of different movies at different arthouse theaters.
I understand you were wild about movies at an early age.
True. I worked as an usher at the Ritz Five [in Old City] back when I was coming out of high school. I was also an usher at a little mangy theater … off Route 30 in Chester County. I remember the first video stores where my friends and I would just inhale several movies in a weekend, and we did this over the course of many weekends.
So, that was your first film school, so to speak?
It was a time when movies were really booming, and I was lucky enough to have a circle of very creative friends. I was an English literature major, but I took several film classes from great film professors at Temple. I remember my life back then was all about watching movies, working on scripts, and talking about movies. It was such a big part of my life, and it still is.
You have a history with a number of actors in Vice. Can you talk about that?
Well, Christian Bale and Steve Carell are certainly unusually talented actors. I worked with Amy Adams in Talladega Nights as well. Sam Rockwell is someone I have been yearning to work with for years, and I finally got the chance.
This was a tricky movie. Dick Cheney is an inscrutable character and to really find out who he is and to go that deep, and you quickly learn that it is also about his wife, requiring actors who could do this kind of work, who would almost become like detectives. Immediately, I thought of Christian Bale and, boy, he did not disappoint. What he did with his character is breathtaking.
Have you ever met Dick Cheney?
I would love to, but I never have.
If you had the chance to talk to him, what would you want to talk about?
I've always heard he's quite funny and quite charming, and that he has a really wry sense of humor, unless of course he's mad at you. I think there are a few key questions. … I would ask him why Iraq? Why spend so much of our country's treasure in that pursuit? Then I would talk to him about the environment, global warming, and, for a guy who loves the streams and loves nature, why he did so little to protect nature. … I would probably ask him about when did he knew that he was going to make a career at this—basically, when was the moment in his youth when he was, like, "This is it. I've found my calling"? I'd be very curious to hear about that.
I am sure the movie will start many heated discussions. Are there certain messages you want to impart here?
Yes, I think that on a personal level [it's about] the line between ambition and the line between being successful, and power for power's sake. I think it's a dangerous line, and one we have to be very cognizant of.
What does winning the Lumiere Award mean to you, especially doing so in your hometown?
It's always a nice feeling to come home. So, then to come home and have someone hand you an award, it gets a little cartoonishly great at that point. I am beyond appreciative.
Are there any places you want to go to while you are home?
This visit was too quick. I would enjoy a Tony Luke's cheesesteak, a trip to Wawa, and to hang out at Dirty Franks bar. But during this trip, unfortunately, we have very little time. Hopefully, next time.
Looking back, would you have predicted this kind of success for yourself?
No. No way. I always thought my dream of dreams was to be a writer, either a comedy writer or another kind of writer. So that was always what I was thinking. But things have changed in the world. More and more the world's skewed towards the image, towards movies, streaming, and television. I guess it did kind of come true since I am a writer, but it's just that things are so much more image-centric right now.
What is your advice to someone who wants to make movies?
Do what you love. Do not try to do what you think Hollywood likes, which is the biggest mistake people make. Do original stuff that you love because that will make you fulfilled, and that's really what everyone's looking for.
Photographs by Matt Kennedy, courtesy of Annapurna Pictures
Published (and copyrighted) in Suburban Life magazine, January 2019.
For more info on Suburban Life magazine, click
here
.
To subscribe to Suburban Life magazine, click
here
.
To advertise in Suburban Life magazine, click
here
.