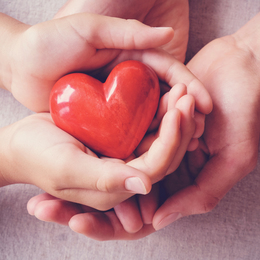 Never Miss a Beat
Area medical centers adopt pioneering therapies to mend the human heart
"Only from the heart can you touch the sky." The Persian poet, scholar, and theologian Rumi was full of such pearls of wisdom, and in this one he touches on a universal truth: The heart, both literally and figuratively, is a force of nature.
In the literal sense, the heart is among the strongest and most vital organs, but it's also imperfect and vulnerable to disease. Because of genetics, lifestyle choices, and the simple passing of time, the heart often needs some TLC.
From stress tests to transplants, the Greater Philadelphia Area can lay claim to some of the most advanced heart programs in the country. What's more, patients who used to have to travel from the suburbs into the city for world-class care can now benefit from exceptional treatment much closer to home.
In many cases, the path to a healthier heart can be accomplished through minimally invasive means—meaning patients can regain their quality of life more quickly, often with less time spent in the operating room. A few examples:
* MitraClip therapy is a minimally invasive option for individuals with a common heart valve disease known as mitral regurgitation, in which the heart's mitral valve does not close tightly, allowing blood to flow backward into the heart. The condition can cause fatigue, shortness of breath, and other symptoms that hamper an individual's quality of life, as well as put him or her at risk for heart failure and stroke. With this therapy, a small device is guided into place with a catheter and then attached to the flaps of the mitral valve to help it close more completely, thereby restoring normal blood flow and improving heart function. MitraClip may be a good option for patients who are not healthy enough to withstand heart valve replacement surgery.
* Another minimally invasive procedure, transcatheter aortic valve replacement (TAVR), is used to treat severe aortic stenosis, a condition in which blood flow is impaired by the narrowing or obstruction of the aortic valve. During a TAVR procedure, a catheter is threaded through a small incision—usually through the chest wall or by way of the femoral artery in the patient's groin—and into the heart. An artificial heart valve is then implanted to replace the damaged one. This, too, may be a safer option for patients who cannot or prefer not to have open-heart surgery.
* Minimally invasive therapies such as radiofrequency ablation and cryoablation can correct atrial fibrillation and other types of irregular heartbeat. An irregular heartbeat can reduce the heart's ability to pump blood to the body, thereby putting the lungs, brain, and other organs at risk. RF ablation uses a guided catheter to remove scar tissue by way of radio waves, while cryoablation coolant delivered by a balloon-based technology destroys problematic tissue, to restore normal electrical conduction in the heart.
Such minimally invasive options aims to help patients recover quickly and without compromise. With each of these minimally invasive procedures, as well as more involved surgeries such as heart transplants, the goal is simple: to get the patient back to normal life without missing a beat.
Close to Heart
The Greater Philadelphia Area should consider itself blessed to have so many fine hospitals and medical centers devoted to caring for the human heart. At the institutions listed below, patients will find various options—surgical, pharmacological, and therapeutic, as well as preventative—to keep their hearts as healthy as possible.
Einstein Medical Center Montgomery
East Norriton
Einstein.edu/Montgomery
Jefferson Heart Institute
Multiple area locations
Jefferson.edu
Lankenau Heart Institute
Multiple area locations
MainLineHealth.org
Penn Heart and Vascular Center
Philadelphia
PennMedicine.org
Richard A. Reif Heart Institute
Doylestown
DoylestownHealth.org
St. Mary Medical Center
Langhorne
StMaryHealthCare.org
Published (and copyrighted) in Suburban Life magazine, January 2019.
For more info on Suburban Life magazine, click
here
.
To subscribe to Suburban Life magazine, click
here
.
To advertise in Suburban Life magazine, click
here
.