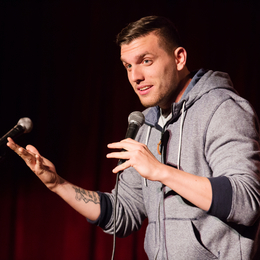 Riot Act
Comedian Chris Distefano has a story he wants you to hear.
Candid, matter-of-fact, and funny as hell—that's Chris Distefano. While his brand of expletive-laced comedy may look effortless, Distefano works hard to share engaging stories disguised as riotous jokes. Fans see his act as refreshingly honest and cutting without being cruel, brushed with the down-to-earth sincerity he attained while coming of age in a gritty part of Brooklyn, N.Y.
Having cut his teeth on the likes of MTV's Guy Code and Girl Code, Netflix's Ultimate Beastmaster, and the IFC series Benders, Distefano has since become a darling of Comedy Central. The network recently extended his weekly interstitial series, Stupid Questions with Chris Distefano, and on Jan. 18 will premiere his hour-long special, Chris Distefano: Size 38 Waist. In the future, Distefano and Comedy Central will collaborate on several other projects, including a second hour-long special, an unscripted series, and an animated series he sees as the perfect vehicle for "telling a story about my life."
From Feb. 21 to 23, Distefano will take the stage at Punch Line in Philadelphia's Fishtown neighborhood. He's excited to return to Philly, which he characterizes as "an honest comedy town."
"If you suck, they'll let you know you suck," he says. "If you're great, you'll get a standing O."
We caught up with Distefano to discuss humor as a coping mechanism, fatherhood, and his fallback plan if, you know, this whole "comedy thing" doesn't work out.
Q&A
A lot of people have had the desire to break into the entertainment business in some way, shape, or form. How did you crack the code, so to speak?
My whole plan was to do comedy, but I understood that the chances were against me. I knew I needed a backup plan. Mine was to be a physical therapist. I had to go to three and a half years of school, post-undergrad, and nobody knew—my family didn't know—that comedy was my goal. I was burning the candle at both ends in New York, which has a lot of competition [among comics]. I would go to work as a physical therapist, and then do open mics at night; when you're new, you can't get on any real shows other than open mics, and you're lucky if you get to fill the last spot at, like, 1:30 a.m. Eventually I fell into the right situations and was able to get on MTV's Guy Code and Girl Code, and they both became pretty popular. I left my day job in March 2013, and I've been doing comedy professionally ever since.
Were you always "the funny guy," or was that something you had to cultivate?
I never really did drugs or alcohol, so I would use humor to get me through tough times. My parents split up when I was, like, one year old, so I would try to be funny or silly when I was on the phone with my dad, probably using humor to mask my real emotions. Even on 9/11, I was in a Catholic school in Queens, and we could see what was happening, and I tried to use humor to get through it. Subconsciously I was always trying to make everyone laugh. At one point, one of my teachers told me, "You should try to make a career in entertainment." I started thinking about it then, as a senior in high school. … It's been great; I never have to look forward to Friday, and I never have to dread Sunday nights. I know every day is going to be a great day.
Besides sharing stories about your daughter in your act, has fatherhood changed your comedy at all?
Fatherhood has changed my comedy in the sense that I really only do what I want to do. If it's not worth my time, or if the money's not right, if it's not going to further my career or make [my daughter's] life easier, I'll just politely decline so I can spend time with my kid. It's not like I'm going to go to L.A. for two months just to see if I can get on a TV show; my time away from [my daughter] needs to be worth it. Otherwise I'll just say no.
I really liked Benders, the show on IFC. Do you have plans to do more straight-up acting, or is standup more your speed?
The day my daughter was born—May 19, 2015—was the day of the first table read for Benders. After my daughter was born and she was safe in the nursery … I left for the table read. I'm sure I showed up at the table read with placenta on me. But yeah, I'd love to do more acting. I wish Benders hadn't been cancelled, but that's how it goes sometimes.