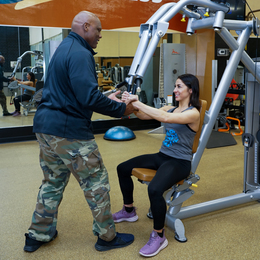 Peak Performance
At AFC Fitness, members discover state-of-the-art fitness equipment, an attentive training staff, and a supportive community designed to help them achieve their personal fitness goals.
It's inevitable. Every January 2nd, fitness centers fill up with men and women of all ages, each of them there to honor a well-intentioned New Year's resolution. By February or March, however, most of the new faces have faded away, having fallen far short of attaining their self-improvement goals.
It's a different story at the three AFC Fitness locations in the Greater Philadelphia Area—Bala Cynwyd, Jenkintown, and Feasterville. While many area gyms offer personal training, a variety of classes, and other amenities, AFC Fitness goes the extra mile by providing experienced staff, exceptional customer service, and a family-like atmosphere designed to support and encourage members. In fact, AFC Fitness is so confident that prospective members will find the experience so remarkable that it offers a free 30-day trial.
"It's not easy to join a fitness center and develop a new habit for working out; it has to become a lifestyle," says Kevin Schultz, fitness manager at AFC Fitness' Bala Cynwyd location, which this year celebrates its 20-year anniversary. "We want to make sure our newest members are engaged with as many people and activities as possible, and that they continue to stay engaged. This is the key to what we do best here."
AFC Fitness offers one-on-one personal training and small-group training to help members reach their goals. Members can choose from 85 to 100 classes each week, ranging from CrossFit and boot camps, to kettlebells and cycling, to yoga and barre, to aquatics and strength training, all of which are included as part of the general membership fee. Small-group training may require an additional fee, but AFC Fitness ensures that these classes have a member-to-instructor ratio of 6:1—never higher than 10:1—to maximize member benefit. Schultz suggests the small class sizes also encourage camaraderie among members.
This camaraderie speaks to perhaps the greatest value AFC Fitness has to offer. While each center offers updated equipment designed to help members thrive, it also provides an atmosphere built to help people "make connections and stay positively engaged," Schultz says.
"Everyone here is in this together," he adds. "You will work with an expert who is certified to help you meet your goals, whether you are here to lose weight, move better, get toned, strengthen your core, or just get into better overall shape. Our highly educated and experienced trainers provide motivation and guidance to make sure you are on the right path. For them, personal training is not a job; it is their career. We've established a fantastic culture in which we make sure all of the members are taken care of."
To his point, Kristin Posner started her career in fitness 22 years ago. She has since become the group exercise director at AFC Fitness' Bala Cynwyd location, where she enjoys giving members a fun, challenging workout that makes them want to come back for more.
"It is hard to come in, walk onto the floor of the gym, and stare down the treadmill," she says. "The benefit of group exercise, personal training, and small-group classes is that they take out the guesswork and provide a structured workout that is planned for you. Our instructors and trainers are here to guide you through a safe and effective workout, assist with proper form, and explain the purpose of an exercise. The motivation, fun, and camaraderie involved are a bonus."
Becoming a member at a boutique fitness center such as AFC Fitness can help to tone the body and improve the endurance, but the benefits extend far beyond physical health. Posner says AFC Fitness provides an experience that enables members to form supportive relationships, work hard, and go home with a strong sense of accomplishment that can have a positive effect on other aspects of an individual's life.
"By making that connection, you don't feel lost, scared, or intimidated when you walk in," she says. "People here feel comfortable very quickly. That makes them excited to keep coming back, and when that happens, the benefits are endless."
AFC Fitness
AFCFitness.com
601 Righters Ferry Road
Bala Cynwyd, Pa.
(610) 664-6464
921 Old York Road
Jenkintown, Pa.
(215) 887-8787
1040 Mill Creek Drive
Feasterville, Pa.
(215) 355-2700
Photograph by Jody Robinson