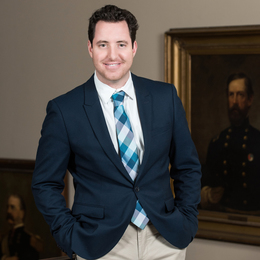 Beyond Stocks and Bonds
Axion Financial Group offers high-net-worth investors an alternative approach to preserving and growing wealth.
The world changed after 2008, when the economic meltdown and the Great Recession that followed inflicted pain on even the most cautious investor. Given the deep and widespread portfolio losses, many investors either swore off the traditional stock-and-bond market entirely or sought other ways to protect their wealth from volatility in advance of any future economic downturns.
Enter Axion Financial Group LLC, led by the father-and-son team of Nick and Tony Kypreos. They started the boutique firm in 2010 as a way to manage the investment assets of their family and extended family, as well as a select group of high-net-worth friends—meaning individuals who have investment assets of anywhere from $1 million to $20 million. The firm's particular area of focus: custom portfolios featuring an array of "alternative investments" and niche strategies typically unavailable to individuals in this net-worth range.
"My father founded a successful business he sold in 2005, and he started investing his own money after that, with me assisting him," says Tony Kypreos, who earned a bachelor's degree in international business from Drexel University and a master's in international management from IE Business School in Madrid, Spain. "After the crisis of 2008-2009, some of our friends in the local community asked what we were doing with our investments. We wanted to help those people, as well as our family members, so we decided to set up our own registered investment advisory firm. Now people come to us to get access to complementary products beyond publicly traded stocks and bonds, because they weren't getting that access through their banks or brokerage firms."
Kypreos says high-net-worth investors crave these alternative investment strategies for several reasons: First, since these investments are uncorrelated to the public stock-and-bond market, they are less vulnerable to market fluctuations and macro-economic downturns; second, they can generate a higher dividend yield compared with traditional stock-and-bond options; third, they can enhance returns by investing in opportunities that have "significantly more upside"; and fourth, they can protect an investment portfolio against factors such as inflation, currency devaluation, and other external events.
Examples of alternative investment strategies might include micro-venture capital search funds, high-growth private pre-IPO companies, and natural resources such as timberland. Kypreos points out that portfolio managers for university endowments and pension funds have been realizing the benefits of alternative investment strategies for quite some time. For example, Yale University's endowment earned a 12.3 percent investment return for the year ending June 30, 2018, by way of a well-diversified portfolio that included the likes of natural resources and venture capital.
"Basically, these are private funds that are smaller in nature and not advertised to the masses," Kypreos says. "You can go on Google and find every one of the companies listed on the S&P, but there are over 20,000 private funds in the U.S., and there is no list of every single fund. It takes years to build that kind of network."
Axion Financial Group has forged close relationships with a wide range of alternative fund managers. In the process, the firm has been able to grant its clients access to these funds at dramatically lower dollar minimums. Whereas some of these fund managers normally require a $5 million investment minimum per individual, Kypreos says his clients can receive the benefits of investing in these funds with as low as $100,000 up to $500,000.
"We're essentially giving ultra-high-net-worth access to the average high-net-worth client," Kypreos says. "A client may have $5 million in total assets, and he'll put $2 million in a diversified portfolio of funds we suggest. It's a way to create dynamic portfolios that can deliver modest returns even in a crisis scenario."
Since the firm's founding, Axion Financial Group has expanded its client list to include approximately 25 non-family members, mostly through existing client referrals. Not every alternative fund is right for every Axion client, but Kypreos says the firm invests non-family clients in the same funds as it does for family members. He refers to this as "eating our own cooking," which he says engenders a high level of trust.
Of course, he's not advising individuals to invest all of their funds in alternative and niche strategies. He's merely offering a path to greater portfolio diversity beyond the more conventional options.
"Some people no longer feel comfortable being in just stocks and bonds," he says. "Depending on how old they are, they may remember what happened in the downturns of the 1980s, or in 2001, or in 2008, and they don't want to go through that again, because it could be detrimental to their financial wellbeing. They know there are other options out there, but no one has been offering it to them. We can."
Axion Financial Group LLC
Offices in Delaware and Pennsylvania
(267) 261-4177
AxionFinancial.com
Photograph by Jeff Anderson