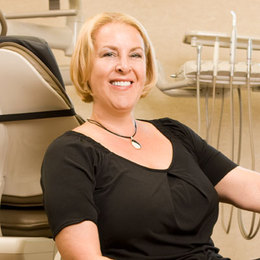 Say Ahhh
Heritage Dental makes the dentist's chair a relaxing place
Despite growing up in a family of dentists—surrounded by the bright lights, painful drills, Novocaine syringes and that all-too-common uncomfortable look on patients' faces when they reluctantly walked through the office door—Dr. Beth Skovron, D.D.S., still wanted to be a dentist when she grew up. But in her vision, people actually enjoyed their visits to the dentist.
Raised in Southern California, Dr. Beth grew up amidst a culture that firmly believed in relaxation and rejuvenation by way of spa retreats in Palm Springs and relaxing weekend getaways.
"I was accustomed to being around a serene atmosphere," she says.
And although she spent 10 years practicing dentistry in a few various local dentist offices in the Montgomery and Bucks counties area, the 1992 graduate of the State University of New York at the Stony Brook School of Dental Medicine, had her own idea for how her practice would be.
"I wanted to provide a setting that would relax patients and put them at ease," she says. "I wanted them to know that visits don't have to be uncomfortable, but rather pleasurable."
Dr. Beth tried to offer suggestions at her former practices, but she was met with responses of, "That won't work here," or "We don't have time here for all of that." She decided to open a practice of her own, even though she knew it would be a challenge.
"I understood that you just can't open a dental office and call yourself a 'spa dental office,'" she says. "I would have to have the whole package to match the environment I wanted to have, and with that, I knew I had to build a facility from scratch."
In 2005, Dr. Beth opened Heritage Dental with the hopes of it being spa-like experience for patients, or what she calls a "Comfort Zone." The goal is to eliminate the fear and discomfort patients undoubtedly feel from the time they call to make the appointment. "In essence, we cater to their every need," explains Dr. Beth.
From free amenities such as an Oxygen Bar—which increases patients' energy, puts them in a serene state of relaxation and aides in overall bodily healing—and nitrous oxide (laughing gas), state-of-the-art laser procedures and spa-like treatments such as hand and feet pampering, Heritage Dental is truly a place patients want to visit.
"Patients actually look forward to their dental visits," says Dr. Beth. "They say to themselves, 'OK, I can relax now, I'm in good hands.'" Some people arrive early for appointments knowing they can relax at the Oxygen Bar or in the massage chair.
Patients at Heritage Dental also enjoy Dr. Beth's small team, which is committed to treating each and every one of their patients—no more than 10 per day—with the attention they deserve. Dr. Beth intentionally keeps both her team and number of patients small.
"I do—and want to continue doing—all of the dental work myself. I have no desire to become a clinic, hire an associate, and turn this into a 10- chair office where I'm running in between rooms simply visiting my patients for just minutes."
Instead, she spends quality one-on-one time with her patients.
"We interview them to find out what they want, rather than what we want them to have," she explains. "We want to know their needs, rather than fulfill our own." And from this, the no-pain work begins as well as around-the-clock service.
"We cater to their every need: we speak to them at night and take calls on the weekends," Dr. Beth says. "And it's not just me, everybody here is willing to do it. We're all committed to this environment, we want to come to work to everyday."
Heritage Dental is run like a small, family practice, because it is one. Dr. Beth's husband, Michael Langan—a retired Pepsi salesman— is the office concierge. "He's great with patients in terms of whatever they need to make them more comfortable," Dr. Beth says.
She also employs two hygienists, Trish Langan and Krystal Boyle; an office administrator, Michelle Sinni; and Lori Gudknecht, an expanded functions dental assistant. With each hygienist running her own serene dental chair—complete with a flat-screen TV over head for patients to zone out with a movie or their favorite television program—and Dr. Beth working between her two dental chairs, the office is truly catering to each and every patient.
For the future, Dr. Beth wants to expand with more spa services, including a cappuccino and espresso bar and a photography studio for before-and-after snapshots, as well as expand her already-impressive list of cosmetic and periodontal services. Dr. Beth and her staff are always enrolling in continuing education classes.
"Not only are we the fluff and relaxation of a spa," she says, "but we do state-of-the-art dentistry in an environment that people have really never experienced before—one that they want to keep coming back to."

Heritage Dental DDS
Heritage Executive Campus 595 Bethlehem Pike, Suite 302, Montgomeryville
215-822-3860
HeritageDentalDDS.com
Leigh M. Boriskin is a freelance writer from Philadelphia.