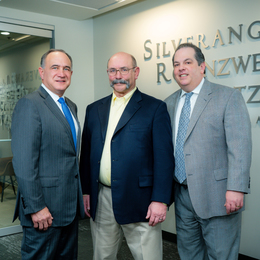 All Business
Offering large firm talent at a boutique firm cost, the attorneys of Silverang, Rosenzweig & Haltzman LLC act as trusted advisors who can handle any business-related dispute or litigation need.
The age-old tale of David versus Goliath proves that determination, skill, and ability should never be underestimated, even against significantly larger opponents. In virtually any business-related legal matter, the attorneys of Silverang, Rosenzweig & Haltzman LLC offer "large firm talent," but with the independence, entrepreneurial insight, fighting spirit, and efficiency of a smaller firm.
The King of Prussia-based law firm provides a range of sophisticated legal services for lenders, borrowers, developers, and investors in various real estate matters (including acquisitions, sales, leasing, construction, development, condominiums, real estate financing). The firm also specializes in commercial real estate disputes and business litigation, including complex workouts, asset recovery, lender liability suits, commercial foreclosures, closely held business disputes, contract enforcement actions and related commercial matters. In addition, the firm concentrates in negotiating, documenting and closing sophisticated state-of-the-art real estate transactions, including portfolio acquisitions, discounted note transactions, Historic and New Markets Tax Credit transactions, and Opportunity Zone transactions. The firm's attorneys also represent closely held corporations, partnerships and LLCs in general contract and transactional work, in documenting syndicated equity transactions, mergers and acquisitions, and all related legal matters.
Regardless of the case, clients can expect prompt communication, exemplary advice, and a promise to "go the extra mile" to help clients succeed.
"We want to be sure that our clients are properly positioned to be successful," says Kevin J. Silverang, one of the firm's founding partners, and also an entrepreneur who has personally developed properties worth in excess of $500 million. "In addition to providing substantive advice, it is important to us that we be very service oriented. You can be sure phone calls are returned, appointments kept, and that the clients' needs are the priority for every attorney, paralegal and member of the staff."
Silverang and his colleagues, because of their business as well as legal experience, regularly serve clients with pragmatic, informed, individualized counsel. Silverang, Rosenzweig & Haltzman is a veritable "one-stop shop" capable of addressing any business-specific transaction, dispute resolution and litigation need.
"We have the litigation expertise you'll find in a large firm," says Mark Haltzman, J.D., M.B.A. "In fact, it's like having a large firm at a vastly reduced cost structure. Instead of multiple partners and associates assigned to a case, we have our experienced litigation partner working with one associate or paralegal. It's more cost effective that way. Our opponents know that we are prepared to take things to trial, and we often settle cases efficiently because of our willingness to try cases."
"We're very proactive and pragmatic," Silverang adds. "With us, you're not getting lawyers who simply offer clients options and wait for directions. We spell out the options available to clients, but then give specific advice as to which option we think best suits a client's needs, and we stand behind our advice. That's why people hire us and why they stay with us."
To his point, the firm has a long and storied history. Silverang has 40 years of experience, Haltzman has 38 years, and fellow partner Philip S. Rosenzweig has 28 years, yet the firm's considerable expertise extends far beyond the partners. Haltzman says the firm's associates are required to have accounting and other MBA style business courses so they "understand much more about the economics of transactions and disputes than the average lawyer."
"Ours is a law firm with a business mentality," Rosenzweig adds. "The way we're perceived in the industry is that we have an entrepreneurial approach to the world. We see each situation comprehensively and with subject matter expertise. When we do deals, they get done creatively and timely. When we litigate, we're achieving leverage for our clients so that they can execute their business plan. We will try the case or negotiate a favorable settlement. It's all about doing what's best for the client in that circumstance."
Silverang, Rosenzweig & Haltzman, LLC
Woodlands Center, Suite 300
900 East Eighth Avenue
King of Prussia, PA 19406
(610) 263-0115
Photograph by Jody Robinson
Published (and copyrighted) in Suburban Life magazine, December 2020.