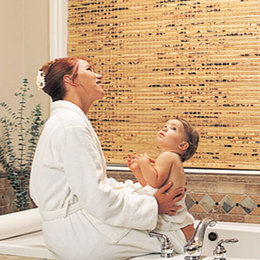 Turn on the Sun
Solar Reflections, Inc. provides natural, cost-effective lighting and ventilation
At the 2008 Olympics in Beijing, 148 Solatube Daylighting Systems helped illuminate the gymnasium as part of the games' environmentally friendly theme. Thanks to Chalfont-based Solar Reflections, Inc., homeowners in the Philadelphia region can enjoy the same high-performance daylighting devices that provide ample natural light while achieving the same aesthetic, practical and eco-friendly goals.
Brad Hoffman and his family first installed Solar Reflections products in their Yardley home and then again upon moving to their current Washington Crossing home. Why? Terrific service, great cost-effective products and energy savings.
Subtle Beacons of Pure, Natural Light
As a Reserve Navy Chaplain and stay-at-home dad, Hoffman cares for his family in many different ways, including providing them with natural, environmentally beneficial lighting.
"We had a family room with a two-story vaulted ceiling," says Hoffman of their Yardley home. Even though the room had windows, it faced north, so it often remained quite dark. Hoffman discovered Solar Reflections, Inc. and their Solatube products. The Solatube tubular daylighting system, with its leak-proof design, captures natural light and sunlight from rooftops and redirects it down a highly reflective tube to brighten dark areas of a home.
"We had two Solatubes installed," he says. "Right away they were illuminated and made the room light and airy. We didn't need lights on during the day. They sit flush in the ceiling and over time, we forgot they were there."
The Hoffmans had such a positive experience with Solar Reflections, Inc., that when the family moved to Washington Crossing, they called on them again in 2009. "Their customer service is great—fast, efficient, clean, in and out in a couple of hours, and it looks like it was part of the house," Hoffman raves.
With their new, L-shaped house, Hoffman says Solatubes added a lot of light in a dark corner. "Even on overcast days, we still get light," he says.
Solatube Daylighting Systems, which were first introduced in the early '90s, can be customized with accessories such as a light add-on kit that provides the convenience of a switched light for nighttime use; a ventilation add-on kit to create a functional, attractive two-in-one ceiling fixture for bathrooms and powder rooms. A daylight dimmer is also available to control the amount of light entering a room and is perfect for bedrooms, media rooms and offices.
Solatube provides cost-effective alternative lighting that will not overheat a room, fade carpets, upholstery or draperies and has a 10-year product warranty. Once in place, the homeowner does nothing but enjoy consistent, visually comfortable daylight with leak-free, maintenance-free benefits. Solar Reflections offers free, in-home consultations to give you professional, personal recommendations, and many homeowners take advantage of same-day installation. Every installation comes with a three-year installation warranty for homeowners' piece of mind, along with the manufacturer's warranty.
Whisper-Quiet Solar Attic Fans
The Hoffmans also added two Solar Star attic fans in their home. "Our walk-in attic used to feel like an oven," says Hoffman. But the solar fans cut down the heat on the second floor, made the air conditioning work more effectively and the air itself more comfortable.
"That was amazing," he says, "You could feel the difference." Essentially, the Solar Star fans take away heat in the summer and moisture in the winter.
Solar Star, the solar-powered attic fan, utilizes ambient light and sunlight from sun-up to sundown to properly circulate air and ventilate attic space. Customers have the option of continuous ventilation or installing a thermal switch which allows the unit to operate when it reaches 85 degrees and turn off at 65 degrees [or when the sun goes down].
With a five-year product warranty, Solar Star professionally installs in about 45 minutes.
There is still time left to take advantage of the federal income tax credit. Both Solatube and Solar Star products qualify for 30-percent federal tax credit. However, Solatube only qualifies under the American Recovery and Reinvestment Tax Act of 2009 until Dec. 31. And keep inmind, the same energy efficient home improvements may also qualify for local and state incentives. Visit Energystar.gov for more information.
"Now, more than ever, we are happy to provide our customers with a quality product that will put money back in their pockets when tax time rolls around," Vargo says. "With homeowners saving on energy costs and taking advantage of the tax credit, it's an even more affordable way to go green."
Solar Reflections Inc. services Philadelphia and the surrounding counties, and has many returning customers like the Hoffmans. Currently, Solar Reflections, Inc. has over 750 references, including 200+ on-site homeowners willing and ready to open their homes to show potential customers the benefits of the Solatube products.
All in the Family
Solar Reflections, Inc. is a family business with J. J. Vargo working side by side with his sister, Tammy, since the company's conception five years ago. They treat others like they want to be treated and make the experience enjoyable. Their goal is 100-percent customer satisfaction.
Tammy handles many facets of the growing business including answering homeowner's questions about the products and installation.
"One of the things that continually surprises me is that our customers stop what they are doing and take the time to e-mail or pick up the phone and tell us how thrilled they are with our products and customer service," she says. "I receive testimonials from Solatube customers saying they saved money on their electricity bill, how Solatube lighting makes them feel so good, and that it was the best home improvement they've ever done. Solar Star customers also report their home is cooler and they see a drop in their electricity bill. A lot of homeowners wish they had done it sooner."
She adds that numerous homeowners refer them to friends, family and co-workers. "That's a huge compliment to our goal and the values of our company," she says.
Whether halfway around the world or in our own backyard, we can be kind to the environment and our wallets by using alternative energy sources brought to us from Solar Reflections.
Solar Reflections, Inc.
41 Creek Rd., Chalfont, PA 18914 215-997-5901 SolarReflections.net
sales@solarreflections.net
Jill Yris is a professional writer based in Doylestown.(JillYrisWriter.com)