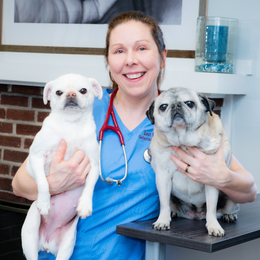 A Pet's Best Friend
From dogs and cats to exotic pets of every feather, East Bradford Veterinary Hospital welcomes animals—and their owners—into an ever-growing family.
Sunlight filters through large open windows and reflects off the smooth, weathered wood floors. A bouquet of flowers sits in an empty fireplace, filling the room with a gentle scent. This is one of the two waiting rooms at East Bradford Veterinary Hospital, a quaint, two-story, red-roofed building tucked behind a cluster of shops in West Chester. I am here to meet the hospital's founder, Dr. Meghan McGrath, for a tour.

"Call me Meg," she tells me. "We have two waiting rooms so our patients have lower stress. We see dogs, cats, birds, snakes, and other exotics. Some are from rescues and have a history of trauma. Our goal is to have every patient in an exam room in less than 10 minutes. But, if they must wait, we want the visit to be pleasant."

Dr. Meg walks me back to an exam room and introduces me to one of her patients and its owner. "This is Chickpea," Dr. Meg explains. "She is a pitty rescued a few years ago. She is super sweet and a big kisser."

Dan, Chickpea's owner, chimes in, "Dr. Meg is awesome, and Chickpea loves her!"

After previous visits to other veterinary offices, I had expected to see a procession of cold steel tables and severe-looking instruments. Instead, the room is open with small tables along the wall. Dr. Meg sits on the floor with Chickpea and starts her exam. As she checks over Chickpea, looking into eyes and ears, checking legs and paws, Dr. Meg is in constant communication with the owner. "Tell me about her diet. …How is her behavior? ... How has she responded to the medication?"

Dan explains to me, "Chickpea has seizures." To my relief, he adds that Chickpea has been doing very well.

Dr. Meg continues, "It's time for her vaccine." She looks at Dan and says, "Are you OK if I administer it here?" Dan nods, looking relieved, and then turns to me and says, "It stressed me out that our old hospital would take Chickpea and disappear."

With a quick kiss from Chickpea, Dr. Meg invites me back to East Bradford Veterinary Hospital's medical treatment space. It's a large room packed with medical equipment, where a team of nurses and technicians runs tests and prepares treatments. Dr. Meg introduces me to Ashley, the head nurse at East Bradford Veterinary Hospital.

"Ashley and I have worked as a team for the past seven years," she says. "We were both at Main Line Animal Rescue and worked with the toughest medical cases imaginable—everything from abandoned puppies and kittens to senior animals rescued from abusive puppy mills."

"Dr. Meg was also a bridesmaid in my wedding," Ashley adds. "When she told me she wanted to start a hospital, I was in! It's medicine first with Dr. Meg. We've gone out in snow and sleet for patients, and hugged the owners when 'it's time.' It's family."

Dr. Meg asks Ashley to pull up the vaccine for Chickpea. With a few deft movements, Ashley moves to the pharmacy area. Meanwhile, Dr. Meg introduces me to Ryan, who also previously worked at Main Line Animal Rescue.

"Ryan is loved by patients and owners alike," Dr. Meg says. "He is the calming influence some of our more trauma-stressed animals respond to."

Ryan waves to me from the room's laboratory area. Over the whirling sound of blood-testing machines, Ryan says, "This place is amazing! I have worked with other hospitals and teams. Dr. Meg brought in top-flight equipment, and we even have a veterinary cardiologist coming in every two weeks—and we are getting an ultrasound."

I get the impression Ryan has a deep interest in veterinary technology.

"Vaccine is ready, Dr. Meg," Ashley announces from across the room. With the vaccine and paperwork in hand, Ashley joins us as we return to the exam room. While Dan is sitting on the bench, Chickpea is running around the room and wagging her stubby tail.

"Ready, Ashley?" In well-practiced motions, Ashley looks at Chickpea and starts to sing, "Chick … Chick …Chickpea!" Chickpea responds with full attention, bright eyes, and a wagging tail—and, apparently, no awareness of the vaccine that has been expertly administered. With that, Chickpea and Dan conclude a successful visit to the veterinarian's office. Ryan meets them at the door and walks with them to the reception area. Dr. Meg and I continue our tour of the hospital.

We proceed down a broad, carpeted staircase to the lower level, with large glass double doors exiting to the lower parking lot. Dr. Meg points to the doors and says, "We use this entrance for surgeries and grooming. With no stairs, orthopedic patients have less pain." We then walk through a grooming area with a table that lifts off the ground, a large grooming tub with a ramp, and a medical boarding area with huge windows and spacious areas for patients to turn around and lie down.

We continue through a large digital X-ray room and into a surgical suite. A ceiling-mounted surgical light and a bank of monitoring machines sit nearby. As I stare at the equipment, Dr. Meg explains, "We can view the X-rays immediately. In every surgery, we follow protocol to the letter. We have a full monitoring system for EKG, oxygen levels, and breathing rate. In every procedure, the team is in constant communication to protect the patient at every turn."

We enter a separate dental area. Dr. Meg is in the middle of showing me a state-of-the-art dental X-ray machine when Ashley enters with a family taking a tour of the facility. Afterward, Dr. Meg explains, "We offer tours to all new clients. They trust us with their loved ones, and we want them to see how serious we are."

I could ask a million questions of Dr. Meg. I am sure she would answer each one. Instead, I follow her back upstairs and make an appointment for the following week. I hope the team still likes me after meeting my cat, Fezzy. He is a doozy.

East Bradford Veterinary Hospital
712 W. Nields Street
West Chester, Pa.
(610) 241-3390
www.eastbradfordvet.com

Photograph by Jody Robinson

Published (and copyrighted) in Suburban Life magazine, December 2020.