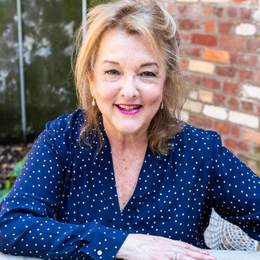 Out in Front
Nell Merlino, a Trenton-born activist, author, and entrepreneur, inspires women to lead and succeed.
In the early 1990s, Nell Merlino wanted young women to imagine themselves engaged in challenging, fulfilling careers—ones they might not have been encouraged to pursue otherwise. Her solution: Take Our Daughters to Work Day, which she created to inspire girls by showing them what their parents (and their parents' colleagues) did in the workplace. Today, as president of the nonprofit Count Me In, Merlino continues to connect women with the resources they need to succeed as leaders and entrepreneurs.
In a year that has seen many businesses shutter due to the COVID-19 pandemic, Count Me In launched a "Revival" grant competition to support women-owned and women-led businesses in the midst of transformation. Out of hundreds of applicants and 40 finalists, Count Me In awarded grants of $25,000 to four women, and $10,000 to 15 others.
"Whether it's being a business leader or running for office, there are lots of opportunities for women in this moment," says Merlino, a Manhattan resident who was born in Trenton, New Jersey. "Women need to hear that message right now."
Merlino persists in spreading her message of empowerment in media appearances and her writing, including her book Stepping Out of Line: Lessons for Women Who Want It Their Way in Life, in Love, and at Work. We spoke with her about her place in history, the Revival grants, and where we as a society go from here.
Q&A
We're in a transformative time right now. What part do you see yourself playing in this moment?
Health and racial justice are top of mind for so many of us. So many of the gains of the past 20 years are eroding very quickly, in particular ways. As many as 75 percent of essential workers are women, working in hospitals, grocery stores, etc. You have that dynamic, and the rest of us at home in many cases are working and taking care of the kids, cooking meals, and figuring out how to get groceries, because I still think there are more women [than men] doing most of that work.
If ever there was a moment where female business owners need a community, this is it. … There has been a negative impact on all small businesses, but the greater impact has been on small businesses owned by people of color, especially women of color. … So how do we try to equalize, fund creativity, and give them hope and a sense of community. How do we help them as they pivot their businesses to respond to what's happening in the world right now?
What impressed or surprised you in the process of vetting candidates vying for the Revival grants?
The thing that surprises me is the sheer number of women competing for 19 slots. We took in 460 applications, and over 2,000 women took a look at it. People are putting themselves out there, which is very courageous, particularly when people have so many other things to do. People are betting on themselves; no one's coming to save us but us.
You're originally from across the river in Trenton. Do you have other ties to the Philadelphia area?
My father [the late New Jersey Sen. Joseph P. Merlino] was a big politician in the area, and a lot of my activism comes from him. I have such fond memories of the area because of him and my mother. We used to go to New Hope, where my mother had artist friends, and I still have friends in Bucks County. I also used to play tennis at Merion Cricket Club [in Haverford], which was incredible. I still love the area. I'll always love the Delaware River.
Looking ahead, what else is on the horizon for you?
We're seeing if there's an appetite for another grant fund, maybe one exclusively for black women, who have taken the worst hit, business wise [because of the pandemic]. One of the scary things right now is that people feel like they can't plan.
For me personally, I love doing my artwork, which is a combination of painting and collage. My mother went to Moore [College of Art & Design] in Philadelphia, and I like to think I got some of that from her. I'm also working on this book [tentatively titled Reflowered: Confessions of a Traitorous Feminist] about the importance of listening to our gut instinct. I want to get back to my book and artwork, but I'm happy to put that stuff on hold for the time being if it means helping other women.
Photograph courtesy of Count Me In
Published (and copyrighted) in Suburban Life magazine, August 2020.