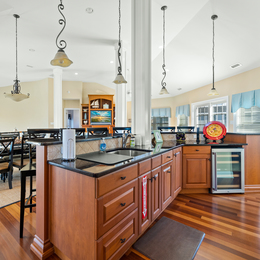 'A Place to Escape'
House hunters vie for sanctuaries in the suburbs and down the shore.
Though his job requires a 40-minute commute to Bucks County every day, Matthew Leland loves the lifestyle that comes from living downtown. He and his partner live in a high rise near Rittenhouse, and they treasure the access to high-end restaurants, shopping, culture—every box checked.
Rather, they loved it, meaning past tense.
The March arrival of COVID-19 changed everything for Leland and his partner. Suddenly, they started to wonder if they should consider a move. Perhaps the suburbs, they thought.
"It was in the back of our minds," Leland says. "Something to stick a pin in and come back to later."
Not long after, when the peaceful protests in the aftermath of George Floyd's death turned chaotic, the smoldering ember—Maybe it's time to start looking—began to burn hotter.
"We haven't put a plan in motion or anything," Leland adds, "but we're this close."
Liz Facenda of RE/MAX Preferred Realtors in West Chester suggests Leland isn't alone. Just as suburbanites have flocked to the city in years past, a growing number of city dwellers are eyeing the suburbs with intention.
"With COVID-19, a lot of people have realized they're not happy where they're living, in part because they're spending so much time at home and seeing all the things they don't like," she says. "A lot of my clients in the city want to get out. … People love all the great amenities, but so much is closed right now. I can think of three people specifically who love the city but are looking elsewhere. We just don't know what's going to happen next, so they're planning for the worst."
Facenda, who focuses her efforts on Chester, Delaware, and Montgomery counties, says prospective buyers have an interest in towns along the Main Line that offer a combination of lifestyle amenities, walkability, and accessibility to Philadelphia via public transportation. Historically low mortgage rates—a 30-year fixed-rate mortgage in the high 2 percent or low 3 percent range—have made it easier for more would-be buyers to own a home.
In other words, buyers are finding the waters a bit crowded.
"It's a great time for sellers," she adds. "Sellers are seeing multiple offers on their properties, so they have their choices to pick in terms of the offer. It's a really tough time for buyers."
Anthony J. Stipa Jr. has not seen tangible evidence of a migration from city to suburbs. Philadelphia remains a strong and vibrant real estate market, with a number of new developments drawing the eyes of prospective residents. He has, however, seen a lot of frustrated buyers. In many cases, would-be buyers are going up against several other bidders, meaning some find themselves overpaying, compromising on their "want" list, or making concessions such as waiving a home inspection.
"It's white hot in Montgomery County right now," says Stipa, whose firm has offices in Blue Bell and Conshohocken. "Two weeks ago, we listed three homes; one had 41 showings, one had 43 showings, and one had four showings. One had 11 offers, and one had seven offers—and all three were under contract very quickly."
'Just Go for It'
"A crazy year"—that's how Marilyn O'Donoghue describes the real estate market in 2020. A self-proclaimed "beach girl" who grew up in the New Jersey towns of Margate and Absecon and later graduated from Villanova University, she's now a Realtor with Long & Foster Real Estate Inc. in South Jersey. She had been referring to 2020 as "lucky 13," to mark her 13th year as a Realtor. That changed in March, when COVID-19 hit.
"I said, 'OK, so 2020 will not be so great a year and maybe I'll have lucky 14,'" she recalls. "That has not been the case, because I cannot tell you how blessed we are."
O'Donoghue has seen tremendous demand for homes in her areas of focus—namely, small beach towns such as Avalon and Stone Harbor. Buyers from the Main Line and throughout New Jersey are looking to the coast, she suggests, though she's also seeing interest in shore towns from folks living as far away as New York, Connecticut, and Massachusetts. While units sold may be down slightly, dollar volume is up significantly. Put another way, buyers are willing to spend more.
"It's a combination of everything," she says. "The virus is having people reassess where they live. They need a place to escape if this happens again, and they need a place where they can be outside—riding bikes or taking walks on the beach. People are rethinking living in the cities, and places like Avalon and Stone Harbor are throwbacks to small towns. People are also seeing what's happening in the stock market and thinking: I'll cut my losses and invest in real estate."
Despite the limited inventory, prospective buyers can still find what they're looking for.
"I sell homes anywhere from $350,000 to $5.8 million oceanfront property," she adds. "One of my favorite deals was a couple looking for a condo in Sea Isle. I was so proud to get them in a condo close to the beach for $349,000. The million-dollar properties are a dime a dozen, but with every buyer you want to find something that works for them."
There's no telling what the rest of the year will bring, but O'Donoghue does not expect the market to cool anytime soon.
"I never say things to make a dollar, but my advice to a seller is that if you are thinking of selling in order to move into a better situation, sell," she says. "We don't know what's going to happen next year, so if you find something you really like, just go for it."
Buying Time
With limited inventory, historically low mortgage rates, and a glut of competition, many prospective home buyers have had a tough road in 2020. Realtors offer their perspective on how to help house hunters find what they're looking for and then make it their own.
"Decisions need to be made very, very quickly. … Buyers are also doing things like offering to pay up to $5,000 for any repairs discovered through the home inspection. It's the money that's talking now, and there are a lot of cash buyers. It's also really important to work with an agent who knows how to take care of the paperwork and do it correctly. With one client, we were one of 19 offers on a home. We weren't the highest offer, but we did go $20,000 over the asking price. I think they went with us because everything about the offer made them feel that there would be no issues."
—Liz Facenda, RE/MAX Preferred Realtors
"I don't want people to think their dream is out of reach. It's not. What I like to say is we can find you something. It may be a seller's market, but there are a lot of opportunities out there. … I recommend contacting a Realtor because inventory is so tight and you have multiple-offer situations. You need boots on the ground and the expertise of someone who really knows the market."
—Marilyn O'Donoghue, Long & Foster Real Estate Inc.
"Be patient. A Realtor's job is to match people with their home, not to try to compromise. The market will change; we just don't know when. If the property is right and the financing is good, stretch if it's what you want. But don't stretch on something you're not substantially interested in. … People are financing [homes] at ridiculously low rates. If you look at the trending of real estate, virtually everything costs more than it did five or 10 years ago. If you overpay a bit and your intention is to not move in 10 years, it will be worth the stretch."
—Anthony J. Stipa Jr., Keller Williams Real Estate
Photograph by Timothy Fleming
Published (and copyrighted) in Suburban Life magazine, August 2020.