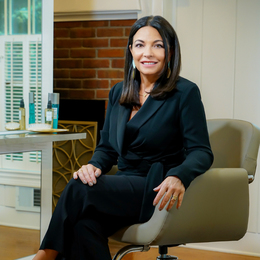 A Private Salon Experience
At WEBBeauty in Bucks County, master stylist Natalie Webb offers a luxurious escape designed to help each client look and feel his or her best.
Natalie Webb recently opened her new salon, WEBBeauty, in Washington Crossing. Although it has been open for less than a month, it's already taking the area by storm.
Webb has studied in fashion hubs such as Paris, Philadelphia, and New York, and worked alongside the likes of renowned beauty professionals such as Paul Labrecque. For these reasons and more, it's no surprise that denizens of Bucks County and beyond have been clamoring for a seat in her chair. A Bucks County resident herself, Webb chose to open her salon in Washington Crossing to better serve the community she loves.
"We offer a spa-like environment, with soft music, a very Zen feel, and natural colors," she explains. "Even though the space is small, and we are currently only booking one person at a time, it is luxurious. Every attention to detail has been taken with the opening of this private salon."
Indeed, from a shampoo bowl imported from Italy, to an array of essential oils, the salon offers it all. Of paramount importance to many prospective clients, the salon experience will be one on one—just the stylist and the client. That is, a single stylist, rather than a team of many, will perform everything from shampooing hair to applying masks and essential oils to head massages, colors, cuts, and more.
"The CDC is behind all of our choices," she explains, referring to the U.S. Centers for Disease Control and Prevention in regard to the COVID-19 pandemic. "In the event that we book multiple appointments later on, we'll still have barriers between chairs, and we'll continue to wipe every surface down between clients."
Beyond safety, WEBBeauty's sole focus is on helping clients achieve their most striking looks.
"We're all about hair," as Webb says. "We carry the highest name-brand products and use all the highest brands for color services."
Supporting Webb in her concept is longtime friend and mentor Joseph Greco, an internationally acclaimed stylist known for his artistry and personable demeanor. As someone who has studied abroad in cities such as Rome, London, and Paris, Greco has seen it all. He believes Webb's passion for cleanliness and commitment to safety go above and beyond.
"Clients love this concept," he shares. "They feel like they're in their very own salon. Natalie and I have made many wonderful relationships at this point, and a lot of people feel like family. We want to keep everyone as safe and healthy as possible."
While many people find themselves embroiled in the negativity, concern, and fear associated with recent world events, Webb says it's vital to practice self-care.
"People have said to me, 'Why would a client get their hair done if they're not going anywhere?'" she shares. "But even though you're not going anywhere, you still want to feel good—for yourself. And making people feel good, especially now, is really rewarding for me."
"I have a variety of clients, and I love getting to meet so many different people," Greco adds. "Like Natalie, I love, love, love the business. That's how we have a great time when we do work together—it's not as though you're working if it's something you truly love doing and have wonderful people to share the experience with."
Webb, an avid gardener, home chef, and designer, has long had a passion for creative expression. But she has never been prouder and more passionate about the artistry of her career than she is now.
"The response from clients and the 'thank yous' have been overwhelming," she says. "Our services are definitely appreciated, and people are so thankful that we are able to offer our services in a safe environment. To serve clients who won't go into a busy salon right now is really rewarding.
"I think this studio will offer me a platform to be creative, be myself, and have fun with clients," she continues. "My career, I don't call it my 'work'—it's my passion."
To book an exclusive beautification experience with Natalie, call (215) 932-7861 or book online at
WEBBeautyllc.com
. For an appointment with Joseph, call (215) 669-5579.
Photograph by Jody Robinson
Published (and copyrighted) in Suburban Life magazine, August 2020.