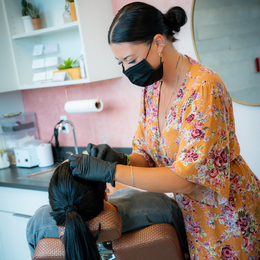 Beauty in Business
IMAGE Studios Philadelphia offers a unique opportunity to entrepreneurial beauty professionals.
The IMAGE Studios brand tagline, "Creativity, Freedom, Success," aptly describes everything this unique new salon concept offers—to clients and beauty artists alike.
An innovative shared-space concept for beauty experts of all disciplines, such as hairdressers, makeup artists, and estheticians, IMAGE Studios offer the dream of "being your own boss" to talented individuals who wish to take the bold step into proprietorship.
The concept comes to the Greater Philadelphia Area thanks to Bobby Keyes, President of IMAGE Studios, Philadelphia Region, and his business partner, Sue Jacquette. As a woman entrepreneur, Jacquette finds it very rewarding to help other women (mostly) into business ownership. These salon professionals are talented artists who can now offer their expertise directly to their clients, without involving the hassle and commission associated with the classic salon model.
"We offer co-working spaces," Jacquette explains of IMAGE Studios' luxurious, multi-suite beauty oases. "It's a perfect opportunity for professionals to rent a private, individual salon space with shared common areas. We know this model works because, for over 20 years, it has worked in other states. In fact, one in four beauty professionals working outside of Pennsylvania and New Jersey, where the concept is brand new, works in a setting like the one we're offering."
With salons open in Berwyn, Bryn Mawr, Feasterville, and West Chester, artists have a bevy of IMAGE locations from which to choose, each offering many amenities that are included in a tenant's rent, such as free onsite laundry, a breakroom, an ATM, and lavatory facilities.
Coming soon is a flagship space in Philadelphia's historic Society Hill neighborhood and IMAGE Studios' largest location, in Doylestown. Both are currently under construction. Additional locations will stretch farther northward into the Lehigh Valley. The plan is to open up to 15 salons in the region.
"Each location is kind of a co-op, so tenants are free to collaborate and set their own policies," Jacquette adds. "There is no boss telling you what you can or can't do. You can set your own hours. This is a big draw for people, especially working moms."
While each space is unique, luxuries abound in all, from opulent lighting fixtures, each of which fits into a carefully curated lighting scheme, to durable and beautiful wood-style floors, to refreshment stations where clients can enjoy their choice of tea, coffee, or even wine. Spacious lobbies offer a place to relax between appointments, should a client wish to take advantage of any of the multitude of services offered by artists at each location. Notably, individual suites feature glass walls to maximize lighting as well as provide a sense of community. For those who offer more delicate services, frosted glass paneling will offer greater privacy.
The IMAGE Studios management team handles maintenance and operations, including cleanings and repairs. As an added bonus, Jacquette says tenants can utilize an online scheduling app, which is included in a tenant's rent.
"The scheduling app allows tenants to keep notes and input all their clients' info into one place," she explains. "You can even use it to send out reminders and 'thank you' notes. IMAGE Professionals may also choose to use the app to send reminders of COVID-19 safety rules—for example, that clients need masks to enter and need to take their temperatures before appointments."
Regarding the current health crisis, each IMAGE Studios location embraces proactive advanced cleaning measures. Professional cleaning will take place at each location four times a week for the duration of the pandemic.
Gaining Popularity
Thus far, client response has been overwhelmingly positive. While many businesses are experiencing hardship, Jacquette says IMAGE Studios has actually seen business boom.
"This just happens to be a safe environment because services are performed one on one behind closed doors," she adds. "Once a client enters a suite, it is just that person and the practitioner. Our tenants are actually gaining clients. We have stylists saying they've gained up to 10 new clients a week. People are coming for that one-on-one experience."
Jacquette equates the IMAGE Studios brand with a popular high-end department store. The investment made in the buildout of each facility, including luxury finishes, amenities galore, and more, "feels expensive."
"We're built to attract top stylists with our high-end spaces," Jacquette says. "We know we cost more, but we feel there's a real value there with everything we offer. Being surrounded by others who are the best in the business is a real draw."
Perhaps of greatest asset to art-minded beauty professionals, Jacquette and Keyes offer their mentorship, business and marketing acumen, and guidance to each tenant.
"Bobby [Keyes] and I are here and in constant contact," Jacquette says. "You can't put a price on what it means to have Bobby as a business mentor. I'm here to help if a tenant needs help with marketing or branding. We're here as a support system."
Building Community
As a brand that seeks to attract the best of the best in terms of beauty professionals, Jacquette suggests IMAGE Studios is "very selective" of the individuals in place at each salon.
"We build communities," she says. "We want clients who value maturity, professionalism, and who are supportive of one another, versus competitive. We seek out tenants who are busy enough on their own that they are not out to hurt anyone else. We also put value in diversifying specialties. We get super excited when we are approached by someone offering a service we don't already have. That's the 'secret sauce'—providing a full array of salon offerings, but by various small business owners."
This collaborative spirit serves to further uplift and empower each owner's individual business goals.
"People will share clients," Jacquette adds. "For example, if a person is in a chair for a color, a stylist might refer them to another tenant for an eyebrow waxing or makeup. We have a very collaborative environment where everyone builds each other up."
Of the prospects for success within the IMAGE brand, Jacquette offers some reassurance, as well as some well-intentioned guidance, to prospective beauty professionals: "If you hustle, you're hardworking, you work well with others, and are collaborative and friendly, you will do exceptionally well with us."
For more information on IMAGE Studios, including how to start the process of becoming "your own boss," visit
imagestudios360.com
or contact Sue Jacquette at (215) 821-8445 or philly@imagestudios360.com.
Photograph by Jody Robinson
Published (and copyrighted) in Suburban Life magazine, August 2020.