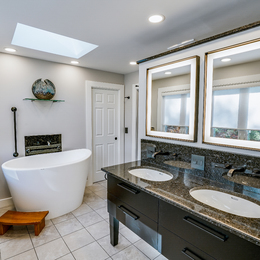 'The Sky's the Limit'
Gehman Design Remodeling excels at creating stunning bathrooms homeowners will enjoy for years to come.
For most of us, the bathroom is the first room we enter in the morning and the last one we exit before turning in at night. A bathroom serves as a staging area where we prepare for the day ahead, as well as a sanctuary where we go to recharge. It should come as no surprise then that bathrooms are among the most popular home-remodeling projects.
"Along with kitchens, bathrooms offer a good return on investment, and most houses have more than one," says Dennis Gehman, a Master Certified Remodeler and the founder of Gehman Design Remodeling, a design-build firm based in Harleysville. "Generally speaking, bathrooms cost less than a kitchen, though we did just finish a quarter-million-dollar bathroom. That's an exception by a wide margin, but I always tell clients that the sky's the limit."
Gehman Design Remodeling offers virtual meetings to work through options, though Gehman is happy to report that his firm has welcomed prospective clients back to its Harleysville showroom after a brief hiatus in the early stages of the COVID-19 pandemic. No matter which bathroom a homeowner wants to renovate—a master bathroom, a hall bathroom, or a powder room—Gehman enjoys helping people understand "what's possible."
"Most people are hesitant to give a budget, because they're afraid that if they give us a number we're going to meet it no matter what," he says. "We respect that and don't push it, so we'll suggest a renovation will cost between this many and this many dollars based on what we see and what the finished project will be."
Known as an "opinion of probable cost," this document takes into account the scope of the project, including the labor and materials involved. If the client decides to move forward, the firm provides a "project development agreement" to formally begin the process. A NARI Certified Kitchen and Bathroom Remodeler (CKBR) who has been assigned to the project can then use an architectural design software called Chief Architect to show a homeowner a 3D rendering of the finished project based on the selections made.
"There's always the 'while we're at it' syndrome, where someone will want to make more changes to the home," Gehman says. "We always say, 'Yes, we can do that, but is it in the budget?' Maybe they want a medicine cabinet to match the vanity and the one they want needs to be recessed into the wall, so we'll have to take into account moving a stud. Maybe they want more counterspace that would require moving the toilet, which can be expensive.
"Our goal is not to spend a client's money; it's to get them as much value as we can at a number they are comfortable spending," he continues. "We walk a fine line as designers; we don't want to push anything on anybody, but we do want them to know their options."
For example, Gehman recommends investing in an efficient yet quiet exhaust fan to keep humidity in check, thereby preventing moisture buildup that could damage paint and other surfaces. He also suggests splurging on high-quality bathroom accessories, such as lighting, towel bars, and cabinet knobs. For significant investments that fall outside the budget, Gehman Design Remodeling has relationships with financing firms that enable a homeowner to finance their investment over a longer period, such as three to five years.
Gehman Design Remodeling is currently scheduling new projects three to four months out. This window of time enables the firm to procure all the necessary materials required to finish the job. Gehman says some materials, such as appliances and vinyl windows, are currently in short supply, so making selections far in advance should prevent any delays in construction that would disrupt a homeowner's life for longer than necessary.
His parting advice: Invest in a bathroom that makes you happy, not one that follows a specific trend.
"Beauty is in the eye of beholder," he says. "A lot of people make these decisions knowing they will be living in the house for at least a few more years, but get hung up on: What if I go to sell it? You do have to think about ROI, but your house's next owner can repaint if they don't like the colors you've chosen. Your primary concern should be that you have a room that you can enjoy."
Gehman Design Remodeling
PA-297
355 Main Street
Harleysville, PA 19438
(215) 513-0300
Photograph courtesy of Gehman Design Remodeling
Published (and copyrighted) in Suburban Life magazine, December 2020.