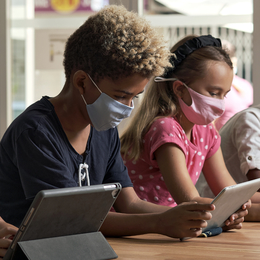 Better Together
Schools that embrace diversity, equity, and inclusion aim to broaden perspectives and prepare students to "do the work our nation has to do."
Mikael Yisrael has spent much of his career striving to "be the change I wish to see in the educational space," to paraphrase Gandhi. He has found an ideal place to do so at Abington Friends School (AFS), a Quaker school in Jenkintown, where he serves as director of equity, justice, and engagement.
"I've always been on the fringe of this work because of my identity and because of the spaces I've been in," he says. "I've worked in both secondary and post-secondary admissions, I've worked as a college counselor, but always at the heart of everything was making sure I could create spaces for folks—particularly folks who come from similar backgrounds such as myself, who may have had challenges because of the inequities within the educational system."
His goal: to make sure all students have an equitable shot at a "transformational" education.
Yisrael's work falls under the umbrella of DEI, an acronym for diversity, equity, and inclusion. In educational circles, diversity refers to the presence of differences in race, religion, sexual orientation, and other identities; equity refers to the promotion of justice and fairness for all constituents; and inclusion refers to outcomes in which all members of a diverse population feel welcome.
Yisrael describes DEI as "mind and heart work." To him, DEI is not only a job but also a purpose, as well as "a way of knowing, and a way of being." He sees DEI as an ongoing journey, meaning it's not a switch to be flipped or even an endpoint on a distant horizon.
"This is an opportunity to engage on the deepest level of humanity, and understand that we are imperfect beings living in an imperfect world," he says. "It is our responsibility to make sure that we continue to grow as much as we can. … Sometimes it feels like a sprint, especially in times of crisis, but it's definitely a marathon, and it's a marathon that does not end."
Yisrael says he felt drawn to AFS specifically because of its diversity. He also appreciated its use of tools such as skilled collaborative inquiry, which requires students to discern the truth through multiple perspectives. By learning in this way, students can move forward with a broader, more informed point of view, according to AFS Head of School Rich Nourie. It's just one way in which schools such as his educate for the purpose of understanding, acknowledging that the human experience is "necessarily incomplete but can be made more complete."
"We are an increasingly diverse country, but most people don't experience much of that diversity in their lives," Nourie adds. "When you live alongside the varying life experiences, varying positions in our culture around privilege and oppression, when you explore together in a truly diverse community the issues of inequity and injustice that are such a part of the world we live in, you become an advocate for a wide group of people. The issues become much more visible and engaging."
Embracing DEI does not mean always getting along; on the contrary, DEI schools often experience moments of great discord. Nourie cites a study from the 1990s that suggested Quaker schools experienced higher conflict (in the verbal sense, not physical) rather than easy agreement because of their diversity and willingness to address controversial issues directly.
"The way our culture at large looks at conflict is that it's either to be won or avoided, and at AFS we see conflict as a signal for an opportunity for engagement," Nourie adds. "It's something to be leaned into, not something to be won. … All points of view have value and need to be engaged rather than vanquished."
Learning to deal with conflict healthfully and examine blind spots, he suggests, will serve students well as they head off to college and enter the working world. He says it will also enable students to grow "muscles for doing the work our nation needs to do."
'My Story Matters'
DEI has taken on increasing importance in recent years, and particularly in a year such as 2020, marked by disturbing incidents of social injustice and upheaval. In the Philadelphia area, institutions such as Friends' Central School in Wynnewood and Gwynedd Mercy Academy High School in Gwynedd Valley have devoted significant resources to creating "communities of belonging" on campus.
"Students need to see themselves in the curriculum," says Erica Snowden, director of equity and multicultural education for Friends' Central. "They have to be able to say, 'My story matters just as much as the stories of others.' … We look at things like ability, age, class, gender, and sexual identity, and we talk about these identities and characteristics. We ask questions like, 'What identities do I think about most often? What identities do I think about the least? Can I figure out blind spots I have that could cause harm to others and help me be a better person? What identities would I like to learn more about?' In order for us to do better, we need to learn more."
Schools such as Friends' Central have made deliberate efforts to weave DEI into the curriculum as seamlessly as possible. In addition, many DEI schools offer affinity groups that revolve around identities such as race, religion, and family structure. These groups not only help students understand themselves and each other, but also offer opportunities to take on leadership roles.
Nourie acknowledges that some may see DEI work as inherently divisive. Although conflicts and differences of opinion may arise, he believes such differences draw people closer together and foster greater empathy and understanding. DEI work, when done well, should enable every member of the school community—students, staff, parents, etc.—to have "courageous conversations, not confrontations," and talk across differences in experience, background, and identity.
"Pushback is inevitable," Yisrael says. "I believe if we don't get pushback, then perhaps we're not doing the work well, or perhaps we're not as diverse as we'd like to think we are. If you are a diverse community, not everyone is going to agree, and that's a part of it. … Let's open up a line of conversation about why—why is it that you're having a hard time with this? Let's explore this together. I think that's what we try to do here."
Published (and copyrighted) in Suburban Life magazine, November 2020.