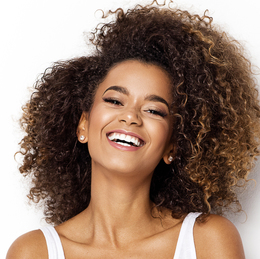 Good, Better, Best
From conservative therapies to complex smile makeovers, advances in dental care place a healthier smile within easy reach.
"Keep smiling, because life is a beautiful thing and there's so much to smile about." This pearl of wisdom came from none other than Marilyn Monroe, who had an infectious smile recognizable the world over.
While most of us aren't sharing our smiles with too many people at the moment—they're hidden behind facemasks most times—the day will soon come when we're once again smiling ear to ear in the company of family and friends. Are you prepared?
Now may be an ideal time to address any aspects of your smile with which you might be unhappy. Maybe your teeth aren't as straight as you'd like, or as bright and shiny as they once were. Maybe structural imperfections make you self-conscious about flashing those pearly whites. Regardless of your particular issue, you have options aplenty.
Dental professionals throughout the area possess the skills, technology, and expertise needed to make your smile the best it can be. You might spend under $1,000 for modest changes achieved through something such as teeth whitening, or you could spend $25,000 or more for a top-to-bottom smile makeover.
With the proper investments of time and money, just about anything is possible when you place the care of your smile in the hands of the right individual.
Where to Begin
A smile makeover tends to combine a number of cosmetic procedures to brighten, straighten, and strengthen the smile, include the services listed here.
* Given the advancements in dental implant technology in recent years, people no longer have to settle for living with a compromised smile. Dental implants provide long-term replacements that are surgically placed in the jawbone, as opposed to dentures, which rest on the gumline, or fixed bridges, which use adjacent teeth as anchors. Many practitioners utilize sophisticated digital imagery to pinpoint the precise position and placement of each implant, practically assuring a successful result. Dental implants look and feel natural, address the issue of bone loss, and allow people to eat without restrictions. If cared for properly, dental implants can last a lifetime.
* Teeth whitening and deep bleaching are affordable options for adding immediate flash to the smile. Within the course of an office visit, teeth-whitening services may offer significantly whiter teeth—eight or more shades lighter, in some cases—for less than $1,000 and in under one hour.
* Dental bonding, a process in which a tooth-colored composite resin is applied to the teeth, can repair chips, cracks, discoloration, spaces, and other damage. Veneers, meanwhile, utilize thin porcelain shells that overlay the teeth to vastly improve the appearance of stained or damaged teeth. Other cosmetic options include composite fillings that match the color of a patient's teeth, and dental crowns made of ceramic or porcelain that can repair broken, damaged, or otherwise less-than-whole teeth.
* Invisalign, an orthodontic treatment that straightens teeth using customized invisible aligners, has become a popular alternative to traditional wire-and-bracket braces—particularly among adults. Men and women in their 50s, 60s, and even older now use aligner therapy, either in place of or in addition to orthodontic treatment of the wire-and-bracket sort. Those who do choose traditional orthodontics will find they have more options than ever before; some practices even utilize custom 3D-printed braces and self-ligating braces that apply gentle force to move teeth quickly and comfortably.
* Some people take a laissez-faire attitude toward failing teeth that could be able to be saved through a root canal performed by a skilled endodontist. "I'll just get them pulled and have a dental implant put in," they might say. Endodontists would likely say that there's no better alternative to keeping one's own teeth, if it's possible to resurrect them. While the term root canal has become shorthand for any number of unpleasant experiences, skilled practitioners now use advanced technology and techniques to make the procedure nearly painless.
* Untreated periodontal disease—infections of the gums—can do much more than harm the mouth's health, function, and appearance. Periodontal disease has been linked to life-threatening conditions such as cardiovascular disease, diabetes, and preterm births. Research suggests moderate to severe periodontal disease increases the level of bodily inflammation, which is part of all chronic inflammatory diseases. Furthermore, the same bacterial strains commonly found in periodontal pockets surrounding diseased teeth have been found in the arterial plaque of individuals with cardiovascular disease. Some practitioners offer less invasive alternatives to the "old way" of treating gum disease (i.e., with a blade) to treat gum disease—namely, FDA-approved lasers. The treatment tends to result in a quicker and less painful recovery, with no cuts or sutures with which to deal.
* The mouth is considered the window to the whole body, meaning a problem in the mouth—periodontal disease, for example—could contribute to serious health issues such as cardiac disease and diabetes. In addition to evidence gathered during routine checkups, practitioners may offer saliva testing to detect signs of oral systemic inflammation and specific bacteria that have the potential to spur gum disease or systemic disease. Some dental professionals may also have the expertise to help patients contend with non-dental issues that can impact a patient's quality of life health, such as the quality of one's sleep, which has the potential to affect so many other aspects of a person's life.
Best of the Best
As our annual "Top Dentists" report suggests, the Philadelphia area has an abundance of dental health professionals devoted to improving smiles for adult patients. The list includes a number of practitioners who have been featured in the pages of this magazine over the past year.
Dr. Nicole Armour
Nicole M. Armour, D.M.D.
Newtown
armourdentistry.com
Dr. Jeffrey A. Bellisario
The Office of Dr. Bellisario
Ardmore
drbellisario.com
Dr. Benjamin A. Cassalia
Benjamin A. Cassalia, D.M.D.
Chalfont and Ottsville
drcassalia.com
Dr. Daniel Cassarella
DCO Orthodontic Specialists
Worcester
dco-ortho.com
Dr. Jordan S. Cogan
Dr. Cathleen George
Cathleen George, D.M.D., P.C. | CG Orthodontics
Richboro and Yardley
teethstraight.com | buckscountyortho.com
Dr. Dilip N. Dudhat
Advanced Dental Esthetics
Colmar
pafamilydentist.com
Dr. Peter Flaherty
Main Line Smile
Devon
mainlinesmile.com
Dr. Ada Greenfield
Lower Gwynedd Endodontists P.C.
Lower Gwynedd
lgendodontists.com
Dr. Sindhu Gundabathula
Chalfont Dentistry
Chalfont
chalfontdentistry.com
Dr. Matthew Heine
Heine & Associates Family Dentistry
Newtown
heinefamilydental.com
Dr. Hanh Bui Keating
Dr. Edward L. Woehling
Bryn Mawr Periodontal Associates
Bryn Mawr
brynmawrperio.com
Dr. Robert A. Lantzy
Robert A. Lantzy, DMD, LLC
Newtown
buckscountydental.com
Dr. Andrew Lieberman
Dr. Damian Milillo
Dr. Merle Saldivar
Water's Edge Dental
West Chester
watersedgedg.com
Dr. Neil Mandalia
My Smile Orthodontist
Newtown
mysmileorthodontist.com
Dr. Francis Matarazzo
Dr. Anita M. Milici
Matarazzo and Milici Group
Philadelphia
navyyardsmiles.com
Dr. Scott Nakamura
Integrated Dental Care
Exton
idcexton.com
Dr. Brian Shepanski
Dr. Jonathan Waasdorp
Dr. David J. Weinstock
Devon Dental Services
Devon
devondentalservices.com
Dr. Kenneth B. Siegel
Dental Excellence of Blue Bell
Blue Bell
dentalexcellenceofbluebell.com
Dr. Beth Skovron
Heritage Dental
Montgomeryville
heritagedentaldds.com
Dr. Scott K. Smith
Scott K. Smith, D.D.S.
King of Prussia
drsksmith.com
Dr. James A. Vito
James A. Vito, D.M.D.
Wayne
jamesvito.com
Dr. Lana Waibel
Waibel Dental
Ambler
waibeldental.com
Dr. John Whytosek
Main Line Periodontics & Dental Implants P.C.
Bryn Mawr
mainlinedentalimplants.com
Published (and copyrighted) in Suburban Life magazine, November 2020.