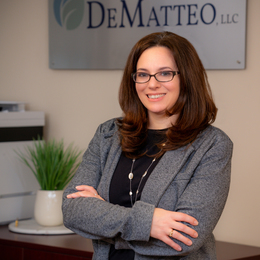 A Guiding Light
Family law attorney Christina M. DeMatteo works tirelessly to pursue the best possible outcomes for her clients and her community.
Attorney Christina M. DeMatteo pursued a purposefully different career path than many of her peers. As her success grew, she easily could have graduated to continually bigger law firms, but instead chose to work for smaller law firms that she believed could offer a more personalized experience.
"In a smaller-firm atmosphere, I can develop one-on-one relationships with clients," she shares. "This allows us to maneuver around clients' needs much better."
That's why she decided to open The Law Office of Christina M. DeMatteo LLC, her own boutique family law practice, in August 2018. DeMatteo has built her practice on integrity, clear communication, and a commitment to clients that highlights her central belief that strong relationships lead to the best possible outcomes, both in and out of the courtroom. Those qualities have become increasingly important in a topsy-turvy year such as 2020.
"Even though the settings have changed—some hearings are now via phone or Zoom—our level of preparation hasn't," she says. "For me to be able to best present a client's case, I need to know the facts and be ready to work on my feet. It's hard work, but it means I am able to present a case well, and my client knows what to expect. I think that brings clients a lot of peace of mind."
DeMatteo, a graduate of Villanova School of Law, is used to navigating choppy waters. In fact, she meets most of her clients when they are confronting life-altering issues such as dissolution of marriage, custody and support matters, and issues involving abuse. She is quick to credit her team for the firm's success and its ability to help clients move forward after an unsettling domestic matter such as divorce.
"I'm very proud of the team we've built in the short time since opening our firm," DeMatteo says. "My paralegal is extremely knowledgeable—she's my righthand woman—and I certainly couldn't do what I do without her. Associate attorney Jennifer Knighton has been a valuable addition to the team as well, helping to streamline some of the work we do and offer a lower hourly rate for many services."
Of course, she also counts clients among the most vital members of her team.
"Family law is a very collaborative process," she shares. "In most family law cases, the client's participation in the process is crucial. Attorneys need to understand a client's personal information, life, finances, and children; we want and need clients to be part of the process. It's important for them to understand what's going on so they can be involved in every part of the decision-making process."
More to the point, she believes clients who are more invested in the process and take ownership often fare the best once their legal matter has been resolved.
"The clients who tend to struggle most are the ones who 'bury their head in the sand,'" she says. "Part of our job is to inform and help clients feel empowered. Some people may not have been the decisionmaker in their previous life and find the responsibility uncomfortable. Part of the process is teaching that client that he or she is capable of doing their own work—deciding where to live, whether to keep a home, making the difficult or heartbreaking decisions."
Uplifting others, she says, has long been at the heart of her work. Since 2017, she has been one of four course planners for the Pennsylvania Family Law Institute, a two-day continuing legal education course for practicing family lawyers across the state. She also shares her expertise in family law with the public through various community education programs in Montgomery County.
"Even when I was in law school, I knew I wanted to choose a practice area where I was representing people, not just drafting documents or working for corporations," she says. "I've always wanted to help people and have an impact on their life—to develop and bring about a good result for them."
Law Office of Christina M. DeMatteo LLC
1061 DeKalb Pike, Suite 201
Blue Bell, PA 19422
(484) 322-5616
Photograph by Jody Robinson
Published (and copyrighted) in Suburban Life magazine, December 2020