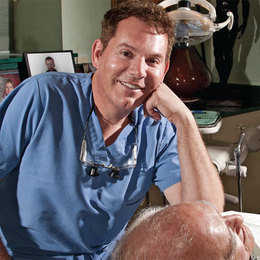 Service for Your Smile
Patients can see any specialist at Gwynedd Dental Associates
Imagine going to your dentist's office and having a crown designed and placed in one afternoon. Your X-rays were taken digitally, which didn't even require a lead bib because of minimal radiation, and you could clearly see the problem on the digital computer monitor. While you wait for the crown to be designed by an award-winning computer designer, you get a massage and perhaps a facial at the Gwynedd Dental Spa. As the dentist works on your tooth, you watch the progress on the monitor.
Gywnedd Dental Associates provides state-of-the-art sterilization within a comfortable dental practice where you can expect your procedure to go smoothly and be as informative as possible.
Charles H. Sacks, D.M.D., who leads the team of seven dentists, is committed to excellence in every aspect. "I want to be different, and I have geared my office to be the best in every area for the last 28 years," he says. "This is why we remain busy even in this economy and why patients travel as far as Houston, Texas, for our services."
Gwynedd Dental Associates offers almost every dental procedure you could possibly need, all within one office. Dental specialties include periodontal procedures, root canal therapy, implants and gum therapy, ex-tractions and Invisalign for teeth straightening—as well as the new Snap-On Smile product. In addition, a doctor trained in oral appliance therapy addresses sleep apnea and snoring. Her treatment has been well received, particularly by those who find CPAP therapy uncomfortable.
"We provide a great continuity of care," says Dr. Sacks, noting that you won't have to be referred to a specialist because they are already all on staff. "This is a great time savings for busy families."
Dr. Sacks was just awarded Top Cosmetic Dentist for 2010 by Philadelphia magazine and brings the future of dentistry to you today. The practice is one of only 500 in the United States to use the very high-tech E4D machine for same-day crowns, fillings and veneers, which not only look incredibly natural, but perform just as your natural teeth do.
Using E4D technology, a fast, clean digital impression is taken. Then restoration is designed and created in the on-site lab by a top designer in the United States, John—who is Dr. Sacks' son. No uncomfortable temporaries or return visits are necessary.
Lasers, another innovative technology, are used for soft tissue/gums. In addition, lit fibro optic electric drills (versus air-driven ones) result in greater precision.
Naturally, the practice is metal-free. "I don't believe in silver fillings, they are disruptive to teeth," says Dr. Sacks, who has a fellowship in holistic dentistry. Crowns are also metal free, so people with metal allergies need not worry.
Another new product, Snap-On Smile, is a non-invasive way to quickly get a perfect smile at a fraction of the cost of permanent work. A new set of teeth simply slip over your existing teeth. Although it's not a permanent restoration, it can last up to five years.
Sterilization is also a top priority. While some offices only spray instruments with a disinfectant, "we sterilize everything in between patients," says Dr. Sacks. Oftentimes, products are only used once. Water is distilled, not from the public water system, so it doesn't contain bacteria. "I have taken every measure available to ensure that the office is as safe and sterile as possible," he says.
Providing a comfortable, low-stress experience is another goal. "I see one patient at a time; I don't jump around," says Dr. Sacks, who notes that this enables him to focus his attention 100 percent on the current patient.
The recently remodeled office features warm colors and woods so you feel like you're relaxing in your living room, not a frightening, sterile office. Although it's a large practice, it's certainly not a dental mill. "We know your name, your family members, etc.; it is very personalized," says Dr. Sacks, whose wife, Linda, and mother, Shirlee, also work at the practice.
A day spa offers the perfect solution for individuals who are stressed out by a dentist visit. "Take the fear out of dentistry and get relaxed for your visit," says Dr. Sacks. "The fees are very reasonable when incorporated around a dental procedure. This is a huge trend sweeping the country."
Finally, Dr. Sacks notes the importance of proper dental care. Studies have shown that foreign material under the gums increases the risk of heart attack, stroke and diabetes by 60 percent. Gywnedd Dental's cutting-edge equipment is helping to detect oral cancer in its early stages. "Getting your teeth cleaned regularly is paramount to your health," Dr. Sacks says.
"No one leaves unless they are pleased," he continues. "We encourage patients to call with any questions or problems, and we're available 24 hours a day, seven days a week for emergencies."
Gywnedd Dental Associates 921 North Bethlehem Pike, Spring House 215-646-4767 GwyneddDental.com
Karen Appold is a freelance writer in Royersford. (WriteNowServices.com) Michael Sahadi is a freelance photographer based in Philadelphia. (MichaelSahadi.com)