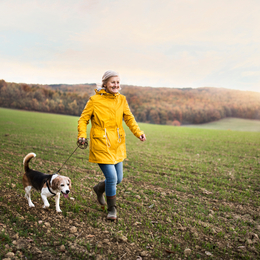 Carry On
Local life-plan communities, and their residents, provide case studies in resilience and adaptability.
It's a strange time to be anywhere in the world right now.
Considering the vulnerabilities that people age 65 and older have to the COVID-19 virus, one might think that most life-plan communities would be on complete and total lockdown. Hardly. While communities across the nation have exercised an abundance of caution by enforcing social-distancing measures and limiting unnecessary visitors, among other thoughtful precautions, life has largely carried on.
The Philadelphia area's life-plan communities have sought to make things as easy, enjoyable, and stress-free as possible for residents—if not normal, then close to it. With dining rooms shuttered, many communities have reorganized staff to deliver meals directly to residents' doors. Activities have been revised to include small, socially distanced groups out of doors, whenever possible. Residents have spent more time than ever exploring the campuses they call home: walking their dogs on well-groomed trails, bird watching (or people watching), and taking in the quiet and comforts of the natural world.
In other words, communities and the men and women who live there are making the best of a less than perfect situation. Some communities have even gone so far as to suggest that they have "learned a few things" over the past several months—improvements, enhancements, or precautions that may very well remain in place long after COVID-19 becomes little more than a bizarre and distant memory.
Life at local life-plan communities may not be "business as usual," but it's as close to normal as it can be at the moment, with well-meaning safeguards firmly in place to protect the health and wellness of every constituent who steps onto campus. In fact, most communities have continued to welcome new residents to campus throughout the pandemic, always with safety, security, and peace of mind at the forefront.
The Philadelphia area has an abundance of quality-of-life attractions that are among the finest in the nation, ranging from museums and restaurants to professional sports teams and institutions of higher education. Add another one to the ever-growing list: exceptional life-plan communities that provide comprehensive care for men and women of a certain age.
Residents come to communities such as those listed below because they want to lead lives of enrichment and entertainment, if not excitement. What leads them there? Safety, security, and wellness are top of mind for those in independent living, while short-term care and other specialized services (memory care, assisted living, etc.) provide for the full spectrum of residents' health needs. In other words, residents will find themselves in caring, capable hands when and if their health changes. The chief return on investment: assurance, not only for residents but also for the family members and loved ones who hold them dear.
Acts Retirement Life Communities
Brittany Pointe Estates in Lansdale, Fort Washington Estates, Granite Farm Estates and Lima Estates in Media, Gwynedd Estates in Ambler, Normandy Farms Estates in Blue Bell, Southampton Estates, and Spring House Estates in Lower Gwynedd
Arbour Square of Harleysville
Huntingdon Valley, Princeton, N.J., and Yardley
Atria Center City in Philadelphia, The Solana Doylestown in Warrington, and Atria Lafayette Hill
Dresher Estates, Haverford Estates, Longwood in Kennett Square, and Upper Providence in Phoenixville
Cornwall (Lebanon County)
Devon Senior Living, Exton Senior Living, Glen Mills Senior Living, and NewSeasons at New Britain in Chalfont
HarborChase of Wilmington
harborchase.com/harborchase-wilmington
harborchase.com/harborchase-princeton
The Mansion at Rosemont, Rydal Park and Rydal Waters in Jenkintown, and Spring Mill Pointe in Lafayette Hill
Masonic Village at Lafayette Hill
Pine Run Retirement Community
Pleasant View Communities
pleasantviewcommunities.org
Symphony Manor of Feasterville and Independence Court of Quakertown
Locations include Echo Lake in Malvern, Kyffin Grove in North Wales, Daylesford Crossing in Paoli, and Plush Mills in Wallingford.
Published (and copyrighted) in Suburban Life magazine, December 2020