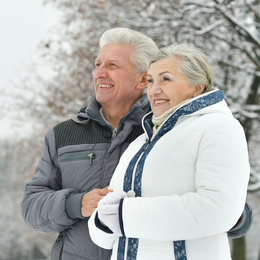 Lasting Impact
Are you getting the most of out of retirement?
"Do I have enough money to retire comfortably?"
Nearly every American will ask this question in some way, shape, or form as they near retirement. It's not a simple question to answer, according to Andy Thrift, a financial advisor with Market Street Wealth Management in West Chester. Several factors must be considered, including the size of an investor's portfolio as retirement approaches, how the investor expects to spend his or her retirement years, and the legacy he or she hopes to leave behind.
"The vast majority of people I meet are way over-saved," Thrift says. "But for others, when you look at how much they have accumulated, you know pretty quickly that it's not going to last, and we have to solve for that. Some people think they can retire on $100,000 or $200,000, and for them the line I use is, 'You need to either work longer, spend less, or die sooner.' It's a painful reality."
He describes a "vast ocean" of people nearing retirement who are somewhere in the middle, nestled between those who have over-saved and those who are in the unfortunate position of being nowhere close to being able to retire comfortably. As people plan for the future, conversations with a skilled financial advisor can make a big difference in the end result.
Thrift suggests any meeting with a prospective advisor should include an intimate discussion about how an investor expects to spend their time in retirement. For example, an investor should disclose whether they anticipate taking a part-time job, which could have a significant impact on a financial plan.
"Even if you intend to do part-time consulting or tinker around at a hardware store, making $20,000 to $30,000 a year, that's huge," he says. "The vast majority of people who work with financial advisors are boomers, and they feel as though they are born to work. If they're 65 and not working, there tends to be a fear that they will be perceived by their friends and our society as useless. It can be a hard transition for some."
While Thrift takes pride in helping others plan for a comfortable retirement, he takes greater pleasure in other aspects of the planning process—namely, helping others discover or rekindle their passions in retirement.
"Time is by far the greatest commodity," he says. "It's the only thing we can't get more of. In addition to helping people make their dollars last, I want them to channel their passions into a common good. Maybe they love to fly and want to give away pilot lessons. Maybe they want to start a nonprofit. Those conversations, about what you want to do with your time, are just as important as the ones that involve, 'Do I have enough money?'"
He also cites an investment tool known as a donor-advised fund. This charitable giving account is designed to help investors grow and donate assets to philanthropic causes for the purpose of making a meaningful and lasting impact.
"The really fun conversations involve helping people calculate how much money they can give away," he says. "Rather than spending your mental energy figuring out if you have enough money to retire, wouldn't it be great if you can spend that mental energy figuring out how to spend that donor-advised fund we've got carved off? That can really be a beautiful story."
Published (and copyrighted) in Suburban Life magazine, January 2021