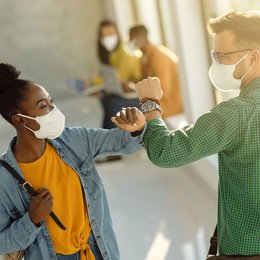 Studies in Resiliency
Nearly a year after the pandemic turned the world upside down, educators see reasons for optimism and a clear path forward.
A date lingers in Marina McCann's memory: March 13th, which fell on a Friday last year. Given the ominous significance of Friday the 13th, it was also the day Gov. Wolf announced that all Pennsylvania K through 12 schools would have to close their doors for 10 days in light of the COVID-19 pandemic, effective the following Monday.
"We emptied all the desks and had a pickup day; it was emotional," says McCann, director of marketing and advancement for Our Lady of Good Counsel in Southampton. "We didn't know at the time that we wouldn't be seeing the kids at all [for the rest of the school year] after that."
From then on, educators from OLGC and other schools throughout the Philadelphia area had to teach students through the safety of the computer screen. Schools—and students—have learned a great deal in the weeks and months since.
Put another way, schools did what they have always done: adapt.
"We started our reopening plans as soon as school ended," McCann recalls. "As we were planning, slowly but surely over the summer it became a matter of not if we would reopen but when. I was in Sea Isle the week of August 1, and my phone was ringing off the hook. We took in 70 to 80 new students, with us wanting to help these families any way we could."
OLGC reopened to students on Sept. 1, offering five-day-a-week instruction with safety guidance from the Archdiocese of Philadelphia. Students had the option of either in-person or remote instruction five days a week, and McCann says all but one of its 235 students elected to come to the OLGC campus. Safety protocols included facemasks, social distancing, and slimmed-down class sizes, among others.
"Instead of moving the students, the teachers move from room to room with moveable carts, which they push in and out of the classrooms," McCann adds. "Our gym doubles as our cafeteria, and students do eat together but they are spaced out. We also have no visitors in the building; we know who's in this building every day."
The airy campus of Archmere Academy in Claymont, Delaware, has proved a valuable asset during a time when a highly contagious virus wants to keep people apart. Spaciousness aside, the school has embraced other precautions, included trimmed class sizes and "college-style seminars" that provide more time and space for students to interact with teachers and peers.
Archmere Headmaster Michael A. Marinelli believes the pandemic has in many ways made students better prepared for the challenges of college and beyond.
"This experience has led to what might be a permanent change for us: the adjustment of our day schedule," he says. "Our students and faculty actually like some of the changes we've made because of what we've gone through the past year—the longer periods of time for classes and a clearly defined focus on health and wellness."
Archmere offers a coeducational teaching environment for grades nine through 12. Marinelli believes the past year, with the pandemic, the social unrest of the summer, and an atmosphere of toxic politics, proved a great challenge for educators, as well as an opportunity.
"If I reflect on conversations from this year, they're much less about, 'Can we move this event from this date to that date?' and more about matters of substance," he says. "I like to think it has allowed us to reframe things and realize there are very few differences between us, because all humans are having to deal with this. That, to me, is very encouraging."
Likewise, Jim Meredith, principal of Nazareth Academy High School in Northeast Philadelphia, looks ahead with a sense of "hope and optimism." He suggests the pandemic has shone a spotlight on his school's ability to adapt, evolve, and overcome challenges. For example, Nazareth now teaches students in cohorts, splitting their time between on-campus learning and remote learning. No more than 150 students are on campus each week; a limited number of students have opted for 100 percent remote learning.
"Overall, I think the students and faculty have adjusted," he says. "All of us have had a learning curve. Our teachers have been asked to do the same job in the same way, and they've been automatically expected to overhaul everything they've done on a dime. They're also dealing with the extra stress that goes along with living in a pandemic."
Meredith suggests the technology brought about by the need for remote learning has spurred unintended uses outside of the classroom. Such technology could very well provide lasting benefits long after COVID-19 has become a distant memory.
"Before the pandemic, things like school events, celebrations, assemblies, and Masses would always be in person, so if someone couldn't make it for some reason, they would miss the event," he says. "Now we're livestreaming it. For some special events, it's probably more convenient for a parent to watch from the comfort of their home. That's one way that the virtual option enhances the overall school experience and broadens your reach. We can carry something like that with us."
The pandemic has reinforced the importance of self-care. Meredith suggests the emotional and social aspects of education have become just as important as the academic piece.
"Everything the pandemic has brought—not just the restrictions we'd have to deal with but the suffering and death in communities across the country and around the world, and in our own community—has laid this quite bare," he says. "There has always been a focus on student mental health, but it's more acute now. … If you don't have your eyes on that, everything else falls apart."
Katie Eissler Thiel, principal of Archmere Academy, suggests students are just as prone to depression, loneliness, and disconnectedness as adults. That's largely why the school has devoted part of every Wednesday to student-run activities that enable "kids to be kids." Past activities have included club meetings, yoga sessions, and Spikeball tournaments.
"Something about this year has accelerated the autonomy our students have," Thiel says. "It will be interesting to see if our current students are more prepared or more resilient, because they have had to manage more free time, more liberties, and more freedom, even though they're wearing a mask."
At OLGC, McCann remains optimistic about "where we go from here." She believes the pandemic, aside from the horrors it has caused around the world, has actually strengthened the OLGC community, increased gratitude, and underscored the resiliency of students and faculty.
"We're in the second half of the school year now," she says. "We feel confident we can make it to the beginning of June. I'm excited to get past March 13th this year."
It may not seem like it right now, but summer is only a few calendar pages away. Soon enough, parents will start asking their kids, "What do you want to do this summer?" Some may need to be reminded—and reassured—that a number of local organizations and schools have begun enrolling students in summer programs.
Given the stresses and changes of the past year, most kids would likely say they need summer camp more than ever. It's easy to understand why. Summer camps introduce children to experiences they are likely to remember for a long time, if not the rest of their lives. Summer camps, after all, help children foster new talents, forge friendships, and acquire new skills that could spark an interest that guides them through college and beyond.
Depending on where a family chooses to send a child for summer camp, their days might include learning to play a favorite song on the guitar, cello, or other musical instrument; building a video game from scratch; launching a rocket or delving into robotics; throwing a tight spiral or perfecting a lacrosse shot. Of course, summer camps also aim to help kids appreciate life's simpler pleasures—such as a day spent out of doors in the company of their peers.
Malvern Day Camp intends to safely welcome children to its grounds for another adventure-filled summer. Science Explorers plans to offer in-person and virtual programming in topics ranging from STEM to marine biology and astronomy.
The Hun School of Princeton in New Jersey, which completed its first-ever virtual summer program last year, has since shifted its gaze to the summer of 2021. Given the uncertainty associated with COVID-19, the school expects to offer traditional on-campus summer programs, as well as concurrent online alternatives on a virtual basis.
Some schools remain in the wait-and-see phase, and understandably so. For example, Nazareth Academy High School in Northeast Philadelphia remains focused on upcoming spring and senior celebrations.
"At the moment, summer camps are still kind of far off," says Principal James Meredith. "Last summer we did some summer camps remotely. I'm hopeful and optimistic with the vaccine distribution, but I don't want to get ahead of myself."
Published (and copyrighted) in Suburban Life magazine, January 2021