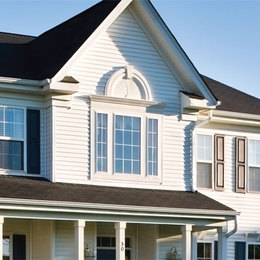 Under One Roof
Gutter Gurus employs friends and family to provide the best service and products for your home
Gutter Gurus owners Nick Bonifante and Joe Potok truly take the meaning of family business to the next level. The longtime friends have their cousins, uncles, brothers, fathers and brother-in-laws handling sales and installations, and Nick's mom assists in the back office. They never subcontract out any work, because each branch of their family tree can handle any job that may come along.
"We've all been doing this together for so long that it just comes naturally to get up on someone's roof and help to improve their home. We love it," says Bonifante, the vice-president and general manager.
But, better yet, Gutter Gurus also treats their customers like family. Customers range from new homeowners who want to protect their investment to older residents who don't want to be burdened with cleaning gutters any longer.
Sales manager and first cousin Vince Bonino says that Gutter Gurus will work with customers on manageable payment plans. "We understand that times are tough, but improving your home is still a major priority, so we go out of our way to help our customers," he says. "It's what we would do for each other, so it just makes sense as part of our business model as well."
Gutter Gurus also handles all pricing contracts ahead of time so customers are completely comfortable before the project begins. They even go out to see what needs to be done to resolve any specific problems, which helps to eliminate unnecessary or wasteful spending.
Bonifante and Bonino got their start as young boys, working with their uncles, who were employed by a large franchise. "When that company went belly-up, we decided that we didn't want to stop doing the work we loved, and so almost 10 years later, here we are," says Bonifante.
Not being part of a larger franchise like Lowes or Home Depot also helps Gutter Gurus in terms of flexibility. They reach into many Pennsylvania counties including Delaware, Bucks, Montgomery and Chester, as well as completely covering South Jersey from Cherry Hill to the shore.
And regardless of where they go, service is always personalized to what customers need—from improving old gutters to enhancing a home's curb appeal to installing a new roof.
Gutter Gurus provides a variety of gutter options, including custom color matching. Custom color matching will add beauty as well as complete functionality to your home, and prevent future water damage. The Gutter Gurus family also provides basic services like gutter replacement and repair, downspout replacement and gutter debris cleaning. They'll replace vinyl siding, fix shutters, doors or even soffits (to allow ventilation and prevent mold, mildew, and dry rot) and are willing to take on small contractor projects.
Another service that Gutter Gurus offers is aluminum or PVC capping, which ultimately protects exposed wood. It is used to cover fascia, gables, window trim and crown molding so that the wood does not rot. If you have exposed wood on your house, it will most likely rot over time, making the structure unsafe as well as causing mold and mildew. Gutter Gurus can prevent such damage by capping the wood and making it maintenance-free.
GutterShut is the only non-intrusive, hard-top gutter cover on the market and is patented in the U.S. and Canada by Gutter Gurus. The installation is quick and easy, and it prevents leaves and debris from clogging your gutters.
"Our product is self-contained inside the gutter so you are not disturbing the roof at all," Bonifante says. "That takes the worry element out of your project."
Other products on the market may void the structure's roof warranty. For instance, if someone has a 30-year warranty and five years into it they have typical gutter covers installed, their roof warranty is then voided. GutterShut, on the other hand, has a lifetime, fully transferable warranty and is designed to channel heavy rain through a unique, patented design.
Gutter Gurus is the only contractor in Eastern PA and South Jersey that can provide GutterShut exclusively.
Gutter Gurus 7320 Milnor Street, Philadelphia 610-971-9715 GutterGurus.com GutterShut.com
Danielle Wallace is a freelance writer in Montgomery County. Kim Billingsley is a freelance photographer based in Doylestown. (KimBillingsley.com)