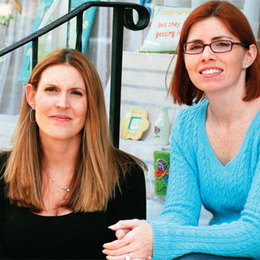 Here Comes Baby
An area business helps moms-to-be plan for their bundle of joy
Many moms-to-be hit a breaking point during the baby planning process—whether suffering from sticker shock in the brightly lit stroller aisle of a baby megastore, sifting through 247 online product reviews of bouncy seats, or listening to the fifth well-intentioned lecture from a family member about the benefits of breastfeeding.
"It can be overwhelming," says Christine Matson of Chestnut Hill, who is pregnant with her first child. "You can go crazy with all the options."
Matson is one of the growing number of modern women who are choosing to get professional help with the baby-planning process. She hired Shannon Choe, owner of Paoli-based Premier Baby Concierge, to create a comprehensive list of must-have items and then walk her through the registry process. After her baby shower, Matson plans on having Choe perform an inventory check to make sure her nursery is stocked with everything her baby is going to need.
This type of service—similar to wedding planning—has gained momentum across the country. The concept originated in London in 2006 with a couple of baby-planning businesses. Just months later, Melissa Moog got the ball rolling in the United States, creating Itsabelly Baby Planners, headquartered in Portland, Ore. Soon after, a few more popped up in cities like Los Angeles and New York.
Moog says she believes the baby planner industry developed due to changes in family demographics. Nowadays, women often don't live close to their mothers, sisters and other trusted resources.
In addition, Moog cites the increasing age of first-time parents as a reason why babyplanning services are in demand. In 2006, about 1 out of 12 first births were to women aged 35 years and older, compared to 1 out of 100 in 1970, according to the Centers for Disease Control and Prevention.
"The typical clients are working professional couples," she says. "They usually have an income of $70,000 and higher for the family. They might be doctors or attorneys—professions where they don't have a lot of spare time and would rather spend it with their family than doing research."
Aside from the "typical client," baby planners also cater to expecting parents with special circumstances, such as pregnant women who have been placed on bed rest, adoptive parents or parents who are having a child through a surrogate.
Kristina Ferrari, owner of baby boutique shop Genes with locations in Philadelphia and Wayne, says a baby planner would have come in handy when she was pregnant with her first child eight years ago.
"I left my first store in tears because it was sensory overload," she says. "Sometimes you can have great help from a mother or sister, but they may have an emotional attachment to you or the bias of doing things the way they did it. I love the idea of someone coming in to help you with the down and dirty, more from a practical standpoint."
Baby planning can go beyond just registry assistance. Services range from suggesting pre-natal yoga classes in your area, sifting through child care options, baby proofing your home, returning unwanted baby gifts, even setting you up with cleaning, pet care or cooking services while you're caring for your newborn. Educational services like certified breastfeeding support or instruction on preparing homemade organic baby food are also popular.
Wendy McDevitt and her husband Wade, of Devon, sought help from Premier Baby Concierge last year when planning for the birth of their son. Both parents have professional careers that require frequent travel and a special circumstance prompted them to seek Choe's help.
"We had Coulter through a surrogate so I felt slightly disconnected through the process," says McDevitt. "I didn't want to miss a beat."
She and her husband developed a relationship with Choe, who got to know their aesthetic and what would be important to them for the development of the child. From there, Choe provided advice on creating the perfect nursery. And when Coulter was born three months premature, Choe helped McDevitt secure a nanny and night nurse.
Sarah Beck of West Chester is a birth doula and yoga instructor who sought Choe's services two years ago when adopting her daughter from Korea. Beck had little advance notice of her daughter Kaley's arrival and suddenly had to prepare her home not for a newborn but for a crawling, solidfood eating 9-month-old, just before Christmas. Choe provided the guidance and support that Beck needed.
"She is just the central point of all the knowledge," says Beck. "If she doesn't have the answer she has the resources to find it."
Baby planners are popping up in many metropolitan areas, thanks in part to the International Baby Planner Association, a resource and networking forum for startup businesses that was created in 2008. The organization, of which Moog is the president and Choe is the secretary, currently has a steady membership of 35 businesses. Moog says the IBPA membership represents about half of the total number of baby-planning businesses across the world.
"The challenge to being a successful baby planner is being located in a good market for it," says Moog.
Areas like New York, Los Angeles, Denver, San Francisco, Atlanta, Seattle and Charlotte, N.C., each have a few baby planners. Choe is the most well-known expert in the Philadelphia area, though Moog says in the last six months the IBPA has been contacted by three or four women interested in starting businesses here. The organization is currently working on developing criteria for a certification program to provide a set of standards for the industry.
Baby planning, unlike wedding planning, involves preparation for a new life, not a one day event. Moms who hire baby planners often field nosy questions doubting the need for such services.
Matson's grandmother asked her, "Doesn't that take the fun out of it?" But what grandma might not understand is just how busy working moms-to-be are and the sheer amount of tedious leg work that goes into the preparations.
"The people who are utilizing my services are keeping the parts of the process that they are exited about," Choe says.
Moog says she's faced critics who think the business of baby planning takes away from the beautiful experience of bringing a child into the world.
"They can still bond with the baby planning experience but they get to pick and choose what they need help with," Moog says. "That doesn't mean that they aren't going to be a good parent."
Baby planning clients are confident about their decision to seek help and say it focuses their attention on what matters most—the baby. In a culture where outsourced services are becoming the norm, busy parents-to-be have just one more option for easing the stress in their lives.
"We are strong women and of course we can do this on our own, but if you can have someone to help you and give you a starting point, it made my life so much easier," Beck says. Erin Gazica is a freelance writer in Pottstown. Danielle Ellingsworth is a freelance photographer from Bucks County.