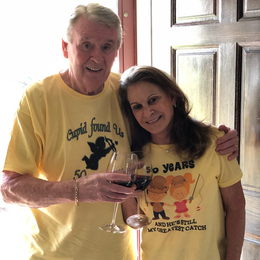 All the World's a Stage
From theater to entrepreneurship to filmmaking, the life of Guy Quigley comes full circle.
Guy Quigley is a Renaissance man who has lived and worked around the world—everywhere from Africa and London to the Bucks County town of Fountainville.
Indie-film producer, screenwriter, author, inventor, cattle rancher, entrepreneur, and devoted family man, Quigley has done it all, and put his heart and soul into every venture. This includes his family's 12-year ownership of the historic property known as The Doylestown Inn, a boutique hotel with 17 guestrooms, and The Hattery Stove and Still, a popular brunch and dinner spot in the borough.

Raised in Dublin, Ireland, Quigley came from a family of thespians who made him comfortable talking in front of people. He became a quick study in everything from sales opportunities in London to operating a 40,000-acre cattle ranch in Africa—always with Wendy, his wife of more than 50 years, by his side.

Quigley is also a prolific writer, having authored more than a dozen screenplays, as well as several books, including The Little People, The Rebel Son, and Predators at the Gate.
Through his Doylestown production company, ThunderSmoke Media LLC, Quigley has produced several indie movies, including two supernatural thrillers, Apparition (2019) and Impuratus (March 2023). The cast of Impuratus includes Tom Sizemore, Jody Quigley, Robert Miano, and Lew Temple, among others. Michael Yurinko wrote and directed the film.

Impuratus follows a police detective (Sizemore) summoned to a remote mental hospital to witness the deathbed confession of a mysterious Civil War soldier (Jody Quigley, Guy's son). The film was made locally during six weeks in the winter of 2021, with segments filmed at Penrose-Strawbridge House in Horsham and Pennhurst Asylum in Spring City.
Q&A
After such a diverse career, what made you want to produce movies?
I'm a big fan of all sorts of movies. I wanted to make movies that grab you and that you don't want to turn off after 15 minutes. You want to stay with it until the bitter end. I feel if a movie doesn't get you in the first 10 minutes, there is a problem. My wife Wendy and I will go through two or three movies to find one that we feel is worthwhile.
Describe your new movie, Impuratus.
It's a definite watch-until-the-end movie because you don't really know what's going to happen until it gets down to the wire. It's not a typical "horror" movie because there is no blood-and-guts stuff like that. We made a point not to do that. … We felt that the supernatural is more intriguing.

I was talking to my physician about the movie the other day and he said that when he was a young doctor, he worked at Pennhurst Asylum. …He called it horrific with everyone in distress all in one place. His comment to me was, "You picked a horror house to make your movie."
What inspires you to write film scripts and books?
My first book, The Rebel Son, was based on my sitting around a campfire in the African bush talking to Wendy's dad and listening to all the real-life crazy stories that happened. Later, I went on to write a book for my kids. I also wrote The Smoke That Thunders, an 850-page book that I am currently breaking down into three volumes and planning to publish later this year. I've got another one, a spy thriller called Predators at the Gate, in the same vein as John le Carré and Graham Greene. And there are more in the works.
How long have you lived in the Doylestown area?
We moved here in 1983, when my son, Jody, now 43, was three. My wife and I thought it would be great to get a nice house somewhere in a quiet suburb where the education system was great for our son and two daughters. My children and six grandchildren (five girls and a boy) all live in the Doylestown area. I am proud to say that we are a close-knit family.
What is your best advice to impart to your children and grandchildren?
Never give up and always follow your dreams because, in the end, they will pay off.
After everything you have accomplished, what do you want your legacy to be?
After more than 50 years of living in Africa, England, and the U.S., and the roller coaster of operating three companies and losing my 20-year-old U.S. public company in a bitter proxy fight, I went back to my roots of show business. That's my legacy. I started in show business, and I am going to end in show business. For me, it's all about going full circle, and it is as simple as that.
Photo courtesy of Quigley family

Published (and copyrighted) in Suburban Life, February 2023.