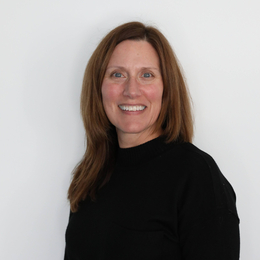 Locking Horns
As the founder of PA Rhino Conservation Advocates, Heather Smith fights to protect endangered animals, ecosystems, and communities halfway around the world.
"I wanted to see lions and elephants," Heather Smith recalls. "I couldn't imagine seeing them outside of a zoo environment."
For years, Smith pined for the opportunity to see some of the world's most majestic animals up close. She decided to do something about it in 2015, when she raised her hand at a work-related fundraiser to bid on an African safari.

As fate would have it, she wound up winning the safari. Her husband and then-nine-year-old daughter accompanied her on the ensuing trip to Namibia, Africa.

"Once we were at camp, I remember sitting in the lobby, getting orientation and looking out the window, completely distracted," she says. "I see something moving out there and realize it's the giraffes coming in. We also saw the lions and elephants I went there to see. You think you'll be looking at these animals through binoculars, but the guides pull right up to them, at a respectful distance. The lions are right in front of you, lying down sleeping."

Her life has not been the same since.

As of May 2016, Smith has led a nonprofit organization called PA Rhino Conservation Advocates, PARCA for short, apart from her full-time job as chief operating officer of the department of neurosurgery at Penn Medicine in Philadelphia.
A nurse by training, Smith never imagined she would be in a position to help endangered animals, communities, and ecosystems halfway around the world. She came home from that first safari wanting to help preserve the habitat and animals that affected her so deeply. First she had to figure out how to get involved. As luck would have it, a colleague invited her to attend a leadership lecture featuring Dereck and Beverly Joubert, a husband-and-wife team of wildlife conservationists and the founders of the Great Plains Foundation.

The Jouberts talked about Rhinos Without Borders, a collaboration between their foundation and an organization called &Beyond dedicated to the survival of wild rhinoceroses in southern Africa. The project had the goal of translocating rhinos from high-risk poaching areas and creating new source populations in strategic areas in "safer" Botswana. By December 2019, Rhinos Without Borders had translocated 87 rhinos, with a goal of reaching 100.

The savage practice of poaching poses the greatest threat to African rhinos. Since 2017, more than 2,700 rhino-poaching incidents have been recorded in Africa, according to the International Rhino Foundation; approximately 90 percent of those incidents took place in South Africa. Around the world, rhino horn is seen as a trophy or status symbol among the wealthy and powerful. Rhino horn is also used in traditional medicine in some Asian countries, where it is peddled as a cure for cancer or other life-threatening diseases. In truth, it has shown no medicinal value; the horn is made of keratin, the same substance found in human hair and fingernails.

Although Smith had no previous attachment to rhinos, she felt drawn to the Jouberts' cause. She promptly hosted a fundraiser to promote the "plight of the rhino," and wound up raising $10,000 through her network of friends, family, and colleagues.

"At the time, it cost $40,000 to move one rhino, so I kept at it," she adds. "At some point, it became awkward to ask for money on behalf of Great Plains, so I said, 'I guess we have to start our own nonprofit.' We started PARCA in May 2016."

Headquartered in Media, PARCA accepts donations from U.S. donors to support the work of partners such as Great Plains, Care for Wild Rhino Sanctuary, the Wild Tomorrow Fund, and the Kariega Foundation. These efforts have accomplished several key initiatives: translocating rhinos to safer areas and overseeing their safety; funding the hiring and training of a female ranger; and rhino-dehorning operations to discourage poaching.

The nonprofit also hosts fundraisers locally and arranges exclusive safaris to Botswana and Zimbabwe. Such excursions enable others to experience the same awe Smith felt during her first safari.

"Around here, we're all worried about a deer crossing the road," she says. "There, you are literally driving amongst elephants. We saw a black mamba in Botswana; of all the things you might ask your guide to get closer to, that's not it. My tentmate and I had a scorpion in our tent. It's an incredible experience that's so unlike anything people around here are used to."
Thick Skin
Smith grew up in Pottsville, a small Pennsylvania town northwest of Philadelphia "not known for anything but Yeungling," she says. After moving to Philadelphia, she earned a nursing job at Penn Medicine, where she has worked for nearly 35 years. She started her career bedside, working the night shift tending to ICU patients after cardiac surgery, but has since moved into operations and administration.

Her work with PARCA is intertwined with her work at Penn. All but one of the organization's all-volunteer board of directors are Penn employees; the outlier is a game warden.

"A lot of nurses, to be able to do our work, you have to develop a thick skin," she says. "If you're crushed by the things you see, you can't function. I'm not a particularly sentimental or soft person, but put an animal story in front of me and I'm mush.

"With PARCA, I don't focus on the sadness [associated with rhino poaching]," she continues. "I'm angry now, and that's what drives me. When someone poaches an animal, my instinct is to say, 'How dare you?' There's no reason for it; a rhino horn has no value as medicine, and it's life has so much meaning and value apart from a trinket."

While she has deep compassion for the animals, she also considers the trickledown effect caused by poaching. When a keystone species like a rhino is removed from its environment, its absence affects so much more than the animal itself—other fauna and flora, the people who live in the region, the entire ecosystem.

"It took me four or five years of getting into this work to realize what we're doing is about so much more than the rhino," she says. "There's an impact when anything is removed. It's like concentric circles that keep rippling out, affecting much more than the thing that sits at the core.

"Think about the citizens of the country, whose economies are built on tourism," she continues. "Think about the jobs and the impact on these communities when every crime is committed. Poachers are paid to go into these areas and do the work—often they are community members—and they're recruited to earn money they wouldn't otherwise earn. Think about how difficult that must be."

Just as Smith has been changed by her work with PARCA, so too has her family, especially her daughter. Now age 17, Smith's daughter has gotten to participate in dehorning operations to protect rhinos from slaughter. Those experiences in particular have stuck with her.

"The whole experience has instilled in her a love of travel and of Africa," Smith says. "She has come to the appreciate the connections with the people we've meet, the animals, and the land. … We went back in July of '21 and '22, and there was the understanding that it wasn't just a trip; it was a little bit of going home. She is moved by the work."

Smith understands that not everyone shares her passion for saving rhinos, and that's all right with her. She believes getting involved in any "greater purpose" will result in people coming away from the experience with a changed outlook.

"We're fixing one problem," she says of PARCA's work. "I encourage people to figure out whatever their 'it' is. Like I did at that fundraiser in 2015, sometimes you just have to raise your hand and speak up."
Photo by Philynn Hepschmidt

Published (and copyrighted) in Suburban Life, February 2023.