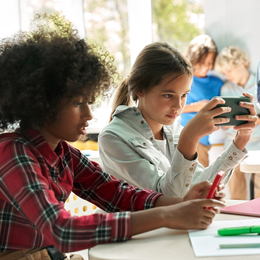 Media Savvy
Schools foster programming to help students become responsible "digital citizens."
Students face a bombardment of information through social media every day. Whether they are communicating with friends on their smartphones, watching YouTube or TikTok videos, or scrolling through Instagram posts, they must learn how to manage their time in an increasingly digital world, while also protecting their privacy, mental health, and well-being.
The need to teach students how to become good "digital citizens" has caught on at area schools, particularly at the middle school and high school levels. Schools such as Academy of Notre Dame de Namur aims to provide students with the skills, knowledge, and practices to engage safely and make responsible choices in a digital environment.
Notre Dame, a Catholic, independent, college-preparatory school in Villanova for girls in grades six through 12, has developed a schoolwide initiative called ND Cares. The initiative provides students with the tools they need to address their mental health and well-being, including addressing their use of social media.

Approximately 95 percent of teens regularly use smartphones and 45 percent of teens say they are online almost constantly, according to the Pew Research Center. Such exposure puts a large portion of them at risk for anxiety, depression, and even physical ailments in relation to the use of social media. Girls in particular tend to feel anxiety due to social media influences. Issues pertaining to body image, popularity, and cyberbullying, as well as the pressure to be "perfect," can arise based on what they see on their social feeds.

"It's increasingly important to help students find balance and establish healthy habits when it comes to navigating social media," says Stacy Kim, a Notre Dame middle school counselor.

Kim also facilitates the school's partnership with The Social Institute, which provides an online learning platform that empowers students to make positive choices on social media and reinforces character traits such as empathy, integrity, and teamwork. A key piece of the program is an initiative called #WinAtSocial, which includes an interactive curriculum designed to guide students "at the intersection of well-being and technology."

"The program is designed to help our students navigate their social world, not only online but offline as well," says Kim. "Each month we focus on social standards within the curriculum designed to promote discussion around issues such as reflecting on your core values, protecting your privacy, questioning the credibility of online influencers, and how to use social media as a tool for creating positive change."

The #WinAtSocial initiative is geared toward Notre Dame's middle school students in grades six through eight. Among other things, the school wants to help students build a relationship with an in-house student support and well-being network through seminar classes, group interventions, and one-on-one sessions.

"All of our students are learning to navigate this world of instant information coming at them on a daily basis, while trying to figure out what is reality and what's misinformation, and how to protect themselves and their mental health as well," says Laura Schmidt, Notre Dame's director of student support and well-being. "By having students work with their school counselors on a regular basis, we're helping to reduce the stigma of talking about mental health or some of the issues they might be struggling with and normalizing the ability to ask for help. The Social Institute has a great way of bringing these issues to the girls' attention."

In support of upper school students in grades nine through 12, Notre Dame has partnered with The Jed Foundation (JED), a nationally recognized nonprofit that helps protect emotional health in teens and young adults, providing them with the skills and support they need to thrive. Notre Dame is the first noncollegiate institution in Pennsylvania to partner with JED. Schmidt says the school's work with JED provides "feedback on how we can continue to improve our programs to best meet the needs of our school community."

"With so much information available at their fingertips every day," adds Kim, "it's important for our students to understand the power of that technology, that it goes beyond them just being on their phones, and the need to address the challenges of using technology in a socially responsible way."
Published (and copyrighted) in Suburban Life, February 2023.