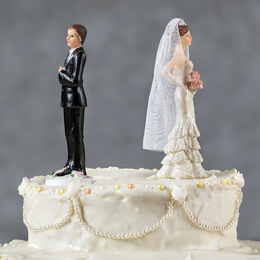 Split Decisions
The steps taken and professionals hired early into the divorce process could determine whether someone thrives after a breakup or simply survives the aftermath.
Sooner or later, even the best bands in the world break up. Some of the best relationships do, too.
In 2021, the marriage rate in Pennsylvania climbed to 5.4 per 1,000 people, while the divorce rate hit 2.4 per 1,000 people, according to data from the U.S. Centers for Disease Control and Prevention. These statistics support an age-old perception: Approximately half of all marriages fail.

When they do, what happens in the aftermath depends largely on the decisions people make—including the attorney they hire to help them navigate the often choppy waters of divorce. Most people's post-breakup needs will not stop at the legal aspects of divorce. For example, thriving after a divorce often requires the guidance of a trusted financial advisor, as well as the intervention of a therapist (not only for the former spouses, but also for any children their union produced). Of course, the support of friends and family, including pets, can help to ease the transition into single life.

When someone decides a marriage has too many troubles to overcome, or even if a separation or divorce seems likely, most family law attorneys will advise to make the first call to them. They can provide essential guidance for next steps, set realistic expectations, and help come to terms with the decision. They also likely have a network of affiliated professionals who can help clients resolve the non-legal aspects of divorce to help them start over in the best position possible—financially, emotionally, spiritually, etc.

The attorneys featured on the following page are some of the area's finest practitioners of family law who specialize in divorce, custody, and spousal/child support, among others. We acknowledge the fact that a number of exceptional family law attorneys practice in the Philadelphia area, not all of whom are included here.
2023 Top Family Law Attorneys
Robert E. Angst
Valerie Rosenbluth Angst
ANGST & ANGST P.C.
Doylestown and Harleysville
angstlaw.com

Joni J. Berner
BKW FAMILY LAW
Philadelphia
bkwfamily.com

Michael E. Bertin
Tara Burns
Julie R. Colton
Samantha J. Evian
W. Frank Johnson Jr.
David L. Ladov
Hillary J. Moonay
Michelle L. Ringel
Leslie B. Spoltore
Adam Tanker
Shari B. Veisblatt
Robert I Whitelaw
Stephanie H. Winegrad
OBERMAYER REBMANN MAXWELL & HIPPEL LLP
Multiple offices
obermayerfamilylaw.com

Jennifer A. Brandt
COZEN O'CONNOR
Philadelphia and Cherry Hill, New Jersey
cozen.com

Catherine M. Cardozo
PETRELLI PREVITERA
Multiple offices
petrellilaw.com

Lee A. Ciccarelli
CICCARELLI LAW OFFICES
West Chester
ciccarelli.com

Patricia H. Cooley
Kevin J. Handy
COOLEY & HANDY ATTORNEYS AT LAW
Doylestown and Bala Cynwyd
cooleyhandy.com

Jennifer Courtney
THE LAW OFFICES OF JENNIFER COURTNEY
Yardley
courtneylaw.net

Marie I. Crossley
Lance J. Nelson
MACELREE HARVEY
Multiple offices
macelree.com

Christina M. DeMatteo
LAW OFFICE OF CHRISTINA M. DEMATTEO LLC
Blue Bell
dematteolawoffice.com

Amy P. De Shong
WISLER PEARLSTINE LLP
Blue Bell
wislerpearlstine.com

Anthony D. DiFiore
DIFIORE LEVIN
Conshohocken
difiorelevin.com

Mary Cushing Doherty
HIGH SWARTZ
Multiple offices
highswartz.com
Peter J. Dolan
DOLAN RAY LAW LLC
Pottstown
1876law.com

Susan Levy Eisenberg
SUSAN LEVY EISENBERG ATTORNEY AT LAW P.C.
Langhorne
susaneisenberglaw.com

Ellen S. Fischer
BLOOM PETERS LLC
Horsham
bloompeters.com
Derek M. Freed
Wendy M. Rosen
Barbara Ulrichsen
ULRICHSEN ROSEN & FREED LLC
Pennington, New Jersey
urf-law.com

Ann M. Funge
FUNGE FAMILY LAW LLC
Philadelphia and Radnor
fungefamilylaw.com

Kevin L. Hand
Marisa M. Perini
Joseph M. Ramagli
Marc I. Rickles
Abigail F. Tuttle
KARDOS, RICKLES & HAND
Newtown
krhlaw.com

David N. Hofstein
Charles J. Meyer
HOFSTEIN WEINER & MEYER P.C.
Philadelphia and Bala Cynwyd
hwmfamilylaw.com

Sarah A. Jones
LAW OFFICES OF GREGORY J. PAGANO P.C.
Philadelphia and Media
paganolaw.net

Shannon Kanavy
Robert T. Repko
REPKO LAW LLC
Doylestown
repkolaw.com

David S. Kaplan
O'DONNELL, WEISS & MATTEI P.C.
Phoenixville and Pottstown
owmlaw.com

Lydia Fabbro Keephart
PELLETTIERI, RABSTEIN & ALTMAN ATTORNEYS AT LAW
Newtown and Princeton, New Jersey
pralaw.com

Kimberly J. Krzyzaniak
KJK LAW
Wayne
lawkjk.com

Christin Kubacke
Kim Denise Morton
MORTON & KUBACKE FAMILY LAW LLC
West Chester
mortonfamilylaw.com

Michael Kuldiner
THE LAW OFFICES OF MICHAEL KULDINER P.C.
Feasterville and Doylestown
phillyesquire.com

Gregory P. LaMonaca
LAMONACA LAW
Media
lamonacalaw.com

Jeffrey A. Liebmann
Mindy J. Snyder
David J. Sowerbutts
LIEBMANN FAMILY LAW
Newtown
liebmannfamilylaw.com

Scott A. Lisgar
KELLER, LISGAR & WILLIAMS LLP
Havertown
klwllp.com

Carla Marino
LAMB MCERLANE PC
Multiple area offices
lambmcerlane.com

Tina Mazaheri
MAZAHERI LAW LLC
Doylestown
mazaherilawllc.com

Clare L. Milliner
BRUTSCHER, FOLEY, MILLINER, LAND & KELLY LLP
Kennett Square
bfmlk.com

Carolyn R. Mirabile
Lawrence J. ("Skip") Persick
John Zurzola
WEBER GALLAGHER
Norristown
webergallagherfamilylaw.com

Robyn E. Musi
Michael A. Raffaele
RAFFAELE PUPPIO
Media
raffaelepuppio.com

Colleen M. Neary
SWEENEY & NEARY LLP
Media
sweeneynearylaw.com

Suzann Ordile
ORDILE LAW AND MEDIATION
New Hope
ordilelaw.com

Rebecca Kolsky
Brendan McGuigan
Erin Nease
E. John Pagnanelli
Maria N. Testa
TESTA & PAGNANELLI LLC
Multiple locations
tpfamilylaw.com

Andrea B. Pettine
PETTINE LAW OFFICES
West Chester
pettinefamilylaw.com

Sheryl R. Rentz
LAW OFFICES OF SHERYL R. RENTZ
Ardmore
srrentzlaw.com

Jennifer J. Riley
LAW OFFICES OF JENNIFER J. RILEY
Blue Bell and Wayne
jjrlawfirm.com

Carla V. Risoldi
RISOLDI LAW OFFICES LLC
Langhorne
risoldilawoffices.com

Susan J. Sacchetta
PLATT, DIGIORGIO & DIFABIO
Paoli
pddlaw.net

Jacqueline G. Segal
FOX ROTHSCHILD LLP
Exton and Philadelphia
foxrothschild.com

Lori K. Shemtob
SHEMTOB DRAGANOSKY TAYLOR
Blue Bell
shemtoblaw.com

David J. Steerman
KLEHR HARRISON HARVEY BRANZBURG LLP
Multiple offices
klehr.com

Jill E. Trayer
TRAYER LAW
Doylestown
trayerlaw.com

Karen Ann Ulmer
KAREN ANN ULMER P.C.
Langhorne
ulmerlaw.com

Joseph D. Visco
LAW OFFICES OF JOSEPH D. VISCO
Doylestown
viscolawoffice.com

Randi J. Vladimer
RANDI J. VLADIMER P.C.
Radnor
vladimerlaw.com

Lori A. Walker
FAMILY LAW CORP.
Philadelphia
thefamilylawcorp.com

David Woosley
WOOSLEY NARAGON LLC
Doylestown
woosleynaragon.com
Published (and copyrighted) in Suburban Life, February 2023.