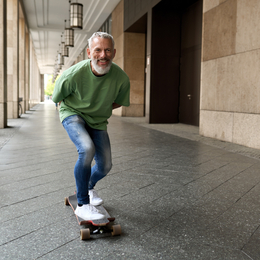 In the Middle of It All
Although 50 may be considered middle age, many who have passed the mid-century milestone believe the best has only just begun.
First it was "50 is the new 40," which became "50 is the new 30," and so on down the line. The truth is that 50 is whatever someone wants it to be.
More people than ever are moving deep into middle age with a take-no-prisoners attitude, according to a recent Washington Post report. A woman named Jill Jamieson ran seven marathons in seven days on seven continents, completing the seventh marathon the day before her 57th birthday.

And it's not just people in their 50s who are pushing the boundaries of human endurance. Folks in their 60s, 70s, and 80s are performing feats previous generations dared not imagine: surfing, skiing, skateboarding, mountain climbing, even bodybuilding. In the past decade, the number of people 60 and older registering for Ironman's 140.6-mile and 70.3-mile triathlons has quintupled from around 2,500 in 2012 to nearly 13,000 last year.

This statistic from the Post story underscores a growing trend: While many older adults still prefer safer, more placid, and lower-impact activities, such as playing golf and meeting with friends over hands of poker, a groundswell of others prefer more intense ways of spending their time.

Thomas Walton, D.O., is one of them. Now a retired physician, he spent much of his 50s and 60s playing ice hockey in house leagues in Bucks County and across the river in South Jersey. Usually playing wing, he learned to pace himself across three periods, potting the occasional goal along the way. Once in a while there was a fight, though he did his best to shy away from the rough stuff.

"I wanted to play when I was younger, but I never had the time," he says. "By the time I was settled in my career and all the kids were out of the house, I decided now was the time. I took a few [ice hockey] clinics and joined one team from there, and just kept going. You listen to your body when it tells you something, but as long as you do that, you just go out and have fun."

He believes performing at a high level later in life comes down to two forms of maintenance: good physical health and a positive mindset. If someone has the interest and drive to take up a particular hobby, then they can achieve their goal. Conversely, if they believe they are "too old," then that prophecy will come true, too.

Walton "retired" from the game a few months before his 65th birthday. That said, he doesn't think he'll ever hang up the skates for good. Two winters ago, when local ponds froze during a prolonged cold snap, the then-70-year-old laced up his skates and passed the puck around with two of his grandkids.
The Best of Times
As people get into their 50s, many begin to consider where their will spend their later years. The Philadelphia area boasts some of the area's finest continuing care retirement communities (CCRCs) and other destinations, all known for helping residents maintain their independence. Many of them are listed below, though we acknowledge that not all of the area's many exceptional CCRCs are included here.

Acts Retirement Life Communities
Brittany Pointe Estates in Lansdale, Fort Washington Estates, Granite Farm Estates and Lima Estates in Media, Gwynedd Estates in Ambler, Normandy Farms Estates in Blue Bell, Southampton Estates, and Spring House Estates in Lower Gwynedd
actsretirement.org

Arbour Square of Harleysville
Harleysville
arboursquare.com

Artis Senior Living
Huntingdon Valley, Yardley, and Princeton, New Jersey
artisseniorliving.com

Atria Senior Living
Atria Center City in Philadelphia and Atria Lafayette Hill
atriaseniorliving.com

The Attleboro Community
Langhorne
attleborocommunity.com

Brandywine Senior Living
Dresher Estates, Haverford Estates, Longwood in Kennett Square, Senior Suites in East Norriton, and Upper Providence in Phoenixville
brandycare.com

Chandler Hall
Newtown
ch.kendal.org

Cornwall Manor
Cornwall (Lebanon County)
cornwallmanor.org

Dunwoody Village
Newtown Square
dunwoody.org

Elm Terrace Gardens
Lansdale
elmterracegardens.org

Five Star Senior Living
The Devon Senior Living, NewSeasons at New Britain in Chalfont, and Forwood Manor in Wilmington, Delaware
fivestarseniorliving.com

Freedom Village at Brandywine
Coatesville
fvbrandywine.com
Friends Home & Village
Newtown
fhvpa.org

Garden Spot Village
New Holland
gardenspotvillage.org

HarborChase of Wilmington
Wilmington, Delaware
harborchase.com/harborchase-wilmington

HarborChase of Princeton
Princeton, New Jersey
harborchase.com/harborchase-princeton

The Hearth at Drexel
Bala Cynwyd
thehearthatdrexel.org

Heartis
Warminster and Yardley
heartis.com

Hershey's Mill Villages & Golf Club
West Chester
hersheysmill55plus.com

The Hickman
West Chester
thehickman.org

HumanGood
The Mansion at Rosemont, Rydal Park and Rydal Waters in Jenkintown, and Spring Mill Pointe in Lafayette Hill
humangood.org

IntegraCare
Glen Mills Senior Living, Exton Senior Living, Magnolias of Lancaster
integracare.com

Kendal-Crosslands Communities
Kennett Square
kcc.kendal.org

The Landing of Collegeville
Collegeville
leisurecare.com

The Manor at York Town
Jamison
themanoratyorktown.org

Maplewood at Princeton
Plainsboro, New Jersey
maplewoodseniorliving.com

Masonic Villages
Lafayette Hill and Warminster
masonicvillages.org

Meadowood Senior Living
Lansdale
meadowood.net

Merrill Gardens
Arbour Square in West Chester, Eagleview Landing in Exton, Mercer Hill at Doylestown, Merrill Gardens at Glen Mills, The Pinnacle in Plymouth Meeting, Truewood by Merrill in Glen Riddle
merrillgardens.com

Oxford Enhanced Senior Living
Langhorne
oxfordenhancedseniorliving.com

Pennswood Village
Newtown
pennswood.org

Pickering Manor
Newtown
pickeringmanor.org

Pine Run Retirement Community
Doylestown
pinerun.org

Pleasant View Communities
Manheim
pleasantviewcommunities.org

Priority Life Care
Symphony Manor of Feasterville and Independence Court of Quakertown
prioritylc.com

Riddle Village Retirement Community
Media
riddlevillage.com

SageLife
The 501 at Mattison Estate in Ambler, Chestnut Ridge and Plush Mills in Wallingford, Daylesford Crossing in Paoli, Echo Lake in Malvern, and Ovation at Riverwalk in Princeton, New Jersey
sagelife.com

The Solana Doylestown
Warrington
thesolanadoylestown.com

Springton Lake Village
Media
springtonlakevillage.com

Sunrise of North Wales
North Wales
sunriseseniorliving.com

Symphony Square
Bala Cynwyd
symphonysq.com

The Watermark at Bellingham
West Chester
bellingham.watermarkcommunities.com

Waverly Heights
Gladwyne
waverlyheightsltd.org

White Horse Village
Newtown Square
whitehorsevillage.org
Published (and copyrighted) in Suburban Life, February 2023.