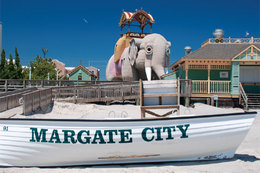 Best of the Shore
After the record snowfall that blanketed us this past winter, it's not hard to be overly excited about the return of summer. As the days get longer and the nights shorter, the season's arrival means the chance for many to reconnect with the place they so closely associate with this time of the year. The Jersey shore has long been our home away from home, the ideal escape from daily distractions, where lifetime memories are made. Here, we present a town-by-town roundup of what's hot and happening up and down the coast from LBI to Cape May. You'll find it to be as essential an item to shore survival as applying sunscreen.
AVALON
Here's the Scoop
Sure, Avalon Freeze may be the local answer to Dairy Queen, but it's hard to argue with a retro classic. 21st Street and Dune Drive, (609) 967-4141
Also try: At Sundae Best Ice Cream Parlor, they serve up homemade ice cream and signature sundaes. 2900 Dune Drive, (609) 368-1121, SundaeBestAvalon.com
Wake-Up Call
French toast is good. Cinnamon buns are great. But the cinnamon bun French toast at Brian's Waffle House is epic. Start your day with a sugar coma or try the Popeye's Bennie—eggs Benedict with fresh spinach and tomatoes. 2408 Dune Drive, (609) 967-3058
Also try: The hand-rolled sticky buns and fresh donuts from Kohler's Bakery are worth every calorie. 2709 Dune Drive, (609) 967-3694, KohlersBakery.com.
Snack Attack
If you like your junk food with an upscale twist, check out Concord Café, where even the "Boardwalk pizza" includes sausage, sweet peppers and onions and three kinds of cheese. 7800 Dune Drive, (609) 368-5505, ConcordCafe.net
Also try: The house nachos at Real Enchilada are loaded with beans, guac, cilantro, sour cream and cheese—hard to go wrong there. On weekends, they also dish up huevos and breakfast burritos in the a.m. 224 21st Street, (609) 967-8226
After Dark
Why bar-hop when you can head to The Princeton? This multiple-personality venue offers live music in the Rock Room, a DJ spinning dance music in the main room and a more relaxed vibe at the Circle Tavern. 2008 Dune Drive, (609) 967-3456, PrincetonBar.com
Also try: The Windrift a similarly expansive complex that includes The Blue Wave Louge with nightly live music or DJs, plus the Beach Bar with live music, and The Deck and the Tiki Bar, both overlooking the ocean. 80th Street and the Beach, (609) 368-5175, WindriftHotel.com
Have You Heard?
The owners of Philadelphia's Pub & Kitchen are behind The Diving Horse, a farm-to-table seasonal affair with locally caught fish and Jersey produce served up in dishes like fried oysters with warm German potato salad and pancetta remoulade. The space was constructed with reclaimed architectural and hardware elements like old church pews, fitting given that owner Dan Clark's parents are opening Avalon Hardware just next door. 2109 Dune Drive, (609)368-5000, TheDivingHorseAvalon.com.
Tonio's Pizza owners Tonio and Kimberly Galdi have launched Tonio's Seafood Shack and Fish Market, selling local, prepared fish and seafood dishes to cook at home, and eat-in casual dining. 2475 Ocean Drive, (609)368-TUNA
The Princeton has a new executive chef, Terry White, formerly of Union Trust and Striped Bass in Philadelphia. 2008 Dune Drive, (609) 967-3456, PrincetonBar.com
Style File
Tiger Lily offers upscale seaside looks from the likes of Trina Turk, Nanette Lepore, and Badgley Mischka. 271 21st Street, (609) 967-4300, ShopTigerLily.com
Also try: The Closet Boutique offers Sold and Earnest Sewn denim. 2509 Dune Drive, (609)368-7400, ClosetBoutiqueAvalon.com
Golden Forks
One of Avalon's first upscale BYOBs, Cafe Loren, offers coastal dishes such as prosciutto-wrapped snapper served with steamed clams, house-made veal sausage, broccoli raab and shellfish brodo. 23rd Street and Dune Drive, (609) 967-8228, CafeLoren.com
Also try: At The Sea Grill, you can wander in, check out the blackboard and then tell the chef whether you prefer seafood or steak. 225 21st St., (609) 967-5511, SeaGrillRestaurant.com
Inside Track
The Avalon Surf Shop has been an institution in town for 25 years, but you may not know that it also hosts the Avalon Surf School (avalonsurfschool.com) with lessons every morning during the summer. 2249 Dune Drive, (609) 967-7115, AvalonSurfShop.com
CAPE MAY
After Dark
Start at Congress Hall's elegant cocktail lounge, The Brown Room, and then head downstairs to The Boiler Room for live music or dancing in a nightclub environment. 251 Beach Drive, (609) 884-8421, CongressHall.com
Also try: Live music, epic happy hours, dancing and drinks keep rowdy revelers returning to Cabanas Beach Bar and Grill. 429 Beach Ave., (609) 884-4800, CabanasOnTheBeach.com
Wake-Up Call
Tourists and locals alike love the Mad Batter, a brunch favorite for buttermilk pancakes or Chesapeake Bay Benedict with crabmeat and capers in a zany, through-the-lookingglass setting. 19 Jackson St., (609) 884-5970, MadBatter.com
Also try: Congress Hall Benedict takes poached eggs to a new level with white truffle hollandaise and imported pancetta over a cheddar scallion biscuit with home fries, at the Blue Pig Tavern. 251 Beach Drive, (609) 884-8421, CongressHall.com
Snack Attack
Situated in a renovated church outfitted with a brick pizza oven, Panico's Bistro offers gourmet pizzas and treats like truffled french fries with blue cheese. The low-key BYOB is open for dinner only. 422 Broadway, West Cape May, (609) 884-7170
Also try: Potato and cucumber salad, alongside roast beef or meatball sandwiches, star at Robinson's Market, a short drive away in Villas and worth the trip. 2408 Bayshore Road, Villas, (609) 886-3190
Here's the Scoop
It doesn't open until 5 p.m., there's no phone number and it's a bit of a drive. But locals swear by The Vanilla Bean Creamery, which serves homemade flavors like strawberry-cheesecake and Snickers. 958 Route 109, Lower Township
Also try: Go for the ultimate combination of salty and sweet: vanilla ice cream in a pretzel cone at Uncle Charley's Ice Cream. 310 Washington St., (609) 884-2197
Style File
Start at the Free Shop for designer 7 for All Mankind and Citizens of Humanity denim and clothing by Cynthia Vincent and Rebecca Taylor. 401 Washington St., (609) 898-0572
Also try: The Whale's Tale, a landmark for oceanic memorabilia, recently opened a stylish art and jewelry gallery, Splash, a few blocks away. 312 Washington St., (609) 884-4808, WhalesTaleCapeMay.com
Golden Forks
The Ebbitt Room in the Virginia Hotel is known for its sleek modern decor and inventive dishes like pastrami-cured salmon tartar with arugula, beets and horseradish crema. 25 Jackson Street, (800) 732-4236, VirginiaHotel.com
Also try: Red pepper seafood risotto loaded with lobster, crab, shrimp, clams and mussels in a lemon ginger broth is one favorite at The Black Duck on Sunset, a BYOB with a tropical vibe. One Sunset Boulevard, West Cape May, (609) 898-01011, BlackDuckOnSunset.com
Inside Track
Cape May legalized beach cabanas and tents a few years back, and since then the beach service options have grown exponentially. Congress Hall offers a full beach services with towels, umbrellas, chairs and magazines, and even teak-floored cabanas. So do three more Cape Resorts properties: The Virginia Hotel, The Sandpiper Beach Club and The Beach Shack. Through the Montreal Inn and Café Promenade's beach service, you can order up frozen margaritas, bourbon burgers and the like, (1025 Beach Ave., (609) 884-6113, Cafe-Promenade.com). Or, you can order loungers, a tent, towels or a box lunch through Steger's Beach Service, (609)884-3058, EastCoastParasail.com).
LONG BEACH ISLAND
Wake-Up Call
LBI Pancake House is a landmark with a wide variety of pancakes; we like the cranberry version. 2111 Long Beach Blvd., Ship Bottom, (609) 361-8108
Also try: Known for their chipped beef and Cyclops Pancake (a pancake with an egg in the middle), Mustache Bill's Diner has got the goods. Just ask Food Network host Guy Fieri, who praised the place. Eighth Street and Broadway, Barnegat Light, (609) 494-0155
Inside Track
The Chicken or the Egg, better known on the island as "The Chegg," is the only 24/7 joint in town and has a large enough menu to satisfy any appetite, at any time of day. 207 N. Bay Ave., Beach Haven, (609) 492-3695
Have You Heard?
Off The Hook, a seafood takeout shop, now has outdoor seating. 20th Street & Bayview Avenue, Barnegat Light, (609) 361-8900
Snack Attack
Boasting the biggest slices in town, Bay Village Pizza's fresh-cut, seasoned French fries are a big hit too. 9th Street & Bay Avenue, Beach Haven, (609) 492-4484
Also try: The most discriminating cheesesteak aficionados head to Dom's Drive-In for the M.O.P. (mushrooms, onions and peppers) version. 3705 Long Beach Boulevard, Beach Haven, (609) 494-3333
Style File
Viking Village is a quaint fishing village (which houses the scallop boat featured in The Perfect Storm) with a variety of shops selling clothing, antiques, toys and candy. 1801 Bayview Ave., Barnegat Light, (609) 494-0113, VikingVillage.net
Also try: Ron Jon Surf Shop, the store that created the surfing empire (now with 10 locations nationwide) started here. They've got a great selection of skateboards, skimboards, surfboards and bodyboards for beginners to pros, and all the gear you need to look the part. 801 Central Ave., Ship Bottom, (609) 494-8844, RonJonSurfShop.com
Golden Forks
New last summer, Spiaggia e Luna claims to have the best tasting pork chop on the Jersey shore, Pork Chop Griglia, which is a premium cut of meat stored in such a way that it doesn't lose any moisture when cooked. 696 E. Bay Ave., Barnegat, (609) 660-2000, SpiaggiaeLuna.com
Also try: Sweet Vidalia is an intimate BYOB bistro and the only tapas-style restaurant on the island. Favorites are figs wrapped in bacon with a balsamic reduction, and beef with asiago on flatbread. 120 North Bay Ave., Beach Haven, (609) 207-1200
Here's the Scoop
Poppy's Ice Cream Parlor is popular with the locals. 7th Street and Broadway, Barnegat Light, (609) 361-2663
Also try: Skipper Dipper scoops out flavors like chocolate birthday cake and rainforest crunch. 9305 Long Beach Blvd., Peahala Park (609) 492-9680, SkipperDipper.com
Show Place Ice Cream Parlour has great ice cream and entertainment thanks to the singing help. Check out this spot after a show at the nearby Surflight Theatre. Centre Street and Beach Avenue, Beach Haven, (609) 492-0018, TheShowPlace.org
After Dark
Live bands keep the dance floor packed at Joe Pop's Shore Bar and Restaurant. The pool tables, air hockey, shuffleboard and video games add to the fun. 2002 Long Beach Blvd., Ship Bottom, (609) 494-0558, JoePops.com
Also try: Daddy-O is a stylish boutique hotel with a spacious bar that attracts weekenders in search of live music and an all-around good time. 4401 Long Beach Boulevard, Brant Beach, (609) 494 1300, DaddyOHotel.com
MARGATE/VENTNOR
Wake-Up Call
Whether inside or outside, Johnny's Café & Bar is the perfect spot to enjoy the breakfast of champions. Think made-to-order omelets, strawberry pancakes and homemade banana bread. 9407 Ventnor Ave., (609) 822-1789, JohnnysCafeVentnor.com
Also try: Get a short stack of pecan pancakes or nibble on Le Bus muffins at The Breakfast Club of Margate. 9402 Ventnor Ave., (609) 487-2190
Golden Forks
Steve and Cookie's is not only one of the best restaurants in Margate, it's one of the best in the entire state. The meals here are memorable whether you're overlooking the bay or seated at the oyster bar. 9700 Amherst Ave., (609) 823-1163, SteveAndCookies.com
Also try: With half-price sushi on Mondays and Wednesdays at Tomatoe's, you'll want to call yourself a regular. 9300 Amherst Ave., (609) 822-7535, TomatoesMargate.com
Inside Track
Fresh-pressed lemonade is a summertime favorite at the Margate Farmers' Market held every Thursday from 9 a.m. to 1 p.m. in the Steve and Cookie's parking lot. It's also the place to find fresh produce, seafood and baked goods to make your shore house feel more like home. 9700 Amherst Ave., (609) 823-1163, SteveAndCookies.com.
Have You Heard?
Manna has brought back their barbecue-to-go menu with items including pulled pork, baby back ribs and sweet Jersey corn. 8409 Ventnor Ave., (609) 822-7722, MannaAtTheShore.com
Be sure to check out the newly opened Matteo's Beach Bay Café for everything from breakfast to dessert. 7801 Ventnor Ave., (609) 823-6700
Here's the Scoop
Kids will love the outdoor picnic tables and the extensive list of flavors at Margate Dairy Bar. Oh, who are we kidding? The adults will too. 9510 Ventnor Ave., (609) 822-9559
Also try: Two Cents Plain's hot waffle cakes with Breyer's chocolate chip cookie dough ice cream and hot fudge is as sweet as it gets. 9305 Ventnor Ave., (609) 822-2800
Style File
Knit Wit has been selling designer cocktail dresses, T-shirts and denim by Alice and Olivia, Diane von Furstenberg and more for 40 years, so expect their shore outpost to be stocked with the latest fashionable finds. 8001 Ventnor Ave., (609) 822-9442, KnitWitOnline.com
Also try: At Heritage Surf & Sport, you can rent boards, get lessons and get outfitted for a day on the sand. 9223 Ventnor Ave., (609) 823-3331, HeritageSurf.com
Snack Attack
Jalapenos, a Mexican eatery that opened last year, has quickly become a favorite for their tacos, burritos and south-of-the-border-style salads. 9213 Ventnor Ave., (609) 822-2900, JalapenoSalads.com
Also try: At Junior's Donuts and Dogs, a hut perched over the bay, go for the cinnamon twists and chili dogs—just not at the same time. 9315 Amherst Ave., (609) 823-8790
After Dark
This summer marks Jerry Blavat's 38th year at Memories, and The Geator with the Heater still knows how to move a crowd. Head over on Fridays and Saturdays to listen all those oldies but goodies. 9518 Amherst Ave., (609) 823-2196
Also try: Enjoy a DJ every Wednesday through Sunday and occasional live bands at Maynard's Café. 9306 Amherst Ave., (609) 822-8423, Maynards-Cafe.com OCEAN CITY
Wake-Up Call
Part French café, part art gallery, the quaint Ma France Creperie offers one of the shore's more unique breakfast experiences. Try the La Forestière eggs, swiss, ham and mushrooms folded into a buckwheat crepe. 506 E. 9th St., (609) 399-9955
Also try: The line starts early outside Brown's Restaurant for the made-to-order doughnuts. 110 Boardwalk, (609) 391-0677
Here's the Scoop
Rich, creamy flavors and decidedly generous scoops make Aunt Betty's Ice Cream Shack the perfect place to enjoy a cone or sundae. 21st Street and Asbury Avenue, (609) 398-4001
Also try: A La Mode Ice Cream Parlor offers homemade ice cream, plus pretzel and chocolate chip cones for an extra sweet deal. 301 E. 55th St., (609) 398-2207
Have You Heard?
You may have noticed the renovations on the 9th Street Bridge as you roll into town, but changes are taking shape elsewhere too. The Music Pier just underwent a facelift, and the community center in town is now energy efficient from top to bottom and houses its own café.
Inside Track
To break away from the summer crowds, head south, just outside Ocean City to Beesley's Point. Here, you'll find a quiet park area where you can launch your boat, catch a ride on the jet ski or fish all day. The best part: A big parking lot and no beach tags.
Snack Attack
Locals know to head to Voltacos for hoagies, meatball parm or pans of lasagna. They also know about the long lines, so call in your order before you go. 957 West Ave., (609) 399-0743, VoltacosItalianFood.com
Also try: Philly Twist's soft pretzels are the perfect boardwalk bite. 728 Boardwalk, (609) 398-0577
After Dark
If you're looking for nightlife, head over to nearby Somers Point where you'll find plenty of live entertainment at The Inlet. 988 Bay Ave., Somers Point, (609) 926-9611, InletRestaurantNJ.com
Also try: Caroline's By The Bay has an open deck and weekly entertainment. 450 Bay Avenue, Somer's Point, (609) 927-9007, CarolinesByTheBay.com
Golden Forks
Lots of people are starting to learn about the Caribbean flavors coming out of the kitchen at 701 Mosaic, and for good reason. Try the jerk chicken with plantains for an authentic island taste. 701 Fourth St., (609) 398-2700, 701Mosaic.com
Also try: Pino's Grille & Trattoria serves up memorable Italian specialties. 3401 Asbury Ave., (609) 399-5755, PinosGrille.com
Style File
High quality denim and Betsey Johnson swimwear are just some of the finds that draw fashionistas to stylish Colette. 900 Asbury Ave., (609) 525-0911, ColetteWebsite.com
Also try: La Bottine Boutique carries an array of designer shoes, handbags and more. 1033 Asbury Ave., (609) 399-6400 SEA ISLE CITY
Wake-Up Call
There's always a crowd at Rick's Breakfast House, but these seasoned pros handle heavy volume with ease. The fresh donuts are an added bonus. 6114 Landis Ave., (609) 263-0037
Also try: Mallon's Homemade Sticky Buns puts the big chains to shame. 5008 Landis Ave., (609) 263-1280, MallonsStickyBuns.com
Style File
Don't worry if you forgot to pack your favorite outfit, Haven carries popular designer brands like BB Dakota, Splendid and Free People. 4105 Landis Ave., (609) 486-6437, IHeartHaven.com
Also try: Perfect-for-summer clothes and accessories can be found at Chrissie's Boutique. 3806 Landis Ave., (609) 263-3509
Snack Attack
Bubba Dogs' namesake dish comes loaded with cheese, bacon, barbecue sauce and crunchy potato sticks. This ever-popular hot dog stand is right on the beach, but they've also opened a brick0and-mortar location in Avalon this summer. 59th Street and the beach, ILoveBubbaDogs.com
Also try: Authentic barbecue ribs are a solid choice at Moe's Bar-Bie-Q. 4210 Park Road, (609) 263-0300, MoesBarBieQ.com
Golden Forks
Seafood and Northern Italian specialties are complemented by a well-chosen wine list at Braca Café. Favorite dishes include tuna puttanesca and blackened filet mignon. 18 Kennedy Blvd., (609) 263-4271, BracaCafe.com
Also try: Specialty pies, like the chicken Caesar salad pizza, stand out at Basilicos Risorante & Pizzeria. The little Italian BYOB also offers fresh seafood and pasta dishes for lunch and dinner. 27 43rd St., (609) 263-1010
Here's the Scoop
No Sea Isle vacation is complete without a visit to Marita's Homemade Ice Cream. The dozens of house-made flavors, super-thick milkshakes and Italian sodas can't be beat. 5912 Landis Ave., (609) 263-6800
Also try: Yum Yum's hides a gumdrop surprise at the bottom of every cone. 31 JFK Boulevard, (609) 263-2345
Have You Heard?
The newly revitalized Veteran's Memorial Park will host special events this summer, and there are three new rides for older kids (ages 10-12) in the expanded Gillian's Funland by the Marina. As part of the city's effort to increase its family friendly options, Terrific Tuesdays will now include weekly art shows and sales along Landis from 5 to 10 p.m. Most of the empty storefronts on Landis have been filled with new shops, including an outpost of Barbera's Chocolate On Occasion, serving specialty chocolates and fudges.
After Dark
Sea Islers cram into The Ocean Drive ("The OD") nightly for the live music and biggest dance party in town. Come in right off the beach—sandy feet and all—during the No Shower Happy Hour on weekends. 3915 Landis Ave., (609) 263- 1000, TheOD.com
Also try: Nightly live music can be found at The Dead Dog Saloon. 3815 Landis Ave., (609) 263-7600, SeaIsleNightlife.com/dead_dog_saloon
Inside Track
Early risers can take advantage of Teri O'Connor's YogaFit program held right on the sand. The class is offered twice a week, but you can also schedule a private session. (609) 602-3398, NJBeachYoga.com.
STONE HARBOR
Wake-Up Call
You can always find people loading up on warm sticky buns to take home from Bread and Cheese Cupboard. Or pair one of their flaky croissants with a cup of coffee. 246 96th St., (609) 368-1135
Also try: Breakfast offerings at Marabella's Family Restaurant are known to attract throngs of hungry beachgoers. 9426 3rd Ave., (609) 368-5037, MarabellasFamilyRestaurant.com
Snack Attack
The chicken cheesesteaks at Jack's Shack, made with freshly grilled chicken breasts, can't be beat. The grilled grouper sandwich is another favorite among locals. 261 96th St., (609) 368-4565
Also try: The hoagies and steaks at Bradley's Steaks are made with fresh rolls from Aversa's Italian Bakery. 10725 3rd Ave., (609) 368-2039, BradleysSteaks.com
Golden Forks
Dine in the quaint garden setting of The Backyard, a BYOB located literally in the backyard of an 81st Street home. Menu highlights include a New Zealand rack of lamb and a panseared salmon filet with ginger sticky rice and a coriander-miso sauce. 220 81st St., (609) 368-2627
Also try: The early seating three-course chef's tasting menu make Jay's On Third a foodie's delight. 9836 3rd Ave., (609) 368-1000, JaysOnThird.com
Have You Heard?
What was once longtime favorite, Henny's, and then an outpost of Conshohocken's Blackfish, is now the White Heron Grill with an extensive seafood menu, including spice-crusted scallops in a blood-orange reduction and char-grilled, center-cut swordfish steak to name a few. 9628 Third Ave., (609) 967-9100, WhiteHeronGrill.com
Also, Stone Harbor and Avalon host their first-ever restaurant week from June 4 through 11, with more than 35 restaurants offering reduced-price prix fixe menus for breakfast, lunch and dinner. Visit StoneHarborBeach.com for details.
Style File
Stop by Mimi's to nab modern styles from Nicole Miller and Christopher Blue Jeans for your next summertime social gathering. 9425 2nd Ave., (609) 368-6131
Also try: Find unique and colorful gifts and dinnerware at GlassRoots Gallery. 9600 3rd Ave., (609) 368-8805, GlassRootsGallery.com
After Dark
Live music, $1 tacos and "Name That Tune" nights draw in the crowds at Harbor's Bizarre, one of the few spots for a night out in town. 261 96th St., (609) 368-8800, HarborsBizaare.com
Also try: It's a liquor store in the front and a party in the back—with a full bar and live acoustic music sets at Fred's Tavern. 314 96th St., (609) 368-5591, FredsTavernStoneHarbor.com
Inside Track
There are lots of places to go fishing down the shore, but the folks at Over Under Adventures welcome even the youngest of anglers with kid-friendly introductory outings. Special trips on the bay (to avoid seasickness) will have the guppies in your group ready to snag the catch of the day. (609) 967-4170, OverUnderCharters.com
Here's the Scoop
Other than a cherry, nothing can top a scoop of one of the 50 tempting flavors at Springer's Homemade Ice Cream. There's always a line for the shakes, splits and sundaes at this Stone Harbor institution. 9420 3rd Ave., (609) 368-4631, SpringersIceCream.com
WILDWOOD
Wake-Up Call
Cajun omelets, almond granola French toast and tropical pancakes are enough to entice Wildwood visitors to line up early for a seat at the Star Diner Cafe. Be sure to sample something from the on-site bakery. 325 W. Spruce Ave., North Wildwood, (609) 729-4900, StarDinerCafe.com
Also try: The Vegas Diner is classic Jersey, from the quarter machines in the lobby to the pastry display case. Breakfast is served till 3 p.m. 1307 New Jersey Ave., North Wildwood, (609) 729-5511, VegasDiner.net
Golden Forks
The herb-and-horseradish-encrusted rack of lamb is just one of the reasons why Marie Nicoles' upscale American cuisine is so highly regarded. 9510 Pacific Ave., Wildwood Crest, (609) 522-5425, MarieNicoles.com
Also try: The French influences on the entrees at Claude's Restaurant make for one of the more unique dining experiences on the island. 100 Olde New Jersey Ave., (609) 522-0400, ClaudesRestaurant.com
Italian food with Mediterranean influences makes up the menu at Gia Restaurant. 3001 Pacific Ave., (609) 729-5959, GiaWildwood.com
Go for the medallions of veal sautéed with artichoke hearts, prosciutto and imported cheeses in white wine sauce at La Piazza Cucina. 4600 Pacific Ave., (609) 522-8300, LaPiazzaCucina.com
Snack Attack
The one-two punch of Sam's Pizza Palace (2600 Boardwalk, (609) 522-6017, SamsPizzaWildwood.com) and Curley's Fries (25th Street and Boardwalk), conveniently located across from one another on the boardwalk, is hard to resist. The piping hot slices and crinkle-cut fries are the perfect summertime indulgence.
Also try: Joe Joe's Pizza is the perfect answer to late-night cravings. Rigatoni on your pizza? Check. Cheese fries on your pizza? Check. Open till 4 a.m.? Check. 201 Olde New Jersey Ave., (609) 522-0104
Russo's Market has large hoagies, chicken cutlet sandwiches and cheesesteaks. It's also located a block from the beach, so stop by and fill up the cooler. 901 Ocean Ave., (609) 729-9318
Here's the Scoop
Dreamsicles Ice Cream Parlor is small, off the beaten path and has lines out the door. But locals wouldn't miss these sinful sundaes. 405 E. 10th Ave., (609) 522-5631
Also try: The retro-themed Cool Scoops Ice Cream Parlor is a trip back in time. Go for the Lil' Deuce Scoops sundae. 1111 New Jersey Ave., (609) 729-2665, CoolScoops.com
If you've been to the beach, chances are you've encountered The Fudgy Wudgy Man and his cries of "CHOCO TAAAACO." He's even got his own trading cards and T-shirts for sale.
Inside Track
Every Tuesday and Thursday at 7 p.m., Mary Fox takes visitors on a tour of Wildwood's past with the Doo Wop Back to the '50s Tour. Wearing her poodle skirt and saddle shoes, Fox will show you why doo wop has done for Wildwood what the Art Deco movement did for South Beach. (800) 786-4546, DooWopUSA.org
After Dark
Flip Flopz Beach Bar and Grill has become the go-to destination for young and old alike to dance the night away. When the dance floor gets too crowded, head upstairs to the rooftop bar. 300 New Jersey Ave., (609) 522-3350, FlipFlopzBarAndGrill.com
Also try: Live music and DJs keep the party going till 3 a.m. at the expansive Keenan's Irish Pub. 113 Olde New Jersey Ave., (609) 729-3344, KeenansIrishPub.com
Westy's Irish Pub is the spot for live music and a beautiful view of the ocean from their outside deck. 101 E. Walnut Ave., (609) 522-4991, WestysIrishPub.com
Catch a mix of up-and-comers and nationally known acts at Casba Comedy Club. 3810 Atlantic Ave., (609) 522-8444, CasbaComedyClub.com
Have You Heard?
The folks at Morey's Piers are inaugurating The Ghost Ship, a haunted pirate vessel that will duly terrify young and old alike. 3501 Boardwalk, (609) 522-3900, MoreysPiers.com
Also, Philadelphia favorite Tony Luke's will open an outpost in Wildwood Crest. 6200 New Jersey Ave., TonyLukes.com
Style File
Find everything from casual tops to cocktail wear at the Shore Couture and Perfume Bar. 610 New Jersey Ave., (609) 729-2113, ShoreCouture.net
Also try: Sand Jamm Surf Shop has all the boardshorts and bathing suits you need to hit the beach. 2701 Boardwalk, (609) 522-4650, SandJamm.com