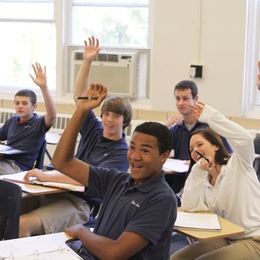 Top of the Class
The 2012 Public High School Report Card
The Philadelphia suburbs are known for having public high skills of the highest quality, not only fostering academic growth but also helping students grow in ways outside the classroom—preparing them for "whatever happens next."
In the following pages we've compiled a comprehensive guide to the top public high schools in Bucks, Chester, Delaware and Montgomery, as well as some of the prominent schools across the Delaware River in New Jersey, using current data from the Pennsylvania Department of Education and other sources.
While the spirit of any school may not necessarily always be reflected in the numbers—SAT and PSSA scores, student/teacher ratios, etc.—such information can be useful in determining how each school is giving students the tools they need to carve out a promising future, regardless of where they may go after commencement.
Data for Pennsylvania schools is from the Pennsylvania Department of Education and the National Center for Education Statistics databases for 2010-2011. New Jersey school data is from the New Jersey Department of Education 2011 School Report Card. Suburban Life has used its best efforts to compile information for this list but does not guarantee that the information provided is complete or accurate.
BUCKS COUNTY
Bensalem Township High School
Total Enrollment: 1,945
Avg. Salary – Administrator: $124,596
Avg. Salary – Teacher: $79,715
Attend 4-year College: 81.8%
Avg. SAT Score: Verbal - 475 | Math - 490 | Writing - 459
Student/Teacher Ratio: 15.75
Bristol Junior Senior High School
Total Enrollment: 338
Avg. Salary – Administrator: $117,067
Avg. Salary – Teacher: $78,734
Attend 4-year College: 64.3%
Avg. SAT Score: Verbal - 436 | Math - 446 | Writing - 415
Student/Teacher Ratio: 11.67
Central Bucks East
Total Enrollment: 1,641
Avg. Salary – Administrator: $126,794
Avg. Salary – Teacher: $71,383
Attend 4-year College: 92.6%
Avg. SAT Score: Verbal - 549 | Math - 579 | Writing - 559
Student/Teacher Ratio: 17.11
Central Bucks South
Total Enrollment: 1,855
Avg. Salary – Administrator: $126,794
Avg. Salary – Teacher: $71,383
Attend 4-year College: 88.1%
Avg. SAT Score: Verbal - 529 | Math - 549 | Writing - 535
Student/Teacher Ratio: 17.19
Central Bucks West
Total Enrollment: 1,458
Avg. Salary – Administrator: $126,794
Avg. Salary – Teacher: $71,383
Attend 4-year College: 85%
Avg. SAT Score: Verbal - 548 | Math - 556 | Writing - 535
Student/Teacher Ratio: 16.73
Council Rock North
Total Enrollment: 2,033
Avg. Salary – Administrator: $126,119
Avg. Salary – Teacher: $91,318
Attend 4-year College: 93.1%
Avg. SAT Score: Verbal - 556 | Math - 574| Writing - 557
Student/Teacher Ratio: 14.89
Council Rock South
Total Enrollment: 2,046
Avg. Salary – Administrator: $126,119
Avg. Salary – Teacher: $91,318
Attend 4-year College: 93.2%
Avg. SAT Score: Verbal - 532 | Math - 563 | Writing - 532
Student/Teacher Ratio: 15.14
Morrisville Borough High School
Total Enrollment: 215
Avg. Salary – Administrator: $93,707
Avg. Salary – Teacher: $73,017
Attend 4-year College: 84.2%
Avg. SAT Score: Verbal - 425 | Math - 420 | Writing - 402
Student/Teacher Ratio: 11.53
Neshaminy High School
Total Enrollment: 2,710
Avg. Salary – Administrator: $128,072
Avg. Salary – Teacher: $78,554
Attend 4-year College: 82.1%
Avg. SAT Score: Verbal - 492 | Math - 519 | Writing - 481
Student/Teacher Ratio: 15.10
New Hope-Solebury High School
Total Enrollment: 498
Avg. Salary – Administrator: $125,156
Avg. Salary – Teacher: $79,615
Attend 4-year College: 95.2%
Avg. SAT Score: Verbal - 562 | Math - 578 | Writing - 547
Student/Teacher Ratio: 11.57
Palisades High School
Total Enrollment: 667
Avg. Salary – Administrator: $119,405
Avg. Salary – Teacher: $74,934
Attend 4-year College: 72.4%
Avg. SAT Score: Verbal - 528 | Math - 546 | Writing - 516
Student/Teacher Ratio: 13.22
Pennridge High School
Total Enrollment: 2,345
Avg. Salary – Administrator: $109,641
Avg. Salary – Teacher: $77,401
Attend 4-year College: 85.2%
Avg. SAT Score: Verbal - 511 | Math - 530 | Writing - 496
Student/Teacher Ratio: 16.02
Pennsbury Senior High School
Total Enrollment: 3,221
Avg. Salary – Administrator: $109,317
Avg. Salary – Teacher: $75,279
Attend 4-year College: 82.5%
Avg. SAT Score: Verbal - 513 | Math - 527 | Writing - 496
Student/Teacher Ratio: 14.78
Quakertown Community High School
Total Enrollment: 1,175
Avg. Salary – Administrator: $121,884
Avg. Salary – Teacher: $80,272
Attend 4-year College: 85.8%
Avg. SAT Score: Verbal - 509 | Math - 526 | Writing - 487
Student/Teacher Ratio: 14.71
Truman High School
Total Enrollment: 1,576
Avg. Salary – Administrator: $117,067
Avg. Salary – Teacher: $78,734
Attend 4-year College: 71.7%
Avg. SAT Score: Verbal - 434 | Math - 453 | Writing - 411
Student/Teacher Ratio: 9.72
William Tennent High School
Total Enrollment: 1,881
Avg. Salary – Administrator: $110,589
Avg. Salary – Teacher: $82,844
Attend 4-year College: 80.5%
Avg. SAT Score: Verbal - 488 | Math - 500 | Writing - 471
Student/Teacher Ratio: 16.31
CHESTER COUNTY
Avon Grove High School
Total Enrollment: 1,791
Avg. Salary – Administrator: $116,726
Avg. Salary – Teacher: $61,911
Attend 4-year College: 82.3%
Avg. SAT Score: Verbal - 516 | Math - 532 | Writing - 497
Student/Teacher Ratio: 16.21
Coatesville Area Senior High School
Total Enrollment: 2,288
Avg. Salary – Administrator: $106,928
Avg. Salary – Teacher: $60,989
Attend 4-year College: 65.5%
Avg. SAT Score: Verbal - 465 | Math - 466 | Writing - 432
Student/Teacher Ratio: 14.61
Conestoga Senior High School
Total Enrollment: 2,053
Avg. Salary – Administrator: $136,098
Avg. Salary – Teacher: $80,280
Attend 4-year College: 95%
Avg. SAT Score: Verbal - 578 | Math - 601 | Writing - 576
Student/Teacher Ratio: 15.25
Downingtown High School East
Total Enrollment: 1,739
Avg. Salary – Administrator: $115,428
Avg. Salary – Teacher: $66,429
Attend 4-year College: 86.3%
Avg. SAT Score: Verbal - 539 | Math - 556157 | Writing - 537
Student/Teacher Ratio: 13.70
Downingtown High School West
Total Enrollment: 1,512
Avg. Salary – Administrator: $114,376
Avg. Salary – Teacher: $63,003
Attend 4-year College: 83.8%
Avg. SAT Score: Verbal - 526 | Math - 540 | Writing - 510
Student/Teacher Ratio: 13.96

Great Valley High School
Total Enrollment: 1,250
Avg. Salary – Administrator: $118,455
Avg. Salary – Teacher: $75,911
Attend 4-year College: 92.7%
Avg. SAT Score: Verbal - 558 | Math - 562 | Writing - 547
Student/Teacher Ratio: 40.83

Kennett High School
Total Enrollment: 1,269
Avg. Salary – Administrator: $120,513
Avg. Salary – Teacher: $62,473
Attend 4-year College: 76.7%
Avg. SAT Score: Verbal - 534 | Math - 534 | Writing - 519
Student/Teacher Ratio: 14.91

Owen J Roberts High School
Total Enrollment: 1,474
Avg. Salary – Administrator: $121,481
Avg. Salary – Teacher: $58,774
Attend 4-year College: 88%
Avg. SAT Score: Verbal - 525 | Math - 526 | Writing - 522
Student/Teacher Ratio: 14.17

Oxford Area High School
Total Enrollment: 1,186
Avg. Salary – Administrator: $95,993
Avg. Salary – Teacher: $53,610
Attend 4-year College: 68.1%
Avg. SAT Score: Verbal - 500 | Math - 500 | Writing - 462
Student/Teacher Ratio: 16.68

Phoenixville Area High School
Total Enrollment: 913
Avg. Salary – Administrator: $131,958
Avg. Salary – Teacher: $70,588
Attend 4-year College: 84.7%
Avg. SAT Score: Verbal - 514 | Math - 535 | Writing - 511
Student/Teacher Ratio: 11.80

Unionville High School
Total Enrollment: 1,379
Avg. Salary – Administrator: $132,490
Avg. Salary – Teacher: $72,806
Attend 4-year College: 93.3%
Avg. SAT Score: Verbal - 572 | Math - 581 | Writing - 564
Student/Teacher Ratio: 14.87

West Chester Bayard Rustin High School
Total Enrollment: 1,333
Avg. Salary – Administrator: $119,909
Avg. Salary – Teacher: $68,496
Attend 4-year College: 87.6%
Avg. SAT Score: Verbal - 520 | Math - 527 | Writing - 508
Student/Teacher Ratio: 14.65
West Chester East Senior High School
Total Enrollment: 1,364
Avg. Salary – Administrator: $188,226
Avg. Salary – Teacher: $66,308
Attend 4-year College: 86.1%
Avg. SAT Score: Verbal - 518 | Math - 533 | Writing - 514
Student/Teacher Ratio: 14.2

West Chester Henderson Senior High School
Total Enrollment: 1,259
Avg. Salary – Administrator: $188,226
Avg. Salary – Teacher: $66,308
Attend 4-year College: 87%
Avg. SAT Score: Verbal - 537 | Math - 549 | Writing - 523
Student/Teacher Ratio: 14.43
DELWARE COUNTY
Academy Park High School
Total Enrollment: 1,130
Avg. Salary – Administrator: $101,208
Avg. Salary - Teacher: $67,579
Attend 4-year College: 72.7%
Avg. SAT Score: Verbal - 413 | Math - 416 | Writing - 378
Student/Teacher Ratio: 13.82

Chester High School
Total Enrollment: 1,506
Avg. Salary – Administrator: $106,638
Avg. Salary - Teacher: $59,354
Attend 4-year College: 58.6%
Avg. SAT Score: Verbal - 372 | Math - 358 | Writing - 323
Student/Teacher Ratio: 16.69

Chichester Senior High School
Total Enrollment: 1,070
Avg. Salary – Administrator: $107,462
Avg. Salary - Teacher: $62,963
Attend 4-year College: 62.2%
Avg. SAT Score: Verbal - 453 | Math - 463 | Writing - 443
Student/Teacher Ratio: 12.45

Garnet Valley High School
Total Enrollment: 1,493
Avg. Salary – Administrator: $120,677
Avg. Salary - Teacher: $65,125
Attend 4-year College: 90%
Avg. SAT Score: Verbal - 506 | Math - 544 | Writing - 509
Student/Teacher Ratio: 13.52

Haverford High School
Total Enrollment: 1,781
Avg. Salary – Administrator: $126,180
Avg. Salary - Teacher: $71,243
Attend 4-year College: 70.2%
Avg. SAT Score: Verbal - 523 | Math - 533 | Writing - 506
Student/Teacher Ratio: 19.83

Interboro Senior High School
Total Enrollment: 1,222
Avg. Salary – Administrator: $94,972
Avg. Salary - Teacher: $73,591
Attend 4-year College: 83.1%
Avg. SAT Score: Verbal - 461 | Math - 468 | Writing - 445
Student/Teacher Ratio: 14.21

Marple Newtown Senior High School
Total Enrollment: 1,140
Avg. Salary – Administrator: $115,433
Avg. Salary - Teacher: $69,446
Attend 4-year College: 83.2%
Avg. SAT Score: Verbal - 502 | Math - 514 | Writing - 488
Student/Teacher Ratio: 14.01
Penncrest High School
Total Enrollment: 1,340
Avg. Salary – Administrator: $86,101
Avg. Salary - Teacher: $53,898
Attend 4-year College: 90.4%
Avg. SAT Score: Verbal - 526 | Math - 548 | Writing - 532
Student/Teacher Ratio: 13.44
Penn Wood High School
Total Enrollment: 794
Avg. Salary – Administrator: $110,795
Avg. Salary - Teacher: $66,970
Attend 4-year College: 56.9%
Avg. SAT Score: Verbal - 393 | Math - 395 | Writing - 347
Student/Teacher Ratio: 15.54
Radnor Senior High School
Total Enrollment: 1,173
Avg. Salary – Administrator: $126,054
Avg. Salary - Teacher: $80,365
Attend 4-year College: 89.7%
Avg. SAT Score: Verbal - 563 | Math - 596 | Writing - 561
Student/Teacher Ratio: 12.74
Ridley High School
Total Enrollment: 2,061
Avg. Salary – Administrator: $129,811
Avg. Salary - Teacher: $77,339
Attend 4-year College: 77.7%
Avg. SAT Score: Verbal - 475 | Math - 497 | Writing - 455
Student/Teacher Ratio: 14.09
Springfield High School
Total Enrollment: 1,204
Avg. Salary – Administrator: $122,370
Avg. Salary - Teacher: $71,945
Attend 4-year College: 94.6%
Avg. SAT Score: Verbal - 491 | Math - 523 | Writing - 484
Student/Teacher Ratio: 15.13
Strath Haven High School
Total Enrollment: 1,212
Avg. Salary – Administrator: $125,942
Avg. Salary - Teacher: $73,539
Attend 4-year College: 90%
Avg. SAT Score: Verbal - 567 | Math - 588 | Writing - 553
Student/Teacher Ratio: 13.22
Sun Valley High School
Total Enrollment: 1,117
Avg. Salary – Administrator: $114,839
Avg. Salary - Teacher: $60,243
Attend 4-year College: 81.4%
Avg. SAT Score: Verbal - 457 | Math - 472 | Writing - 446
Student/Teacher Ratio: 14.07
Upper Darby High School
Total Enrollment: 3,705
Avg. Salary – Administrator: $105,683
Avg. Salary - Teacher: $59,452
Attend 4-year College: 72.5%
Avg. SAT Score: Verbal - 440 | Math - 464 | Writing - 423
Student/Teacher Ratio: 14.65
MONTGOMERY COUNTY
Abington Senior High School
Total Enrollment: 1,830
Avg. Salary – Administrator: $131,945
Avg. Salary – Teacher: $76,644
Attend 4-year College: 87.1%
Avg. SAT Score: Verbal - 504 | Math - 526 | Writing - 498
Student/Teacher Ratio: 16.47

Cheltenham High School
Total Enrollment: 1,469
Avg. Salary – Administrator: $125,128
Avg. Salary – Teacher: $84,988
Attend 4-year College: 87.2%
Avg. SAT Score: Verbal - 513 | Math - 520 | Writing - 505
Student/Teacher Ratio: 12.93
Harriton Senior High School
Total Enrollment: 1,083
Avg. Salary – Administrator: $134,643
Avg. Salary – Teacher: $90,523
Attend 4-year College: 86.2%
Avg. SAT Score: Verbal - 564 | Math - 586 | Writing - 567
Student/Teacher Ratio: 10.18
Hatboro-Horsham High School
Total Enrollment: 1,655
Avg. Salary – Administrator: $107,915
Avg. Salary – Teacher: $68,224
Attend 4-year College: 87.9%
Avg. SAT Score: Verbal - 512 | Math - 547 | Writing - 505
Student/Teacher Ratio: 12.67

Jenkintown High School
Total Enrollment: 298
Avg. Salary – Administrator: $126,560
Avg. Salary – Teacher: $83,706
Attend 4-year College: 93.8%
Avg. SAT Score: Verbal - 534 | Math - 540 | Writing - 552
Student/Teacher Ratio: 10.06

Lower Merion High School
Total Enrollment: 1,259
Avg. Salary – Administrator: $134,643
Avg. Salary – Teacher: $90,523
Attend 4-year College: 93.3%
Avg. SAT Score: Verbal - 585 | Math - 588 | Writing - 575
Student/Teacher Ratio: 10.95
Lower Moreland High School
Total Enrollment: 712
Avg. Salary – Administrator: $134,662
Avg. Salary – Teacher: $81,269
Attend 4-year College: 97.5%
Avg. SAT Score: Verbal - 539 | Math - 569 | Writing - 560
Student/Teacher Ratio: 11.87
Methacton High School
Total Enrollment: 1,757
Avg. Salary – Administrator: $107,845
Avg. Salary – Teacher: $66,441
Attend 4-year College: 89.1%
Avg. SAT Score: Verbal - 530 | Math - 572 | Writing - 522
Student/Teacher Ratio: 14.66
Norristown Area High School
Total Enrollment: 1,809
Avg. Salary – Administrator: $105,912
Avg. Salary – Teacher: $75,318
Attend 4-year College: 74.4%
Avg. SAT Score: Verbal - 424 | Math - 432 | Writing - 385
Student/Teacher Ratio: 13.82
North Penn Senior High School
Total Enrollment: 3,054
Avg. Salary – Administrator: $112,974
Avg. Salary – Teacher: $72,683
Attend 4-year College: 88.1%
Avg. SAT Score: Verbal - 531 | Math - 556 | Writing - 521
Student/Teacher Ratio: 13.92
Perkiomen Valley High School
Total Enrollment: 1,790
Avg. Salary – Administrator: $110,678
Avg. Salary – Teacher: $68,513
Attend 4-year College: 87.9%
Avg. SAT Score: Verbal - 532 | Math - 550 | Writing - 518
Student/Teacher Ratio: 17.12
Plymouth-Whitemarsh High School
Total Enrollment: 1,562
Avg. Salary – Administrator: $126,964
Avg. Salary – Teacher: $80,828
Attend 4-year College: 89.1%
Avg. SAT Score: Verbal - 506 | Math - 528 | Writing - 496
Student/Teacher Ratio: 14.53
Pottsgrove High School
Total Enrollment: 1,057
Avg. Salary – Administrator: $117,382
Avg. Salary – Teacher: $70,025
Attend 4-year College: 77.4%
Avg. SAT Score: Verbal - 505 | Math - 504 | Writing - 486
Student/Teacher Ratio: 15.34

Pottstown High School
Total Enrollment: 779
Avg. Salary – Administrator: $109,953
Avg. Salary – Teacher: $58,315
Attend 4-year College: 66.7%
Avg. SAT Score: Verbal - 476 | Math - 486 | Writing - 461
Student/Teacher Ratio: 12.77

Souderton Area High School
Total Enrollment: 2,193
Avg. Salary – Administrator: $109,533
Avg. Salary – Teacher: $70,331
Attend 4-year College: 76.4%
Avg. SAT Score: Verbal - 512 | Math - 531 | Writing - 494
Student/Teacher Ratio: 17.26
Springfield Township High School
Total Enrollment: 645
Avg. Salary – Administrator: $114,614
Avg. Salary – Teacher: $73,938
Attend 4-year College: 86.1%
Avg. SAT Score: Verbal - 519 | Math - 524 | Writing - 512
Student/Teacher Ratio: 12.15

Spring-Ford High School
Total Enrollment: 2,333
Avg. Salary – Administrator: $121,754
Avg. Salary – Teacher: $69,528
Attend 4-year College: 88.4%
Avg. SAT Score: Verbal - 515 | Math - 544 | Writing - 499
Student/Teacher Ratio: 14.92
Upper Dublin High School
Total Enrollment: 1,456
Avg. Salary – Administrator: $113,759
Avg. Salary – Teacher: $72,556
Attend 4-year College: 92.1%
Avg. SAT Score: Verbal - 549 | Math - 580 | Writing - 549
Student/Teacher Ratio: 14.02

Upper Merion Area High School
Total Enrollment: 1,124
Avg. Salary – Administrator: $124,578
Avg. Salary – Teacher: $85,549
Attend 4-year College: 91.3%
Avg. SAT Score: Verbal - 501 | Math - 522 | Writing - 492
Student/Teacher Ratio: 13.22

Upper Moreland High School
Total Enrollment: 963
Avg. Salary – Administrator: $115,855
Avg. Salary – Teacher: $76,715
Attend 4-year College: 85.1%
Avg. SAT Score: Verbal - 497 | Math - 508 | Writing - 473
Student/Teacher Ratio: 15.44

Upper Perkiomen High School
Total Enrollment: 982
Avg. Salary – Administrator: $121,235
Avg. Salary – Teacher: $73,849
Attend 4-year College: 74.1%
Avg. SAT Score: Verbal - 509 | Math - 519 | Writing - 501
Student/Teacher Ratio: 14.68

Wissahickon Senior High School
Total Enrollment: 1,458
Avg. Salary – Administrator: $126,705
Avg. Salary – Teacher: $76,558
Attend 4-year College: 92.6%
Avg. SAT Score: Verbal - 535 | Math - 562 | Writing - 545
Student/Teacher Ratio: 12.96
NEW JERSEY
Delaware Valley Regional High School (Frenchtown)
Total Enrollment: 993
Avg. Salary – Administrator: $135,269
Avg. Salary – Teacher: $62,555
Attend 4-year College: 57.2%
Avg. SAT Score: Math - 521 | Verbal - 527 | Writing - 514
Student-Faculty Ratio: 12.7
Lawrence High School (Lawrenceville)
Total Enrollment: 1,134
Avg. Salary – Administrator: $129,644
Avg. Salary – Teacher: $61,840
Avg. SAT Score: Math - 508 | Verbal - 505 | Writing - 514
Attend 4-year College: 63.2%
Student-Faculty Ratio: 10.1
Princeton High School (Princeton)
Total Enrollment: 1,425
Avg. Salary – Administrator: $142,338
Avg. Salary – Teacher: $78,053
Avg. SAT Score: Math - 620 | Verbal - 604 | Writing - 608
Attend 4-year College: 83.8%
Student-Faculty Ratio: 11.9
South Hunterdon Regional High School (Lambertville)
Total Enrollment: 357
Avg. Salary – Administrator: $90,000
Avg. Salary – Teacher: $61,052
Avg. SAT Score: Math - 526 | Verbal - 522 | Writing - 510
Attend 4-year College: 48.1%
Student-Faculty Ratio: 7.8