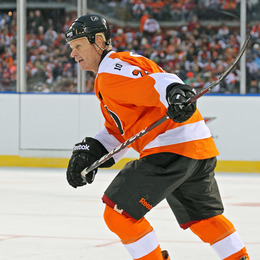 Forever a Flyer
Off the ice with beloved Hall of Fame defenseman Mark Howe
In the mid- to late 1980s the Philadelphia Flyers were racking up wins, thrashing opponents and pushing Philadelphia sports back into the national limelight. Those hard-working Flyers teams had many colorful personalities, perhaps none more iconic than the noble, seemingly boyish mug of defenseman Mark Howe.
Howe, who retired from professional hockey in 1995 as a member of the Detroit Red Wings, stepped away from the game without winning its most precious prize, the Stanley Cup, but he left an indelible mark on a sport that had been shaped and, in some ways, defined by another Howe—his famous father, the inimitable Gordie Howe. Last year was a memorable one for the younger Howe; the Flyers, for whom he played 10 seasons, retired his No. 2 jersey, and he also earned professional hockey's highest honor by being inducted into the Hockey Hall of Fame in Toronto.
Suburban Life caught up with Howe, now director of pro scouting for the Red Wings, ahead of the 2012-13 National Hockey League season, to discuss the mid-'80s Flyers teams that came "this close" to winning the Cup, his recent Hall of Fame induction and, of course, his famous family.

Suburban Life: Last year was quite a memorable one for you—playing in the Winter Classic Alumni Game in January, your number being retired by the Flyers, your Hall of Fame induction.
Mark Howe: It was a big honor to receive recognition in a city in which I spent such an important part of my career. … With the Winter Classic, it was so much fun to get out there; I've never played in front of 46,000 people before. So many games I played were so serious, so it was great just enjoying the moment. The last part was getting my jersey retired by the Flyers. There was no way it could have been any better.
I also welcomed my first granddaughter on January 3, and my oldest son was married in February; his wife is due in February or March [of 2013]. Even with all those honors, my private life has gone extraordinarily well, too.
You played so well in the Winter Classic Alumni Game that I think you could help the Flyers out on defense this year.
They don't have enough oxygen in the building for that to happen. … I skated in the warm up at last year's game, and it was the first time I had skated in five weeks. I felt great playing, but halfway through the game my back started to seize up. I bet it was two months before I felt right again. … I'm playing in this year's game in Detroit [as a member of the Red Wings alumni]. Sometimes I'm not sure if it's a curse or a blessing, but it's a huge honor just to be asked.
Even with all the good things that happened last year, I imagine it might have been bittersweet considering the death of your longtime friend and Flyers defense partner Brad McCrimmon.
Brad and I were close; he was one of those people I was really tight with, not only in my professional career but in my personal life. We were both very good hockey players, and you have certain chemistry with certain players. … We did everything together on and off the ice. We were kind of opposites—me and then Brad, with a nickname like Beast—but we always had each other's back. We loved what we did, we worked very hard, and we were both very competitive. His death hit on a lot of things for me.
You played 10 years in a Flyers uniform, and everyone here loved you. Was it difficult moving on to a new team?
I consider myself a real loyal person, and the hardest thing for me to do was to leave here. When I was considering going to play for Detroit, I made a list [of pros and cons] for each. For Detroit, I was from there, and I would have the chance to wear the uniform my dad wore, and I thought I would have a chance to win. On the other list, for Philly, my son was 14 and every day he was saying, "Dad, please don't move." The other thing was my heart was here, but I knew I wasn't going to win a Cup here. The hardest thing to do was get on that plane [to meet with Red Wings management]. The Flyers were on the phone with me, trying to convince me not to get on that plane.
Considering your strong Detroit ties, why have you chosen to live in this area?
I came here in '82. … I loved being with the guys on the team, and I also made friends away from the game, who I'm still friends with. That's what life is all about.
I lived in Huntingdon Valley from 2000 to 2005, and I'm now living in Jackson, [N.J.], so I'm 50 minutes from my shore place and just a tad over an hour from New York City and Philly. Location wise, it's excellent. I get to Hershey quite a bit [for scouting assignments], so I can do my job and be in my driveway at night.
As a scout for Detroit, every time I walk into the rink at Philly, you see all the familiar faces and you feel comfortable. I see Billy Barber, I see Dave Brown, and I run into [Bobby Clarke] every now and then. When I'm in Philly, it still feels like home.