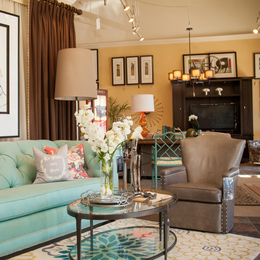 Saving Grace
Design Home Interiors breathes bold, new life into homeowners precious spaces—sans stress and headaches
Fashion and décor have much in common; both rely on the latest colors, fabrics and designs to stay fresh and inventive, and just as a wardrobe can go out of style, so too can a home's interior. Rooms become tired and outdated, their colors and accessories having not been updated. And they can put on weight in the form of an overstuffed sofa or love seat that—like a pair of old sweatpants—offers comfort, but not style.
Buckingham residents Graham and Susan had one such room desperately in need of a makeover. "It's a strange room," says Susan Jackson. "It faces north and doesn't get much light. But it's peaceful, nice and quiet." It had become a forgotten place that wore the same burgundy paint on its walls for over a decade. "It had been more than 13 years since the last time we decorated," she says. "So it was time for a change."
The Jacksons wanted a more contemporary look, and they knew just where, and to whom, to go.
"We found Design Home Interiors (on Route 309 in Montgomeryville) years ago," says Jackson. "My husband and I typically decorate and refurbish ourselves, and we were out and about searching for furniture. We found Design Home Interiors by chance and liked what they had to offer."
What they had, according to Jackson, was a staff of brilliant designers, headed by Design Home Interiors owner and senior designer Mark Little. They also had a knack for a style they've dubbed the "new classic," which is an edgy blend of traditional style with a contemporary twist.
"Mark came to our house," Jackson says. "He brought a lot of stuff with him—fabric samples, pictures, fabrics—and many great ideas. He took photos of every room in the house and made lots of notes. He made us feel very comfortable that he understood our tastes and intentions for the use of the space."
The Jacksons are a warm couple with grandchildren who love to have guests for dinner. They wanted to keep some parts of the room intact, notably a very large, decorative mirror among a handful of other items.
"That was the great thing," Jackson says as her toddler granddaughter giggles in the background. "Mark was happy to work with what we had, as well as suggest ways to make the room appear clean and fresh."
Little gave the room a warm, gray palate with ashy, charcoal and mustard accents. He provided plenty of seating, though he scaled the furniture properly and used lighting and artwork to create a cozy, creative ambience throughout.
"We love it," Jackson says. "We use it often as a place to enjoy a glass of wine or gather after dinner with our family and guests. Everything Design Home Interiors provided was excellent quality and reasonably priced."
Together with his partners, Jeff Hirschoff and Karin Leaver, and a talented design team, Little enjoys the process of connecting with his clients and digging deep to uncover what they truly want. For example, do they have children? Pets? Do they like to entertain?
"I encourage clients to keep an 'inspiration' file, where they keep pictures of places and rooms they like," Little says. "Sometimes it's more important to learn what clients don't like than what they like. And it's usually a much longer list."
After this thorough research and determining the budget, the Design Home Interiors designer makes a full presentation to the client, complete with floor plans, design boards and samples.
"We take care of the entire project from beginning to end, whether it's a small project or huge renovation," adds Hirschoff. "We oversee every detail, do the scheduling and time management so that the client has the most positive experience possible."
Little says clients have been requesting more ambitious projects for their existing homes rather than moving to a new home. "They love their home—they raised their families there," he says. "More and more people are staying put and updating what they have."
Design Home Interior's Montgomeryville showroom is just the tip of the iceberg in terms of what they offer. It's a "design center," vs. a furniture store. Its large space displays countless samples of the kinds of furniture, fabrics and accents available, but it's by no means everything client can have.
"We can do absolutely everything," Little explains. "Drapes, bedding, you name it. And all the products we use are manufactured in the United States. That's very important to us."
Some words of advice to people wanting to make changes?
"Design shows on HGTV make remodeling seem so easy," says Hirschoff. "And people get frustrated because they try to do the work themselves and make costly design mistakes."
The truth is that most refurbishments are not "do it yourself" projects. It takes a high level of skill even beyond the initial design to put together a beautiful room. Electricians. Installers. Plumbers. Tile. Carpet. Windows. Because of all these moving parts, couples who are do-it-yourselfers often find their relationships tested during remodeling projects.
"Things are less stressful if you stay within your budget," Hirschoff says. "If couples have a strong, mutual understanding of what they want to accomplish with the new space, and are aware that the project may be a little disruptive as walls are being knocked down or repainted and new flooring and lighting is being installed, they're less likely to get divorced."
Little and Hirschoff share a laugh. "It doesn't need to be stressful," says Little. "We tell people to hang in there, because it'll look great when it's done."
Their goal is that special moment when the client sees the final result, smiles and says, "Wow." They always do.
The Design Home Interiors website, DesignHI.org, includes a portfolio of its work and also includes links to the firm's newsletter and Facebook page, where customers will find design tips, see previews of current projects and learn about upcoming events.
Design Home Interiors
668 Bethlehem Pike, Montgomeryville
Phone: 215-361-9100
Web: www.designhi.org