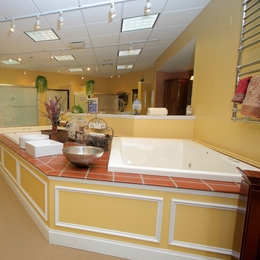 Form and Function
GSI Bath Showplace helps homeowners improve the design, functionality and beauty of their bathrooms
While the bathroom may not be the first thing you notice when entering any one's home, it is oftentimes the focal point (or focal points), being the most frequently used and seen rooms in any place where people live, work and play. Because of this, many people find themselves investing a lot of time and money into the design and functionality of their bathrooms, hoping not only for it to aesthetically appealing as well as working at its optimal level for anyone who uses it.
GSI Bath Showplace is the showroom division of Grove Supply Inc., a company that has been in the region helping transform bathrooms since it opened in 1948. With 14 locations (six of them showrooms) stretching from Allentown down to Cape May, N.J., the company has become a leading supplier to many local plumbing and general contractors.
Its more than 4,000-square-foot showroom in Doylestown showcases all the different types of bathroom fixtures for a diverse assortment of clients, anything from vanities, sinks and mirrors, to faucets, baths, shower doors and medicine cabinets.
"We help guide people through the overwhelming selection of options that are available," says John Vitale, vice president of showrooms at Grove Supply. "We help put a whole package together, so when [they] buy a faucet it's going to work with that vanity; we make sure everything is compatible."
If you have ever attempted to create a bathroom project on your own or shopped online trying to understand what you need and if it will do what you want, this valuable service is what many clients most appreciate.
At the showroom, customers will see a wide variety of options and styles for every fixture—something they might not find in a home center—coupled with the expertise of the seasoned employees. However, customers are not limited just to what they see on the showroom floor; with books upon books of different pieces, everyone will find what they are looking for. GSI Bath Showplace guides their customers through the options available when choosing the function, style, and color to help create the unique design they can call their own.
One of the most popular products that GSI Bath Showplace has become known for is its role as a supplier of world-renowned Toto bathroom products. Known for the impeccable and incomparable performance and ecology of its products, Toto is the world's largest manufacturer of plumbing products. Having made its way to the showrooms of Grove Supply, Toto has become a staple in the homes of customers with one product, specifically: the toilet.
Since the passing of the 1.6-gallon-per-flush legislation that was passed in 1987, most manufacturers, given two years to comply with the new standards, decided to reduce the size of their tanks. However, Toto had already raised the performance of its toilets to fit this rule decades before using low-volume flushing systems (vs. the reduced-size tanks) to not only maximize performance, but also to minimize flushes and save water as well. (The flushing tests Toto puts its machines through are actually more extensive and thorough than current industry standards, according to the Toto website.)
"[Customers] absolutely love them because they have no problems with them," explains Vitale. With their appealing combination of "performance, quality, functionality and customer satisfaction," in addition to an aesthetically pleasing design, Toto has been creating a more enjoyable bathroom experience for all.
Not only that, but these energy- and water-saving toilets have a variety of top-of-the-line features and amenities that a typical toilet does not. With things such as auto-flush, automatic open-and-close lid, massage features, automatic air purifiers, heated seats and, yes, even a washlet (a refined type of bidet), these toilets have it all.
While many Americans wouldn't necessarily go out of their way to invest in a bidet for their homes, as Vitale points out, the Japan-based company has met the demands of its Western customers with a discreet and unnoticeable washlet that functions basically the same as a bidet but doubles as a toilet-seat cover.
"In Japan everyone has this in their home, like we have TVs in America," explains Vitale. With this more sanitary and imperceptible feature, the washlet is disguised as a toilet seat and extends a wand, at one's command, "to release a warm, soothing stream of aerated water to provide the ultimate in personal cleansing," and even self-washes and retracts after each use. In doing so, these devices are drastically reducing the consumption of toilet paper. (Prices for Toto toilets usually run from $300 to $1,200 with a few exclusive models costing more, Vitale notes.)
In featuring these exclusive bathroom amenities, GSI Bath Showplace is taking its business—and customer satisfaction—to the next level. Besides the Toto toilets, the showrooms highlight a variety of innovative and upscale amenities that not only are improving the way bathrooms look but are also eco-friendly, suitable for anyone.
GSI Bath Showplace
636 N. Main Street
Doylestown, PA 18901
Phone: 215-348-5720
Additional locations can be found at www.GSIBathShowplace.com