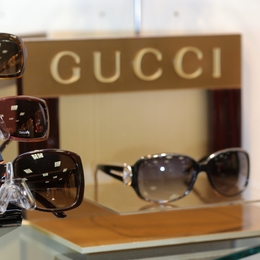 Putting the Care in Eye Care
Schwartz Eye Care has grown into a state-of-the-art clinic offering everything one's eyes could need
Schwartz Eye Care, located in Newtown, is a state-of-the-art optometry office and eyewear gallery, focused on providing the utmost personalized eye care and offering the latest designer eyewear and contact lens options. They strive to present the highest level of service, whether you are scheduling an appointment, having your eyes examined or choosing your eyewear. They know that caring about their patients makes all the difference these days.
The office is led by Dr. David Schwartz, a 1981 graduate of the Pennsylvania College of Optometry. Dr. Schwartz was a captain in the U.S. Air Force for more than three years and head of the optometry clinic at McGuire Air Force Base. In 1984 he was named Outstanding Medical Officer of the Year. In 1985, Dr. Schwartz established his practice in the Eyelab/Pearle Vision building in Langhorne, eventually growing the practice to become the largest contact lens location in the area. In 2009, Dr. Schwartz opened his own private practice in order to deliver the highest-quality eyewear and eye care to his patients.
Impressive Technology
Schwartz Eye Care's innovative technological equipment allows the staff to detect the smallest changes in a patient's vision. Its advanced diagnostic equipment helps Dr. Schwartz and his team to ascertain risk factors for debilitating eye diseases such as glaucoma, cataracts, and macular degeneration, as well as whole body diseases that affect the eyes, including diabetes, high blood pressure and other systemic disorders.
Their Optomap Retinal Exam allows the detection of changes in the back of the eye—the retina—to check if it's healthy, damaged, or showing signs of disease. Optomap presents images as individual as fingerprints and can provide a unique view of one's health, very quickly and comfortably and with no dilation. This early detection often means no further loss of vision for the patient.
There are many other important pieces of equipment that Schwartz Eye Care uses to help their patients. One is the Optical Coherence Tomography (OCT) eye-imaging test, which detects macular degeneration and glaucoma earlier than most other tests. The Tear Lab offers the ability to diagnose and treat dry eye in a customized way, getting a salt level from a small sample of tears. "It's like a cholesterol test," says Dr. Schwartz. "It gives us a number rating so we can objectively test the patient." The Optikam system provides precision eyeglass measurements and allows patients to see themselves in four different in pairs of eyeglasses at once.
They use the Nidek Auto Refractometer/Keratometer, the most advanced auto-refractor on the market, to offer a fast, painless, super-accurate, objective measurement of a person's refractive error. The M3 uses super-luminescent diode technology to more accurately measure patients with cataracts, corneal opacities and post-Lasik. The Humphrey Automated Visual Field can pick up on subtle changes in one's peripheral vision, identifying retinal detachments, optic-nerve disorders, brain tumors and strokes. The M&S Smart System, a computerized vision testing system, provides virtually limitless exam charts.
Lenses and Frames
Schwartz Eye Care carries only the highest-quality contact lenses. By keeping an inventory of thousands of contact lenses in stock, they can take the time to fit each patient for the best comfort and vision. "It gives me the chance to try more than one to get a perfect fit," Dr. Schwartz explains. "Other doctors have to order them, but we stock them."
The practice specializes in custom-fitting patients who need contacts to correct astigmatism and multifocal and bifocal contact lenses. The options include one-day, two-week, monthly and extended-wear disposables. Specialty lenses for sports, hobbies and occupational use are also available. Most patients go home with contacts on their first visit to the office.
The eyewear gallery provides the most attractive, high-quality frames for every lifestyle. A large selection of top-of-the-line eyewear includes Judith Leiber, Fendi, Gucci, Christian Dior and Hugo Boss. Protective-eyewear brands include Wiley X (for adults) and Liberty Sport goggles (for kids), while sunglass brands include Oakley, Maui Jim and Ray-Ban.
What it Means to Him
Dr. Schwartz believes in serving his patients and his community to the best of his ability. "Our mission statement is, 'To improve people lives by providing exceptional eye care. As a team, we will provide personalized customer service and high-quality eye care in a professional and friendly atmosphere,'" he says proudly.
To Dr. Schwartz, these are much more than just words. He believes in "giving back" by providing eye exams to needy children in the community. He has also been a consistent, dedicated member of the Big Brother Association for more than 30 years. These days, he is mentoring and spending time with his fifth "little brother." "My father was a great dad," he says. "So I want to help these kids who don't have dads themselves."
When it comes to his patients, Dr. Schwartz feels that through education and continuous training, his clinic will keep in step with the future of eye care. "We're an eye doctor's office. We do eye exams, contacts and eyeglasses," he says, "and we do all we can to do our best for our patients. We try to treat patients like family. Our goal, with every patient, is to improve their lifestyle: their efficiency on the computer; their ability to drive at night; their comfort seeing outside; their performance at playing sports; and their enjoyment at work or doing hobbies. That is what I think really differentiates this office."
Schwartz Eye Care
104 Pheasant Run
Newtown, PA 18940
Phone: 267-364-5337
Web: www.schwartzeyecare.com