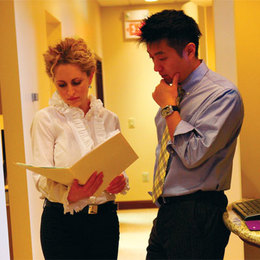 A New Reason to Smile in Doylestown
Dr. Woojae Chong provides specialized dental care
At Ardent Smile in Doylestown, they know that a healthy mouth is important. In order to best meet the diverse needs of all patients, Dr. Woojae Chong, a periodontal and implant specialist, recently added a new location to share the space at the Ardent Smile facility.
Dr. Chong brings a strong background and education to his practice. He received his bachelor's degree from Oregon State University before moving to Philadelphia, where he graduated from Temple University School of Dentistry with a D.M.D. and a Certificate in Periodontology and Implantology, and is a board-certified diplomate with the American Board of Periodontology and International Congress of Oral Implantology. In addition to the Doylestown location, he also works as an associate at a periodontal office in Williamsport.
Identifying Potential Problems

Periodontal health is sometimes overlooked by patients, but Dr. Chong knows that it is critical to the overall well-being of the mouth as well as to a patient's total health. "Undiagnosed periodontal disease can affect a patients' complete health, impacting everything from one's blood pressure to their heart and diabetes," he says.

Periodontal disease is an infection of the tissues that support your teeth. Periodontal disease attacks just below the gum line, where it causes the attachment of the tooth and its supporting tissues to break down. As the tissues are damaged, a pocket forms; generally, the more severe the disease, the greater the depth of the pocket. Your dentist will measure pocket depths at initial and routine check-ups and cleanings through an evaluation called a perio chart.
Periodontal diseases are classified according to the severity of the disease. The two major stages are gingivitis and periodontitis. Gingivitis is a milder and reversible form of periodontal disease that only affectsthe gums. If left untreated, gingivitis may lead to more serious, destructive forms of periodontal disease called periodontitis.
Some factors that increase the risk of developing periodontal disease include:
Tobacco smoking or chewing
Systemic diseases such as diabetes
Some types of medication such as steroids, some types of antiepilepsy
drugs, cancer therapy drugs, some calcium channel
blockers and oral contraceptives
Bridges that no longer fit properly
Crooked teeth
Fillings that have become defective
Pregnancy or the use of oral contraceptives
Several warning signs that can signal a problem include:
Gums that bleed easily
Red, swollen, tender gums
Gums that have pulled away from the teeth
Persistent bad breath or bad taste
Permanent teeth that are loose or separating
Any change in the way your teeth fit together when you bite
Any change in the fit of partial dentures
Maintaining your smile

It is possible to have periodontal disease and have no warning signs, Dr. Chong says. That is one reason why regular dental check-ups and periodontal examinations are very important. Treatment methods depend upon the type of disease and how far the condition has progressed. As always, good oral hygiene at home is essential to help keep periodontal disease from becoming more serious or recurring.
Patients suffering from advanced gum disease have long had to rely on periodontal procedures that involve a lot of surgical cutting and stitching. This is an extremely painful experience which requires a lot of time to heal. Fortunately, just as lasers have revolutionized the way optical procedures are performed, they have transformed the periodontal world as well. Using the latest laser technology, Dr. Chong treats gum disease in the most effective manner—"detoxifying" the mouth and sterilizing the bacteria harmful to oral health.
Additionally, as the field of dental implants has advanced, Dr. Chong and Ardent Smile have expanded their use of the extremely successful treatment. The idea that implants are beyond the reach of many patients is false, says Dr. Chong.
"Many people think that dental implants are painful and a very expensive procedure, but when you consider the long-term benefit— 20 or more years—it is a very cost-effective treatment and can be relatively pain-free," he says. Furthermore, he stresses, a temporary tooth can be created in one day so patients can leave the office with a healthier and more beautiful mouth in no time.
Dr. Chong's specialty allows him to offer an array of services that not only enhance patients' smiles, but also ensure the longlasting health of their teeth and gums. In addition to periodontics and implants, Dr. Chong treats teenagers and adults who are about to receive orthodontic treatments, such as braces. Prior to seeking orthodontic care, patients' gums need to be healthy and free of inflammation or infection.
Dr. Chong is pleased to have found such a comfortable, relaxed environment in the space at Ardent Smile. He is excited to work alongside Dr. Inna Vinnikov as well as to meet with the area's general dentists to offer and provide his specialty and expertise to their patients.
Keep your pearly whites healthy and schedule your free consultation today at 215-230-4488. Visit the modern, state-of-the-art facility at 4259 West Swamp Road, Doylestown, in the Cross Keys building.
Freda R. Savana is a professional writer is Doylestown.
Andrew Wilkinson is a freelance photographer based in Titusville, NJ. www.wilkinsonmedia.net