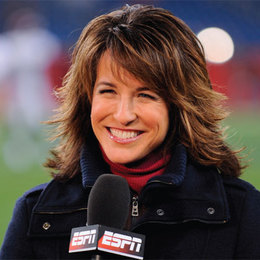 Spotlight: ESPN's Suzy Kolber
Game Day Girl
Suzy Kolber has been reporting from the NFL's sidelines for more than a decade. She catapulted from Upper Dublin High School to become one of ESPN's most-valued sports journalists. She's covered the early years of the X Games, survived a much-YouTubed almost-kiss with Joe Namath and was named to Maxim magazine's list of "TV's Sexiest News Anchors." But the Dresher native remains focused on her first love (football) and her newest love—her daughter, Kellyn, who will be 2 years old next month.
When did you first fall in love with sports? Was it always your goal to report from the sidelines?
I'd say from the time I was born, sports have always been my first love. Every little kid's dream is to be a professional athlete if they are involved in sports. And, at the time when I was growing up, there were fewer opportunities for women to be a professional athlete. Being on the sidelines, to me, was the next best thing!
Was it hard to build a career in a field so dominated by men?
Surprisingly, no. I never felt I was at a disadvantage. Even being the only woman in a group of 100-150 men, I never felt out of place. If you respect the sport and respect the athlete and ask the right questions, I think that's what is most important to the audience. I feel that's what I have always tried to do.
What were your expectations for ESPN2 when it first launched?
I was the first on-air person hired, and it was an exciting time. For me personally, it opened many doors and opportunities.
What team has the best or worst fans?
I'm going to be a bit biased, but Philadelphia's fans are both the best and worst fans. They're intense, passionate and knowledgeable, and they don't cut anyone any slack—whether you're Santa Claus or me. I was covering the Cowboys one year, and I was dressed in the Cowboy gear, and the Eagles fans were screaming obscenities at me. I looked over at the stands, and I recognized some people from high school!
Is it true that Ron Jaworski was your babysitter?
No, that was printed somewhere once. Ron was certainly a family friend, but no, he never babysat me.
What is your favorite sport to watch?
Easily the NFL. I remember even watching the games by myself, when I was very little. Growing up, my favorite team was the Miami Dolphins and the Orange Bowl was my favorite stadium. It was such a dream when I first got to be on the same field as Don Shula.
If you weren't working, how would you like to watch the game?
Cuddled up on the couch with my daughter, watching it on the big screen with really good pizza, a little red wine and the fire going. But being on the sidelines and being a fan, nothing beats that.
What is a sport you recently grew to love or appreciate more?
The World Cup. Some of my really good friends will be covering it this summer. I feel it is my chance to learn more about the sport. Plus, there is a really good chance my daughter may grow up to play soccer one day, so I want to really get into it.
Your daughter is still very young, but has Kellyn expressed any enthusiasm for sports?
My football helmet from when I was a kid is in my office, and she always asks me to put it on her. Every little kid probably likes to run and throw the ball, but it really thrills me. I hope she loves sports as much as I do when she grows up.
What's your favorite place to visit when you're in town?
The Philadelphia Zoo—it really is a special place for my family and me. We would always go there on birthdays.
What do you wish you had more time to do?
I absolutely love working out. If I could retire and just exercise and travel to exotic places, I would. I travel a lot for work, but you never get to see as much as one hopes.
What are your plans for the upcoming year?
I don't really make New Year's resolutions. Besides, things are going pretty well right now. The status quo is just fine!
Alina Makhnovetsky is a freelance writer living in Philadelphia.