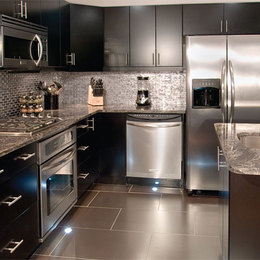 All Together Now
Wide selection of countertops and tiles—plus fast turnaround times—are at Colonial Marble & Granite
When upgrading your kitchen to give it a more modern, luxurious look, you know Colonial Marble & Granite in King of Prussia is the place to go for the best selection of marble and granite. And now, Colonial's recently launched tile division offers hundreds of tiles in any color, texture and design, making it the one-stop shop for your kitchen redesign.

The newly designed showroom is stocked with sample tiles that can complement your countertops as a beautiful backsplash or inlay. The company will maintain its high level of customer service with a sales staff dedicated just to tile sales, says James Freeman, vice president of sales and marketing.

Barbara Metwally of Doylestown recently purchased tile from Colonial Marble & Granite and says the choices are incredible.

"It's just like on This Old House, to walk through the showroom and see all the choices," she says. The sales staff was extremely helpful in suggesting tiles that would match the granite countertop she also purchased from Colonial, which she says is a beautiful "dark green color that looks much like petrified wood."

Her tiles are a diamond shape intermixed with a glass tile inset with dark green and some lighter flecks, she says. "It looks very exotic," she says. Metwally is thrilled with the professional sales staff who helped her to choose colors that matched and with the courteous and efficient installers.

When choosing tiles or a stone countertop for your kitchen, color is one of the most important factors you consider. You want the stone to match your cabinets, flooring and wall color—which could be a tall order. But Colonial Marble & Granite has the perfect solution. Its showroom offers hundreds of colors and more than 4,500 types of marble and granite slabs to make it easier to visualize your new kitchen.

Technology helps with fast turnaround
In addition to the great selection, Colonial Marble & Granite offers what Freeman says is the "fastest turnaround time in the industry." Through the use of the latest computerized stoneworking technology, technicians are able to measure the space and then install countertops, backsplashes or even fireplaces within one week's time.

Computer numerical control (CNC) technology is the latest innovation in marble and granite design and installation. It allows Colonial's technicians to perform any sink or surface unit cutout, including undermount sinks. In fact, these sinks are preferred, the company says, because the aesthetic appeal created by the "invisible rims" makes the sink very attractive.

Previously, companies would use stick templates, which often come apart on the way back to the workroom. Companies were often second-guessing themselves sometimes up to 1/4 inch and that could result in a lot more work on the job.

Metwally says she was impressed by how quickly the installers were able to turn around her granite countertop. She said it took less than one week from the moment they measured to the installation of her countertop.

Customers ignited over selection and specials
Colonial Marble & Granite prides itself on bringing customers the latest and greatest in color, design and competitive pricing. This year, company representatives will attend the area's largest home shows in Valley Forge and Vorhees, N.J. Freeman expects to see many new products, gather great new ideas and provide an even higher level of satisfaction to the company's customers.

It's not every day you can install a full granite kitchen countertop for under $2,000, but Colonial Marble & Granite is currently offering this special, which includes a full countertop installation up to 50 square feet.

Choices include a Juparana romance with Ogee edging, which adds a warm feeling to a kitchen with beautiful complements of colors. Other stones might include golden rustic, a more exotic stone, or stones from Pompeii. Each install can include extended overhangs to allow for island seating, which opens up every kitchen to a variety of different entertaining options.

"It's more than just new countertops," says Freeman. "It's really adding character to your home."

It is clear that whether adding a new marble or granite countertop or specialized tile to your kitchen, customers continue to look for three main ingredients: great selection, fast turnaround times and professional customer service. Colonial Marble & Granite is ready to help in all three areas.
201 W Church Rd.
King of Prussia, PA
610-994-2222
www.colonialmarble.net

Jeannine Fielding is a freelance writer in Bucks County.