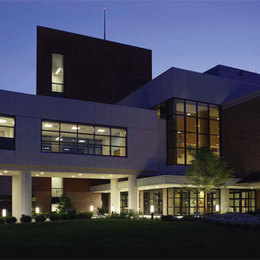 Designed For Your Health
Paoli Hospital's state-of-the-art Pavilion provides first-class care
Walking into the dramatic three-story atrium of Paoli Hospital's new Pavilion, you would think you were in the lobby of a luxury hotel. However, in addition to being stunning and peaceful, its modern design was also carefully planned to improve the quality of patient care and safety.

The atrium contains waiting areas with Internet connections, a coffee shop and easy access to the original hospital, where outpatient registration and lab testing, patient financial services and the gift shop are located.

The emergency department (ED), located on the ground floor, is more than three times larger than the former ED and features 28 private patient rooms, a fast-track area—for patients with less serious conditions, such as lacerations and sports injuries, to be treated quickly, reducing waiting times—four triage stations, multiple waiting areas for families and physicians to meet conveniently and privately, a workroom for emergency medical services personnel, and a children's playroom that provides a safe and stress-free environment. Adjacent to the ED is the radiology department featuring the latest technology including a 64-slice computed tomography (CT) scanner and a new magnetic resonance imaging (MRI) suite.

The first floor, dedicated to surgical activities, includes a 24-private-bed ambulatory surgical unit, a 23-bed post-anesthesia care unit and 12 operating rooms (OR) with capacity for two more. The ORs feature digital and high-definition imaging and state-of the-art equipment including the robotic-assisted, minimally invasive da Vinci® Surgical System.

Meeting the area's needs
With Chester County's population projected to climb over the next 10 years, Paoli Hospital was in desperate need of an expansion as its current facility was maxed out.

"The growth rate at the hospital was 4 to 8 percent per year; we were outgrowing our facility at a very rapid rate," says Barbara Tachovsky, hospital president, who noted that Chester County is the fastest-growing county in the state.

Although the campus is 44 acres, surrounding hillsides were a challenge to construction.

The end result—a five-story, 285,000 square-foot Pavilion built on the site of the hospital's parking lot, along with a parking garage on the hillside of Route 30—nearly doubled the size of the hospital. The opening of the $145-million Pavilion in July 2009 marked the end of Paoli's most aggressive expansion project since the hospital relocated from West Chester to Paoli in
1968.

Designed with patients in mind
Most significantly, the hospital is a partner in a progressive international research initiative, one of only 50 institutions to date, known as the Pebble Project.

The Pebble Project is a joint research effort between The Center for Health Design and selected healthcare providers who share best practices and use evidence-based design to improve patient care and safety.

"We were very interested in patient safety and using the building's design to impact patient outcomes," says Jan Nash, vice president of patient services.

Examples of evidence-based design include 124 spacious all private patient rooms with private bathrooms, large picture windows and fold-out sofas for family to stay overnight.

"It's been proven that private rooms result in fewer infections and fewer medical errors," Tachovsky says. "More privacy enables patients to have conversations with physicians and family without fear of being overheard."

Each patient room also has an extra sink in the caregiver area to encourage hand washing—the best way to prevent spreading infections. Connecting handrails from the patient's bed to the bathroom also improve safety.

Patients even have personalized room service. They can order whatever they want off of a four-page dining menu and have it delivered in about 20 minutes.

Additional facility amenities include state-of-the-art ventilation systems which maintain temperature and humidity to lessen the risk of infections; abundant natural light which is essential to proper body function and proven to aid in the healing process, especially in patient care areas; and outside courtyards for patients and family to visit in close proximity to caregivers.

Patients and staff have responded positively, and satisfaction scores have jumped 8 percent, earning Paoli a spot in the 90th percentile of surveyed hospitals nationwide.*

Recently, Nash reports, an out-of town patient said that she had never experienced such an excellent hospital operation. Everyone was courteous and professional, and she was very impressed.

Another patient adds: "The service I received in Paoli's new emergency department
was first class. I walked in and was immediately registered, triaged, assessed, X-rayed and splinted. An hour later, I received discharge instructions and walked out the door. The doctors, nurses and techs couldn't have been more accommodating and gracious in their service."

Tachovsky is pleased with the overwhelming response from the community. "It's been an amazing journey involving thousands of hours of planning and visionary thinking to provide hospital care in a new way and I couldn't be more excited."

Paoli Hospital
255 W. Lancaster Ave., Paoli, PA 19301
For more information or an online virtual tour of the Pavilion, visit MainLineHealth.org/Paoli or call 1-866-CALL-MLH.

*According to Press Ganey, the hospital industry's leading independent vendor of patient satisfaction measurement and improvement services.

Karen Appold is a freelance writer in Royersford. (WriteNowServices.com)