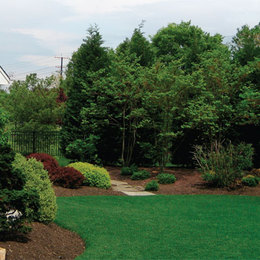 Forever Green
Enjoy a lush, vibrant yard year-round with Y-Turf from Young's Landscape Management
With springtime right around the corner, it's finally time to wave goodbye to snowstorms, stow away the shovels and say hello to blooming flowers and chirping birds. For the new season, you'll want your yard in tip-top shape.
According to Dan Bailey, a division manager at Young's Landscape Management in Moorestown, N.J., it's never too early to start thinking about beautifying your lawn and gardens for spring.

"Mid-to-late winter is best [to start preparing] before landscape professionals are already booked for spring and summer," says Bailey. "Getting an early jump on yard maintenance also gives you the greatest selection of trees, shrubs and other plant materials."

Young's Landscape Management offers an array of services to keep your home looking lovely throughout the year. From designing tranquil gardens and backdrops to creating dramatic outdoor spaces, Young's provides the products, design and workmanship that can transform your backyard dreams into a reality. Yet with so many landscaping options, it's hard to know where to begin. So, let's start with the basics.

Without a doubt, the best way to keep your yard looking great is maintaining a lush, vibrant green lawn—but we all know the time and effort it takes to plant, mow, water and weed. Bailey recommends Young's Y-Turf synthetic lawn surfaces, a cutting-edge alternative to real grass to ensure a beautiful lawn all year long.

We know what you're thinking, but this synthetic turf is a far cry from the "fake" sports surfaces of the past. Y-Turf is lush, vibrant and life-like, almost indistinguishable from natural grass.

"Imagine no more grass stains on clothing or mud tracks in the house. Synthetic turf is a cleaner option with virtually no maintenance to keep it looking green and lush," says Bailey. "[It] is durable, petfriendly and clinically tested to be safer for children."

This new generation of synthetic turf actually looks authentic. The blades of grass are manufactured with varying widths and today's turf incorporates textured thatch layers with different shades of green and tan to truly replicate the look of real grass.

If you want to save time and money when it comes to your lawn maintenance, synthetic turf is a great option. Y-Turf requires no water, fertilizers, mowing or weeding. Although synthetic turf is not inexpensive, its longevity and performance is worth the price. With an eight- to ten-year warranty and life expectancy of more than 15 years, turf homeowners who install synthetic lawns generally will breakeven within four to six years.

"Once installed, the synthetic lawn provides return on investment year-round, year after year," says Bailey rearding the cost-effective benefits of choosing synthetic turf.

Young's carefully assesses various factors, including accessibility of the installation site, the amount of preparation required (like tree removal), and the individualized landscape design plan. Synthetic turf installation can also accompany other beautification services that Young's provides, including landscaping, hardscaping, lighting accents, water features and lawn care maintenance.

In addition, Y-Turf can create a premium putting surface for an avid golfer with unparalleled quality and performance regardless of the season. From a simple putting surface to a full short game practice area, it will add beauty to a property and sharpen a golfer's skill right at home.

With its ability to withstand salt air and coastal storms, synthetic turf is also an ideal option for shore homes, providing a great look all year long.

"Shore homeowners will find that the realistic fresh cut appearance combined with a soft, pleasing feel makes Y-Turf a great alternative to the rocks and stones often overused," Bailey says. "It's more comfortable than gravel and alleviates the need for raking and constant attention."

Commercial properties, such as hotels, office complexes, daycare locations, sports training facilities and pet care centers, can also benefit from the use of synthetic turf. Bailey adds, "Corporations and even car dealerships are adding Y-Turf putting greens for employees and/or waiting customers to enjoy."

If you've been dreaming of having a vibrant, virtually maintenance-free lawn year round, be sure to get in touch with Y-Turf at Young's Landscaping Management soon. Their team of designers will work with you to select the best services and products to fit your needs. With Y-Turf, you'll have the yard you've always wanted in no time.

Y-Turf, Young's Landscape Management,
Inc., 1-877-90-YTURF, Y-Turf.com
Jill McCloskey is a freelance writer from Newtown.