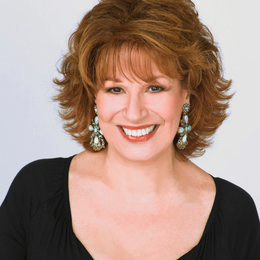 Oh, Joy!
The multitalented Joy Behar—sharp-tongued comedian, actress, equality advocate—has not lost a step
Joy Behar is best known for her 16-year career as a co-host of "The View," a long-running ABC talk show created by Barbara Walters. Her tenure on "The View" ended in 2013, and since then she has returned to her roots in standup comedy. She will perform at the Bucks County Playhouse in New Hope from May 9 to 11 for a handful of live shows titled "Joy Behar: Me, My Mouth and I."

"I'm there to make you laugh," says Behar, known for her blunt, sometimes brash demeanor. "Yes, I will tell the amusing story of my journey, but I'll also talk about the obstacles involved in my life in show business." The live performances speak to her versatility, as she has also worked in radio, theater and film, including 2011's "Hall Pass" and 2012's "Ice Age: Continental Drift."

We spoke to Behar from her home in New York City about her time on "The View" and the rocky road she faced in making the transition from high school English teacher to media darling. She also discussed her support of same-sex marriage, what she likes about the Philadelphia area and why she is, in a sense, "dating" again.
Bill Donahue: Most people are most familiar with you through your time on the "The View." How do you remember the experience?
Joy Behar: Mostly positive. It was a great job for someone like me who likes to shoot her mouth off, someone who loves to live in New York. I sat with the President of the United States and other luminaries, so all in all it was a great experience. I'm indebted to Barbara Walters for giving me the opportunity. It had its moments of craziness, with all those different personalities. There were trials here and there, but I weathered it. I also got over it after a while. I enjoy the idea now, that if I want to do a show I can do that. If I want to do standup, I can do that. It's like when you're single and there are a lot of different guys you can date, then maybe you settle down for a while and then it's time to date again. I'm sort of dating again in my career. There's something about that that's exciting. I don't have the financial worry anymore, so it's a little more relaxing now. There's no pressure, and that means you're a little more discriminating about what you want to do.
BD: You started life as Joy Behar, teacher. How did you make the transition to Joy Behar, media personality?
JB: I basically wanted to survive in the business. … It was more about how I would pay the rent. Along the road, as I was growing up, in my 20s and 30s, there were always people who thought I was talented, but I didn't really believe it. I didn't believe I could become a professional. A lot of people are funny at parties, but to make that leap to the stage is a whole other ball game. In my case it was desperation.
It's not like I always wanted this other dream. I had plenty of obstacles in achieving my goals. I didn't start a real career and earning a living till I was almost 40. I had lost a job and had gone through an ectopic pregnancy, so things happened to me that pushed me to just go for it.

BD: As a New Yorker, what do you like about the Philadelphia area?
JB: I love Bucks County; I should have bought a house there instead of the Hamptons. I loved the flea market in Lambertville, and there also was a great piano bar I loved hanging out in. It's a fun place.

BD: Part of the proceeds from your upcoming shows at the Bucks County Playhouse will go to FACT (Fighting AIDS Continuously Together) Bucks County. Why is this cause important to you?
JB: I believe in gay rights. I believe in live and let live. I appreciate what the gay community has done for me; they have always been extremely supportive and backed me up. They're also just the best audience; they're smart, they get the references, they get the subtleties of family life.

BD: You've been a big supporter of the LGBT community throughout your career. How do you feel about the changing state of same-sex acceptance in America?
JB: The South is next. Like the song in the show "Hairspray," you can't stop the beat. Whatever it is, they can't stop the sun coming up, you can't stop progress, and you're not going to be able to stop this. People want to get married and have children. I love being a heterosexual, but people should have that right no matter who they love. There's always going to be some kind of conflict, and [the opposition] is going to lose this one.

BD: So after you finish with the live shows, what happens next?
JB: I don't know. Like I said, I'm dating. Sometimes I'll hear of a part in a movie, so maybe I'll do that and get an audition for it. Maybe there's a TV idea I have, plus the Internet world is wide open, so that's a fun place to investigate. I'm going to let things unfold for now.