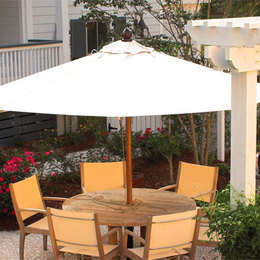 Fresh Start
Experts guide you on how to improve your home's look for the new season.
After the winter we've had, there will probably be snow on the ground until June. But this month marks the official start of spring, which means it's time to give your home a little TLC. Now is a great time to spruce up any dated décor inside your home and rethink ways to liven your outdoor spaces–and find ways to bring the two together. Make your spring cleaning count, and let our local experts be your guide.

Outter Space
Harsh winters take a toll on landscaping, and trees and shrubs may suffer from broken branches or damaged bark. An arborist can assess the health of damaged trees and treat them appropriately.

Have your landscape professional make any needed repairs and prepare your lawn to give you greener, healthier grass throughout the summer.

After cutting a clean edge on the bed, the landscapers will install a fresh layer of ground bark mulch. Verify that the mulch is not more than 2 inches deep or it could smother plants. Once the danger of severe freeze is past, have pansies planted to add instant color.

Give your patio or sunroom new life with stylish, durable furniture and bright-colored fabrics. New Hope interior designer Rafael Novoa says he has noticed the growing trend of creating functional outdoor spaces, such as kitchens, fire pits and lounging areas. In his showroom Novoa offers a portable bar perfect for outdoor entertaining.

Novoa directs his clients to versatile products like Sunbrella fabrics. They were created to withstand the rigors of outdoor use and come in a variety of cheery colors, textures and prints. He suggests they are also great for use in sunrooms. "Sunbrella has a new line of sheers that are so light and elegant," he says. "As curtains, they hold up to the sun where other fabrics would disintegrate."

Interior designer Celeste Callaghan, of Callaghan Interior Design in Doylestown, agrees that covered outdoor spaces can benefit from the use of all-weather fabric in curtains and rugs.
"Elements like drapery and carpeting used to be relegated to the indoors, but now they can be used to create outdoor rooms," she says.

She suggests including accessories like outdoor light fixtures to decorate the space. She likes to find outdoor furnishings that tie into the style of the home interior.

Even though there is plenty of green surrounding your outdoor spaces, Randy Wile of Waterloo Gardens in Devon says a well-placed potted tropical plant can add the finishing touch. He warns that the transition from indoor plant to outdoor plant should be done carefully. "Even sun-loving plants must be placed in full shade for a day, then partial shade, before moving into the sun," he says, "or else they will develop a white haze known as sunburn."

Inner Beauty
Callaghan says that replacing heavy window treatments is an easy way to prepare the inside of your home for spring. She suggests matchstick or bamboo blinds to give the home a natural, clean look.

She says natural textures are very popular at the moment.

"I'm seeing much less pattern these
days," she says. "People are looking for more texture, something simple, less fussy—like unbleached linen." She believes this is all part of the trend towards 'green' living. She says,
"People feel a responsibility to use environmentally conscious products whenever it is an option."

Wile says tropical plants are a great way to give the inside of your home some life. "The first thing I ask people is where they want to place the plant," he says. "What kind of light it receives is very important. I also need to know how tall the space is to recommend the right variety."

Novoa suggests bringing the outdoors in, using branches pruned from spring-blooming trees and shrubs. He says that large dogwood, forsythia and fruit tree branches are all excellent candidates for creating a dramatic display in grand foyer or spacious great room.

This season, break down the barrier between your home and garden. A good spring cleaning can make your home look great all year, inside and out.

Sharon Shaw, president of Martin Shaw, LLC, is a professional landscape designer and writer living in Doylestown.